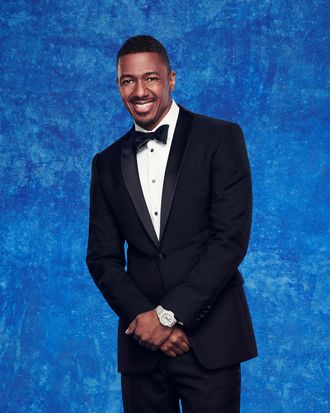 Photo: FOX/FOX Image Collection via Getty Imaes
Nick Cannon's reign as America's most fertile man may be coming to a close. The comedian, who has fathered seven children in the past decade and has another on the way, announced on Tuesday that he is considering getting a vasectomy.
"I've been through so much," Cannon told E! News. "I find peace in my children and I find purpose, so I'm not out here looking." However, he said, "I already went and got my vasectomy consultation. I ain't looking to populate the Earth completely, but I'm definitely looking forward to taking care and loving all the children that I currently have."
For those not keeping track, Cannon is the father of the following children: Monroe and Moroccan, the now 10-year-old twins he shares with Mariah Carey; a 4-year-old named Golden, whose mother is Alyssa Scott; Powerful Queen, whose mother is his ex-girlfriend Brittany Bell; and another set of twins named Zion Mixolydian and Zillion Heir, whom he shares with Abby De La Rosa. Cannon's son Zen, whom he also shared with Scott, died of brain cancer in December when he was 5 months old. Earlier this year, Cannon announced that he and Bre Tiesi are expecting a baby.
It's worth noting that this isn't the first time Cannon has claimed to be done procreating. After Zen was born, Cannon said he was going to "take a break from having kids," adding: "My therapist says I should be celibate." Four months later, he threw a gender-reveal party for his eighth child. A "vasectomy consultation" sounds pretty noncommittal, but given the state of reproductive rights right now, it's nice to know someone is at least thinking about taking responsibility for their sperm.