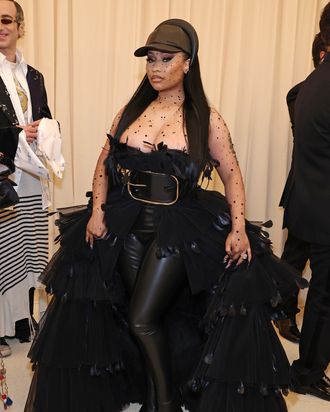 Photo: Arturo Holmes/Getty Images for The Met Museum/
After declining to attend last year's Met Gala because of the event's vaccine mandate, Nicki Minaj seems to have changed her tune. The rapper arrived at the 2022 Met Gala on Monday covered in face and body jewels and wearing a feathery black Riccardo Tisci ball gown with matching leather leggings and baseball cap. (The dress's cup size, Minaj told La La Anthony on the red carpet, was, ahem, a size too small: "Enjoy these titties!") But does her appearance actually mean she's vaccinated?
The 2021 Met Gala served as the first real public test of vaccines in Hollywood, exposing who was and wasn't vaccinated. Minaj made it clear where she stood, tweeting, "If I get vaccinated it won't for the Met. It'll be once I feel I've done enough research." She promised fans she was still doing her own research and cautioned them to continue masking. It wasn't outright COVID denial, but it also was not the best look. She followed up her statement on vaccines with a tweet alleging that a friend of her cousin's "got it & became impotent," claiming "his testicles became swollen." This claim was quickly debunked by doctors across the globe, and the minister of health of Trinidad and Tobago — where this "friend" supposedly lived — even investigated the claim and said his office found no evidence of such an incident.
Minaj has remained pretty silent about vaccines since then, though speculation about whether she got the shot has remained. In October 2021, just a month after the Met Gala, Minaj filmed an appearance on The Real Housewives of Potomac season reunion, raising more questions about her status. Was she required to be vaccinated to be on set? Did she get a special exemption for being Nicki Minaj? Bravo king Andy Cohen didn't say, telling listeners of his Sirius XM radio show, "She followed all COVID protocols."
In February, Minaj referenced her vaccine tweets in an exchange with the Philadelphia Public Health Department's Twitter account after the organization joked about Minaj's claims about her cousin's friend's swollen testicles. In since deleted tweets, Minaj claimed she was "advising others to PRAY, be COMFORTABLE & NOT BE BULLIED" into getting the vaccine, but she didn't say whether her status had changed.
Now with her appearance at the Met Gala, it seems the rapper has made a decision once and for all. As reported by the New York Times, attendees of the 2022 Met Gala had to provide proof of vaccination and a negative COVID-19 PCR test to even step foot on the red carpet. One assumes that since the Met didn't make an exception for Minaj last year, they wouldn't this time either. So that answers that?