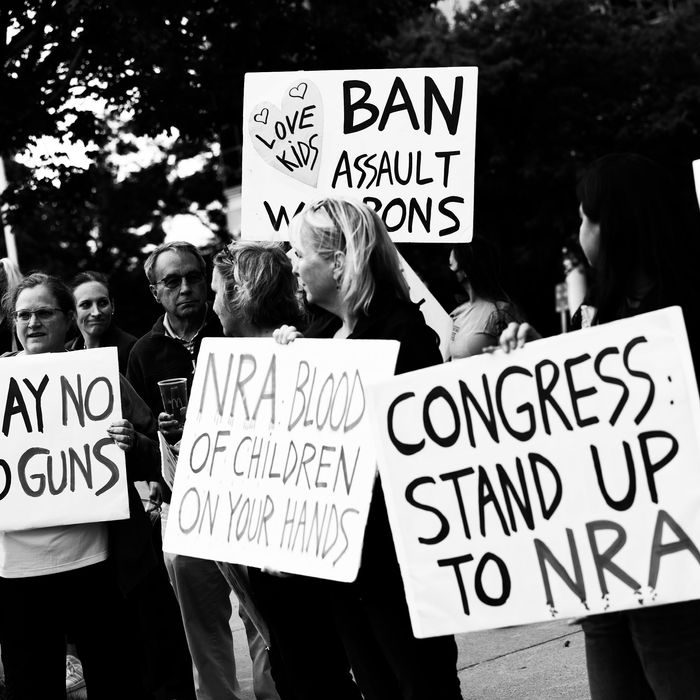 Photo: Kevin Dietsch/Getty Images
The National Rifle Association has announced that it will not be canceling its conference in Houston this weekend despite Tuesday's school shooting across the state in Uvalde, which left 19 children and two adults dead. "Our deepest sympathies are with the families and victims involved in this horrific and evil crime," the NRA said in a statement posted to Twitter. "Although an investigation is underway and facts are still emerging, we recognize this was the act of a lone, deranged criminal. As we gather in Houston, we will reflect on these events, pray for the victims, recognize our patriotic members, and pledge to redouble our commitment to making our schools secure."
This will be the first convention the NRA has hosted in three years; it canceled the event in 2020 and 2021 due to the pandemic. Despite pleas from politicians like Texas gubernatorial candidate Beto O'Rourke to cancel the conference, scheduled for May 27 through May 29, it appears to be proceeding as scheduled. Some of this weekend's high-profile speakers are expected to include Donald Trump and Texas senator Ted Cruz. Texas governor Greg Abbott had been scheduled to speak in person but canceled his appearance late Thursday night. He will be visiting Uvalde instead and has provided a prerecorded video that will be shown at the conference.
Abbott isn't the only scheduled guest to back out of the event. "American Pie" singer Don McLean has canceled his scheduled performance at the convention. Performers Larry Gatlin and Danielle Peck have pulled out of the event as well. "While I agree with most of the positions held by the NRA, I have come to believe that, while background checks would not stop every madman with a gun, it is at the very least a step in the right direction toward trying to prevent the kind of tragedy we saw this week in Uvalde," Gatlin said a his statement announcing his withdrawal from the convention. The manufacturer of the rifle reportedly used in Tuesday's shooting, Daniel Defense, has pulled its also booth from the event.
While infuriating, the NRA's response to the shooting is unsurprising. Last year, NPR obtained recordings of a 1999 phone call between senior leaders of the NRA days after the shooting at Columbine High School that killed 12 students and one teacher. Though leaders considered canceling their Denver convention, which was scheduled just a few days after and a few miles away from Columbine, the event ultimately continued as scheduled. After the 2012 Sandy Hook massacre, which left 27 dead, NRA head Wayne LaPierre called for more armed officers in schools, saying, "Is the press, and the political class here in Washington, D.C., so consumed by fear and hatred of the NRA and American gun owners that you're willing to accept a world where real resistance to evil monsters is a lone, unarmed school principal?"
While armed first responders were on the scene during Tuesday's shooting, eyewitnesses say they appeared "unprepared." As reported by the Associated Press, parents and onlookers outside the school urged police to go in the building, but officers reportedly remained outside for at least 40 minutes. Steve McCraw, the Department of Public Safety director in the school's district, told press that officers "did engage immediately" and "did contain [the gunman] in the classroom." While the shooter was "contained," he killed 21 people.
The NRA spends a reported $3 million a year to lobby against gun control and support legislation to allow for more lax gun restrictions. In 2019, the organization staunchly opposed the reauthorization of the Violence Against Women Act, which included a new provision to prevent those subject to a restraining order or convicted of domestic abuse from buying a gun.
One place the NRA will enforce gun control? Its own conference. This year's attendees will not be allowed to bring guns, ammunition, toy guns, or weapons of any kind into the forum's general assembly hall, a security measure put in place by the U.S. Secret Service to protect former President Donald Trump. It issued a similar ban in 2018 when then-Vice-President Mike Pence was scheduled to give a speech.
The irony was not lost on many, with human rights lawyer Qasim Rashid tweeting, "The NRA has a total gun ban at their convention this weekend because they know gun bans work."
The conference may be gun-free, but it will not be free of protests. On Tuesday, FIEL Houston (Familias Inmigrantes y Estudiantes en la Lucha) announced that it would be protesting the NRA on Friday, May 27. "We don't want, need, or accept that the NRA is planning to come here," the group wrote on Twitter. Following the tragedy, Houston-based hospice chaplain Teresa Kim Pecinovsky decided to organize an interfaith protest at the convention. The official event invite calls on faith leaders and other attendees to join a prayer and a silent march to "call out elected officials for their complicity in the deaths of innocent people" on Friday. Moms Demand Action will also be staging a protest on Friday at a nearby park in partnership with Black Lives Matter Houston. And March for Our Lives is also expected to be present on Friday as the organization gears up for the second nationwide March for Our Lives on June 11.
This post has been updated with additional information.