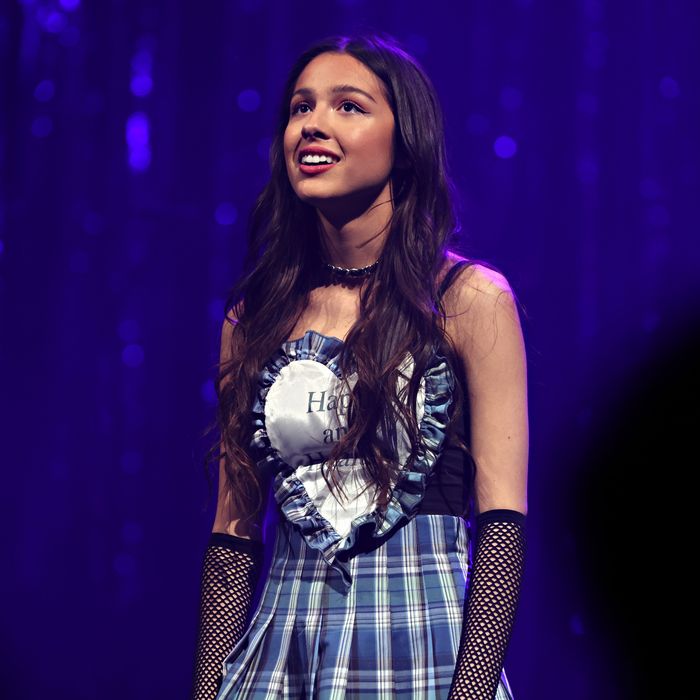 Photo: Cindy Ord/Getty Images
God, it really is brutal out here right now — especially for anyone with a uterus. And Olivia Rodrigo knows it. The "Drivers License" singer paused her concert in Washington, D.C., on Wednesday to talk about abortion in the wake of the leaked Supreme Court draft opinion that could signal the overturn of Roe v. Wade.
"Because we're in D.C., I couldn't pass up the opportunity to talk about how heartbroken I am over the Supreme Court's potential decision," Rodrigo told a sold-out crowd. "What a woman does with her body should never be in the hands of politicians." The singer, who is known for her young and passionate fanbase, encouraged attendees to speak up in support of reproductive rights, adding, "I hope we can use our voices to protect our right to have a safe abortion, which is a right that so many people before us have worked so hard to get. It's so important."
The draft opinion, written by Justice Samuel Alito, was leaked to Politico on Monday and indicates that the Court is on track to take away federally protected abortion rights and revert these decisions back to the states. Consequently, abortion would be banned in 13 states that currently have "trigger laws" in place — making abortion illegal in the event that Roe is overturned. The leaked opinion is just a draft, but reaction from SCOTUS, specifically the call for an investigation of the leak by Chief Justice John Roberts, seems to have confirmed its veracity. Until the decision is officially announced this summer, there's no way of knowing the future of Roe. Now is the time to mobilize. And if anyone's good at channeling their anger into something positive, it's Olivia Rodrigo and her fans. Good 4 us all.