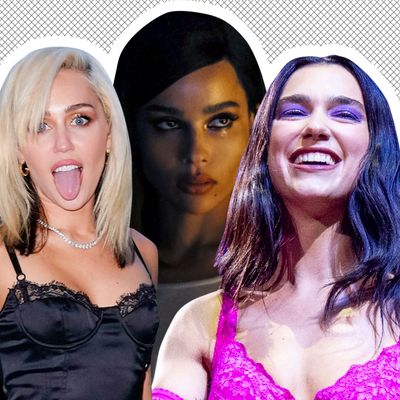 Photo-Illustration: The Cut. Photos: Getty Images; Warner Bros.
"That girl," a category created on TikTok with videos of carefully curated morning routines, involves a simple idea: You stay home instead of going out, wake at 5 a.m. to exercise, and spend hours on your skin-care routine to achieve the "clean" look. If being "that girl" were a religion, Gwyneth Paltrow (and her Goop empire) would be its leader. Drenched as it is in toxic wellness ideology (associating someone's lifestyle or looks with any kind of moral authority is a slippery slope), it's no wonder people now seem to be growing tired of the standard. Enter its antithesis: the rising "party girl" aesthetic.
In the '90s and aughts, the "heroin chic" decades, seeing paparazzi photos of the likes of Paris Hilton and Lindsay Lohan with disheveled hair and makeup was generally expected. Teen girls grew up wanting to be Effy from Skins, smudged eyeliner and all, and the fitness-focused influencer aesthetic had yet to exist. Today's party-girl beauty trend is a throwback to that heyday. It's wearing glittery Euphoria-inspired eye gems on a messy night out with friends or embracing the return of grunge eyeliner (hello, Dua Lipa's metallic eyeshadow at the Billboard Music Awards and Miley Cyrus's recent Christina Aguilera–esque hair change).
Across social media, there has been a shift from "that girl" skin-care content to party-girl content in the past year. In line with Instagram becoming more casual, celebrities like Lipa are posting blurry night photos of their makeup and nails where more curated photos would once have been. Then there are the rising beauty brands marketed specifically to girls who like to go out, including Emma Chamberlain's new skin-care brand, Bad Habit, and Kesha Rose Beauty (from an original party girl).
Ahead of the curve, Fiona Chan launched her skin-care brand, Youthforia, last year as "makeup you can sleep in." The line has since become a Gen-Z staple. "I couldn't relate to a clean, minimalist, millennial aesthetic, especially during the pandemic," Chan told the Cut. "I didn't want to keep feeling guilty about falling asleep in my makeup." She puts the rise in party-girl beauty down to people missing in-person messiness and partying over the past couple of years.
In a viral TikTok video, the Digital Fairy, a creative agency specializing in internet and youth culture, credited the return of party-girl beauty to the larger return of the indie-sleaze aesthetic as a post-wellness vibe shift. "In the 2010s, skin-first beauty was entwined with trending concepts of wellness, self-care, and productivity," says Biz Sherbert, culture editor at the Digital Fairy. "An elaborate skin-care routine paired with a minimalist makeup routine became a status symbol." That idea has been flipped on its head recently as people seek out less rigid lifestyles and low-effort beauty routines post-lockdown.
Sherbert says the revolt against the "that girl" lifestyle comes in conjunction with a rejection of the millennial "girlboss" pursuit of productivity and physical and mental self-optimization. "The 'that girl' lifestyle is unattainable for many — it aestheticizes a life lived in constant pursuit of health and routine, all accomplished while wearing a trendy matching set, understated jewelry, and a perfectly slicked bun," Sherbert explains. "Party-girl beauty probably won't fully replace the 'that girl' look, but it'll continue to become more popular." This has only been accelerated by Zoë Kravitz's Catwoman, who works in an underworld nightclub and wears smudgy, sparkly makeup, and the popular "night luxe" TikTok aesthetic.
While it may seem like an oxymoron to fight toxic wellness with partying (which is notoriously known for being unhealthy), that may be exactly the point of the trend. In the never-ending push to be productive, we all need to carve out space to be the opposite. Party-girl beauty balances the pressure for perfection with some much-needed indulgence. But the reality is, trending aesthetics aside, neither is a routine you would want to center your entire lifestyle around. We can only hope after "clean girl," "that girl," and "party girl" comes just plain "girl." Not in pursuit of anyone or anything.