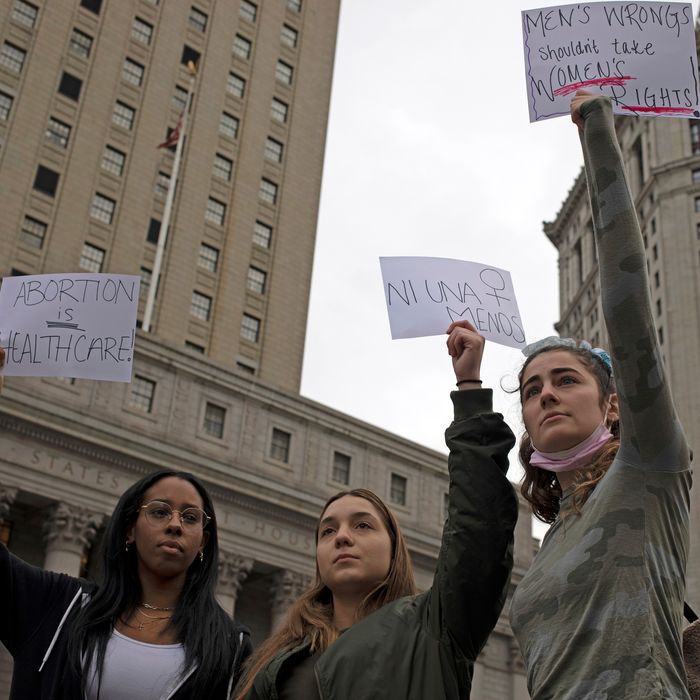 Although the thousands of protesters who showed up at Foley Square on Tuesday evening had presumably spent much of the day doom-scrolling, the mood was oddly jubilant. At 5 p.m., demonstrators in abortion-rights green trickled into the square to protest the leaked Supreme Court draft opinion that revealed the justices have privately voted to overturn Roe v. Wade.
It's an outcome reproductive-rights advocates have feared for years. Yet at Tuesday's protest, it was hard not to feel hopeful. Among the "Abortions Save Lives" signs, small children had "My Body, My Choice" signage tacked to their strollers; poodles wore green Supreme sweaters; there were wafts of weed and men sitting in trees. A girl with green hair held a loud Pomeranian and a painted "Ruth Sent Us" sign, while a mother wore a "Her Body, Her Choice" sign with an arrow pointing to her toddler, who was busy eating a purple lollipop. "I donated to some southeastern states this morning," I overheard a demonstrator tell her friend matter-of-factly. There was a man in a pink pussy hat, looking fresh out of 2017. Cynthia Nixon slipped by in a striped green dress; a woman propped fuchsia card stock against a tree and scribbled "Bans Off My Body" in pen. Others came prepared with pithier signs: "Criminalize Your Own Fucking Sperm," "If I Wanted the Government in My Vagina, I'd Fuck a Politician." A line of women held up massive cardboard cutouts of conservative justices' faces and encouraged the crowd to let out primal screams ("So you can be enraged now and fight tomorrow," one woman told me). A woman dressed in a vagina costume demonstrated how to rage multitask, ruffling the fabric of her giant metallic labia and flipping off Justice Samuel Alito with both hands. "Do you know if you turn a man into a cardboard cutout, he has to shut up?" she asked the crowd.
In the center of the square, organizers and officials, including New York State attorney general Letitia James, shared stories about their own abortions, revelations that were met with drumrolls, cheers, and callbacks. (The mood briefly shifted when a representative for Mayor Eric Adams took the stand, the crowd booing and chanting, "Fuck Eric Adams!")  "This can't just become another day protest!" an announcer yelled into a megaphone as the crowd dwindled after seven o'clock. "Your anger — don't let that get away."
But on the faces of older protesters, exhaustion was more apparent than anger. "I can't believe I'm doing this again (50 years later!)," one sign read. Reporters swarmed a woman carrying an "I Survived an Illegal Abortion in Birmingham Ala. in 1969" sign, asking her to repeat the story of her botched abortion. "The woman explained to me she was going to put a rubber hose through my cervix, into my uterus, and that the air would pass through the hose, and after 36 hours, I would spontaneously abort," the woman said. "The dogs were barking; there was urine on the floor. It was very frightening. Twenty-four hours later, I started to hemorrhage." The more I spoke to protesters, the more the despair about what lies in store for us became impossible to escape.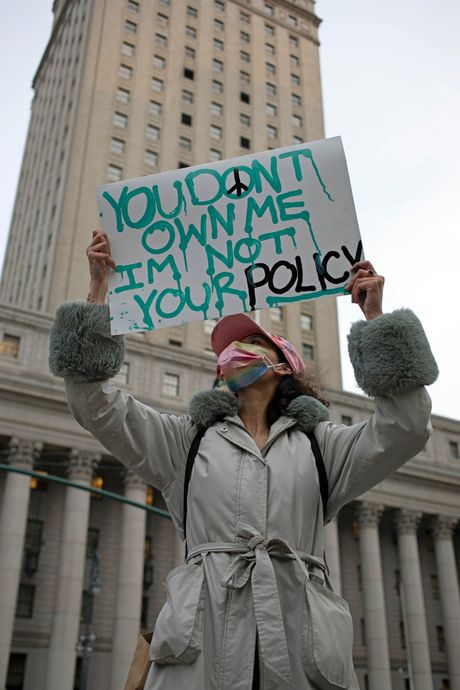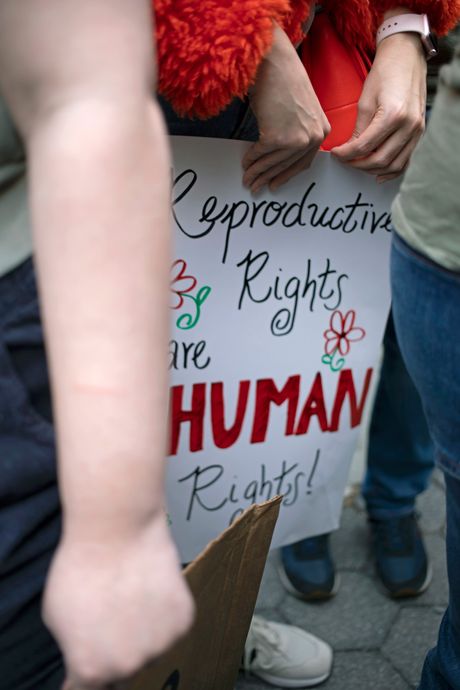 "The news is not surprising to anybody who's been keeping track of the fight for reproductive justice and of the incremental work that conservatives have been doing to erode rights for decades since 1973. I am glad that people are energized and are joining the fight, but I'm feeling tired. I work for an abortion-rights nonprofit, and it's been a steady onslaught. The scariest thing is that the end of Roe isn't really an end. It's a beginning, and it's going to look a lot scarier going forward." — Sarah Hartshorne, 35, writer, comedian, and abortion-rights activist
"I was winding down from a long day when I heard the news. It's one thing to suspect this — as advocates forecasted this outcome and its disproportionate impact on Black and brown, poor, and working-class communities — but to read exactly how members of the Court intend to gut reproductive rights was a harrowing experience. Traumatic." — Jomaire Crawford, 35, lawyer (left)
"Woo, girl. Me and Arianna, our moms are both OB/GYNs. I had an abortion at Planned Parenthood in Ohio when I was 18. I remember all the hoops I had to go through. I said, 'Never again,' and now shit like this is about to happen. In the subway, I was thinking, We better not be the only people here. And we come out and it's packed." — Kathleen Adams, 34, marketer and restaurateur (center) 
"I was at a cast party for Inside Amy Schumer when I heard, with all these comedians. I was flabbergasted. I was glad I was with the company I was with when I heard it." — Arianna Taxman, 30, producer (right)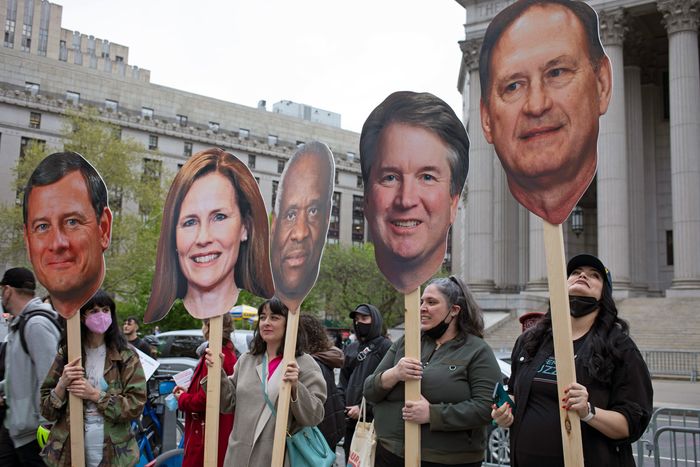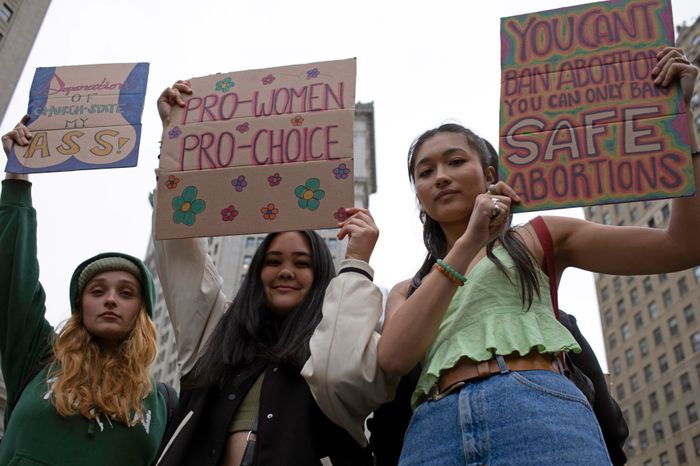 "I was shocked when I heard the news, which is surprising because I had a feeling it was coming, like we all did. But I didn't really think it would actually happen. I'm feeling angry and fearful, but I'm fortunate: I'm 49 years old. I live in New York. I'm fearful for people who live in places where this isn't easily accessible. I think there's an entire generation of women who are going to be kept in a state of poverty or a state of repression. Still, I'm hopeful that this strong reaction energizes Congress. Believe me, this is not the way I would've chosen for that to happen, but I am hopeful that it will." — Jody Q, 49, event producer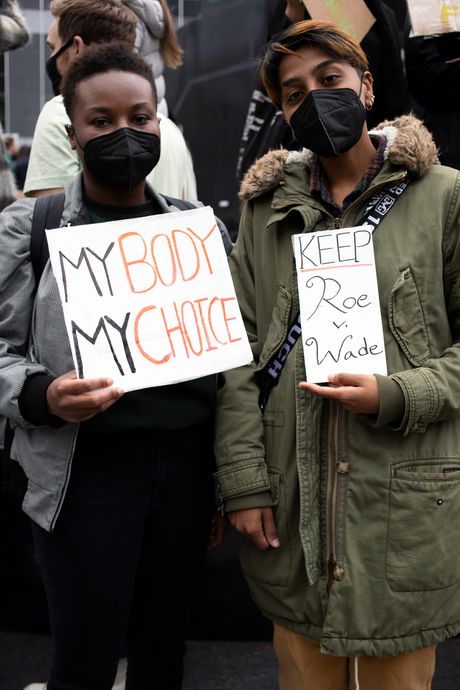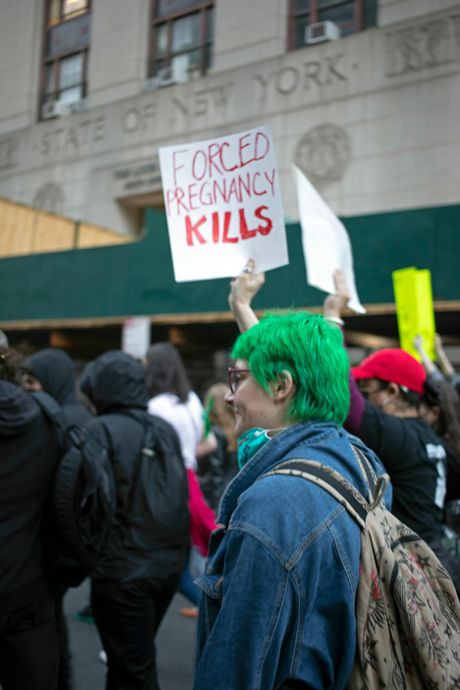 "I feel like we're going back to Stone Age, and I'm a little desperate. I'm a French citizen. I've lived in the U.S. for ten years and have seen things going backwards in ways that are really bad for women and all minorities. I work in public health; I know what it means for a lot of people to not have access to that kind of basic service. And personally — I mean, if abortion was not legal, I would not be here. I would be in such trouble today. And every one of us, I think we have a story, and they have no idea. They have no idea." —Marie de Cenival, 58, public-health worker
"I read all 98 pages of the release document. I'm from Texas, so defending rights isn't new to me. I'm also gay and nonbinary. I'm here because voices need to be heard, words need to be said, and we need to be fucking recognized. Gays taking the law back! Let's go." — Cairna Zimmerman, 20, sophomore at Pace University
"I came out of solidarity. I'm Black and gay and on the list of people they're after. I'm worried for our country, and I feel like I have to be in support of women I know and love. Of all women. But I'm not sure if I have hope." — John Carter, 42, film and TV hairstylist
"It's clear they've rigged the Court, and now we've got the consequences of it. It's a legal ratcheting back to a terrible time. You're not going to be able to vote your way out of it. You're not going to be able to legislate your way out of it. And I don't know what the alternatives are. It is looking very bleak." — Gregory Wright, 63, city worker
"There's always someone you know who has a pregnancy scare, but I don't think that you need a story or personal experience to be active in fighting for women's rights. It's nice to see the number of people who are here and the number of people who are active in this space and fighting, but I don't have that much hope. It feels a little bit like a pointless mission, like you're here just to say that you were here." — Meaghan Yuen, 30, content-marketing strategist