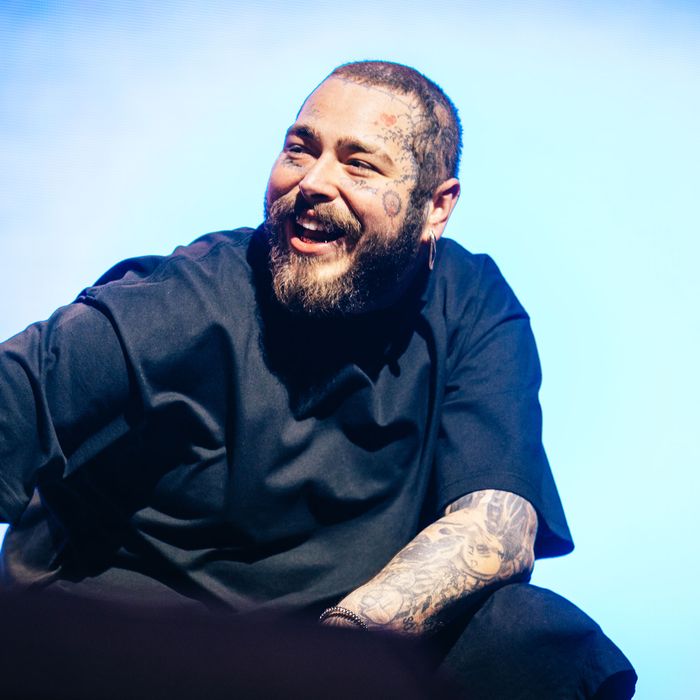 Daddy?
Photo: Matt Winkelmeyer/Getty Images for Coachella
Oh, baby! Guess who's gonna be a dad? It's everyone's favorite barrette-loving, million-dollar-vampire-teeth-having gentleman, Post Malone.
The rapper confirmed to TMZ that he's expecting his first child with his longtime girlfriend, who was unnamed in the story. "I'm excited for this next chapter in my life," he told the outlet. "I'm the happiest I've ever been, and for since I could remember I was sad." Post!! That's beautiful and devastating! He continued, "Time to take care of my body and my family and friends, and spread as much love as we can every day." According to TMZ, the couple celebrated the announcement with a private party for family and friends in Southern California over the past weekend.
Post Malone, whose given name is Austin Richard Post, is expecting another arrival on June 3: his fourth studio album, Twelve Carat Toothache, which is also a gorgeous name for a child. Some other great baby names, should Post need any ideas inspired by his own oeuvre:
- Sunflower Rockstar
- Bentley ("Beerbong" seemed a little age-inappropriate)
- Iverson
- Hootie, in honor of his cover of "Only Wanna Be With You" for Pokémon, which brings me to …
- Squirtle
- And, of course, Wow. (It's gender neutral!)
Congratulations (featuring Quavo) to Post on his soon-to-be family of three! And congratulations to the rest of us on all of the forthcoming baby content we will surely see from our beloved Post.