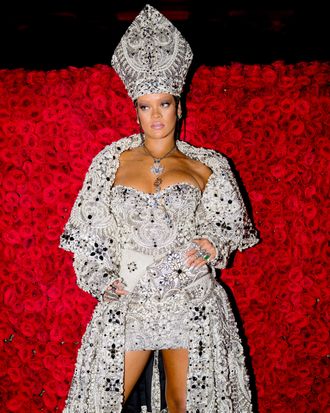 Rihanna, patron saint of being hot and fashionable.
Photo: Kevin Tachman/Getty Images for Vogue
What is peanut butter without jelly? Milk without cookies? Pete Davidson without Machine Gun Kelly? What is the 2022 Met Gala if Rihanna is not in attendance? It's a devastating question, but one it seems we may have answered tonight as Rihanna is unlikely to show up to this year's Met Gala.
Her absence, while disappointing, wouldn't be unsurprising. Rihanna is very pregnant, and there's been a recent uptick in COVID-19 cases in New York City, where the Met Gala is hosted. (Gala attendees must be fully vaccinated and provide a negative PCR test in order to walk the red carpet, but still. A Gilded variant may be upon us.) A number of gala favorites have already announced they won't be coming — most notably Zendaya. So Rihanna would be far from the only big name missing out.
And she's not the only no-show. Plenty of Met Gala frequenters didn't make it to this year's party, among them Lada Gaga, Zendaya, Taylor Swift, Timothée Chalamet, Kanye West, Kristen Stewart, Harry Styles, and Justin Bieber (his wife, Hailey, came solo).
Given the unlikelihood of her attendance, let's take this time to honor our patron saint of being hot and fashionable with a few of Rihanna's previous Met Gala looks. There is, of course, Pope Rihanna, pictured above. But let us not forget Omelet Rihanna from the 2015 Met Gala. A gorgeous egg queen!
There's also Springtime Floral Confetti Rihanna from the 2017 Met Gala:
And who could forget Comforter Rihanna from the 2021 Met Gala? She was accompanied by a big quilt (A$AP Rocky).
If you need your fill of Rihanna fashion, please spend at least three (3) hours staring at any of her pregnancy looks. It may be all we have.