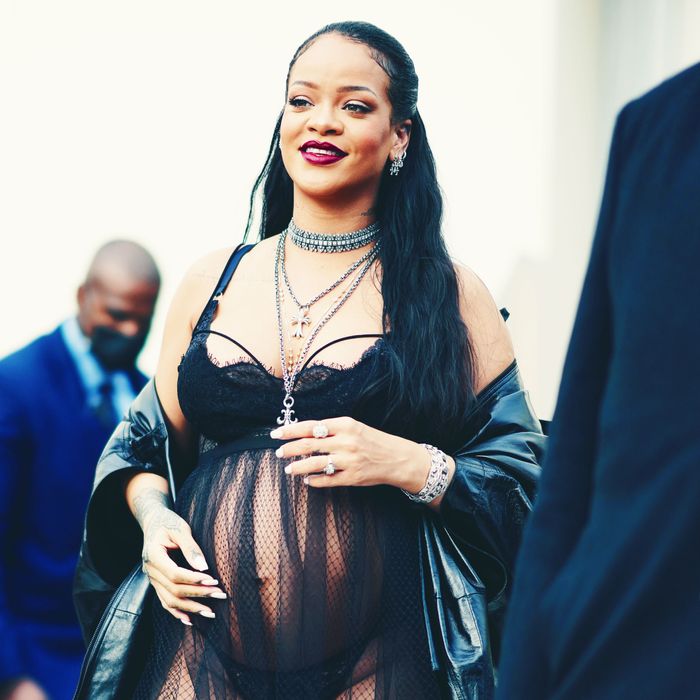 Photo: Edward Berthelot/Getty Images
All rejoice! Hallelujah! Patron saint of weed and assless pajamas Rihanna has reportedly given birth. According to TMZ, RiRi had her bébé on May 13 in Los Angeles. This is her first child with A$AP Rocky.
As of yet, neither Rihanna nor Rocky has publicly confirmed the birth. Thus, very few details are known for sure. TMZ is reporting that she had a boy, though there's no word yet on his name. May I suggest … A$AP Pebble?
Rihanna and Rocky were first linked back in 2020 after her breakup from billionaire boyfriend Hassan Jameel. In June 2021, they finally made their relationship public and were photographed making out at a Barcade in New York. On January 31, 2022 — also known as Christmas II — Rihanna and A$AP confirmed they were having a child. Since the announcement, we've been blessed with Rihanna's many maternity looks and insight as to what a Rihanna baby shower would even look like (e.g., rave themed with everyone "plastered"). Earlier this month, Rocky appeared to propose to Rihanna in his music video for "D.M.B.," which is short for "Dat's my bitch." In the video, he wore a grill that read "MARRY ME?" and Rihanna wore a grill of her own that said "I DO." It's unclear whether they are actually engaged, though that will not stop me from having some speculative celebration.
Likewise, the reports of Rihanna having her baby have been confirmed only by a TMZ source "with direct knowledge." Regardless, a belated happy Mother's Day to Rihanna and an early happy Father's Day to A$AP Rocky.