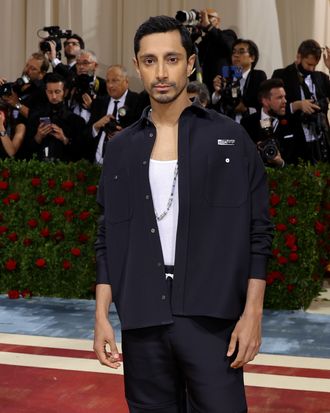 Riz Ahmed at the 2022 Met Gala.
Photo: Mike Coppola/Getty Images
The Met Gala isn't know for being understated, especially when the theme is "gilded glamour." So Riz Ahmed's look for the 2022 Met Gala — an undone work coat, a white tank top, some chunky rubber boots — may have seemed a bit out of place. But that was precisely the point.
As Ahmed explained to Vogue, his outfit was meant to be reminiscent of the laborers of the era. "This is an homage to the immigrant workers who kept the Gilded Age going," he said on the red carpet. (His statement was misheard as "immigrants who kept the Gilded Age golden," which seems even more fitting.) While some Met Gala looks felt like a stretch on the theme, Ahmed's outfit, styled by Julie Ragolia, adhered to it while challenging it.
The Gilded Age, the inspiration for this year's Met Gala theme, refers to the era during the late 1800s when there was an increase in American innovation. It was also a time when New York's upper crust thrived — think the Vanderbilts, the Rockefellers, etc., etc. This year's theme especially played into the opulence of the era with gala invitations giving specific instructions that the event is "white tie," the even more formal counterpart to black tie. "The 2022 Met Gala will ask its attendees to embody the grandeur — and perhaps the dichotomy — of Gilded Age New York," Vogue explained, which is about as close as the event seemed to get to acknowledging the wealth disparity of the time.
Ahmed's look evokes politically inspired outfits of Met Galas past such as AOC's "Tax the Rich" gown from 2021. While the congresswoman was primarily praised for her choice to wear the statement amid billionaire attendees including Elon Musk, she was also criticized for the hypocrisy of even going to an event that is arguably the epitome of wealth and elitism. Portions of Ahmed's outfit had previously been incorrectly credited as Prada. However, as Ragolia clarified, "The look was made custom by an independent immigrant designer, 4S Designs. His jewelry represented pieces worn in south India." Ahmed was wearing a long Cartier necklace — not exactly the sort of thing an immigrant worker of the time could afford. Still, I appreciate the fact that he acknowledged the economic inequality that was as characteristic of the Gilded Age as pretty dresses and jewels.
This post has been updated. Our previous version incorrectly stated that Ahmed was wearing Prada.