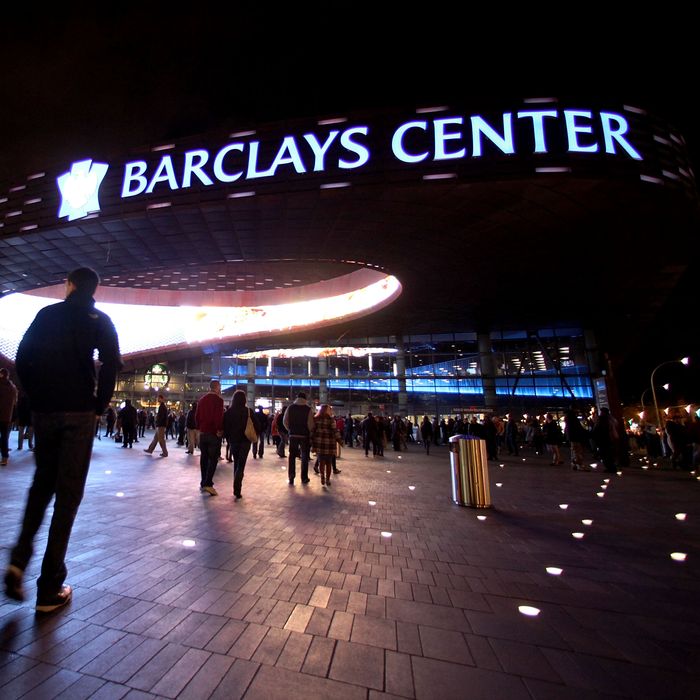 Photo: Alex Trautwig/Getty Images
In the very early hours of Sunday, May 29, loud noises were heard outside of New York City's Barclays Center, where fans were just starting to leave after the Gervonta Davis–Rolando Romero boxing match. Soon, rumors of an active shooter spread throughout the crowd, causing chaos and a stampede that police say sent ten people to the hospital.
Early reports suggested that there had been gunfire just outside of Barclays, with a Barclays Center security supervisor reportedly telling ESPN that someone with a gun was seen just outside the stadium. However, a handful of hours later, the New York City Police Department announced that there was no evidence that shots were fired in or outside of Barclays. Instead, the department told CNN, there was a "sound disturbance" that people mistook for gunfire, causing mass panic. A stampede broke out as attendees rushed to exit the building, resulting in multiple injuries. The NYPD told Forbes that ten people with "minor injuries" were sent to the hospital in stable condition. Local ABC News reported 18 injured on the scene. "I was so confused, my adrenaline was pumping," Joshua, a teen who was on an escalator when he heard the loud noises, told ABC. "I was just thinking how am I going to get out of here." Photos posted on Twitter of the aftermath show broken glass, debris, and litter scattered throughout the halls.
Tennis champion Naomi Osaka was also at the event and tweeted about the experience. "Suddenly I heard shouting and saw people running, then we were being yelled at that there was an active shooter," she wrote at 1:42 a.m. Sunday. The athlete said she took refuge in a room, closed the door and huddled with her fellow guests. "I was so fucking petrified man," she added.
The source of the noises that seemingly sparked rumors of an active shooter remains unclear. Some reports suggest it came from outside Barclays Center, but ABC reported that police believed the noises to have been a trash can kicked over by a pumped-up fan. But regardless of what caused it, the fact is that, in America, this is now an understandable response to hearing a loud bang in a public space.
Less than a week after the mass shooting in Uvalde, Texas, that left 19 children and two adults dead in an elementary-school classroom, tensions are running high. As the NRA gathered in Houston to host its annual conference, politicians doubled down on their resistance to common-sense gun-control measures. Even Texas governor Greg Abbott told attendees that any gun laws would be pointless. "Remember this: There are thousands of laws on the books across the country that limit the owning or using of firearms, laws that have not stopped madmen from carrying out evil acts on innocent people in peaceful communities," he said in a pre-recorded statement. As long as mass shootings continue to be a part of American life, mass panic will be too.