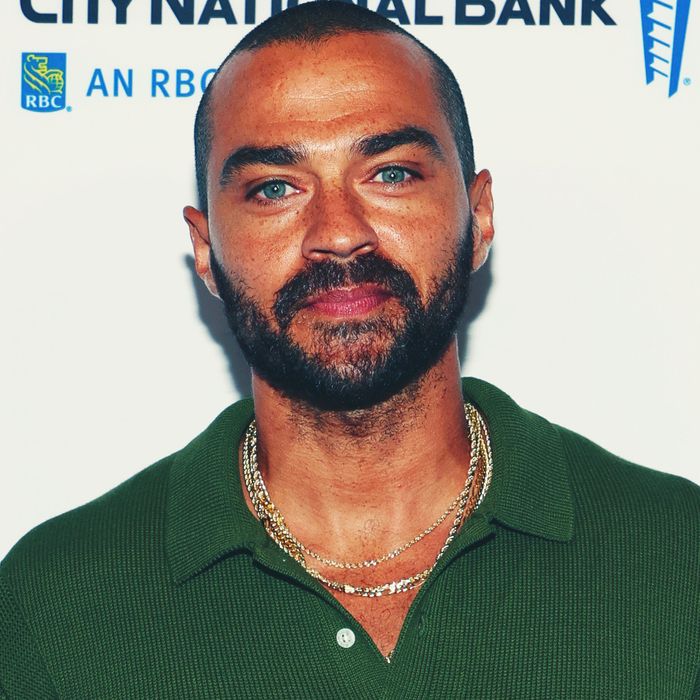 Photo: Mike Coppola/Getty Images for Tribeca Festiva
Last Monday, around the same time Jesse Williams was nominated for a Tony for his performance in Broadway's Take Me Out, leaked nudes of him performing in the show went viral on Twitter. 
In the revival of the 2002 play, the former Grey's Anatomy star plays Darren Lemming, a gay baseball player who comes out at the height of his career. The show includes a shower scene, in which Williams and another actor appear fully nude. According to CNN, Second Stage's Hayes Theater requires audience members to lock their phones into pouches for the duration of the show "out of respect and support for our actors and in order to create a phone-free space" — meaning that whoever leaked the images presumably violated that policy, and took and shared the photos without Williams's consent.
The theater has since released a statement saying they are "appalled" by the policy violation and "actively pursuing takedown requests." "It is deeply unfortunate that one audience member chose to disrespect the production, their fellow audience members, and, most importantly, the cast in this manner," Second Stage tweeted. "Taking naked pictures of anyone without their consent is highly objectionable and can have severe legal consequences." The statement called the leak "a gross and unacceptable violation of trust between the actor and audience," requesting that people cease distribution of the pictures online.
Before the photos were leaked, Williams spoke on Watch What Happens Live earlier on Monday about the nude scenes. "Everybody makes such a big deal," he told host Andy Cohen. "It's a body. Once you see it, you realize it's whatever." Williams had previously told "Page Six" that he was at first "terrified" to appear nude in his stage debut: "But then I noted that that was what I asked God for. I asked to be terrified. I asked to do something that was scary and challenging and made me earn it and made me feel alive and not comfortable."
On Thursday, Williams finally addressed the leak, telling the Associated Press: "I'm not really worrying about it. I can't sweat that. We do need to keep advocating for ourselves. And it's wonderful to see a community push back and make clear what we do stand for, what we don't. Consent is important, I thought. So let's keep that in mind universally."
This post has been updated.