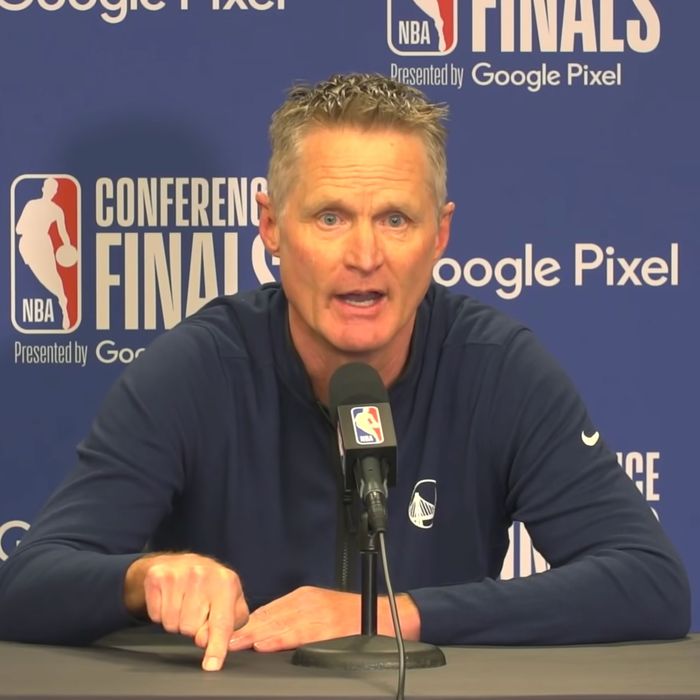 Photo: Golden State Warriors/YouTube
On Tuesday morning, a gunman killed at least 19 children and two adults at Robb Elementary School in Uvalde, Texas. It's the deadliest school shooting since the 2012 attack at Sandy Hook Elementary, which killed 27 people, many of whom were young children.
Members of Congress were quick to offer empty condolences, something we've unfortunately come to expect after mass shootings like the one on Tuesday. Or the one that took place at a Buffalo, New York, supermarket less than two weeks ago. Or the one at a church in Laguna Woods, California, that took place the day after that. Senator Mitt Romney offered his prayers, which he acknowledged were "grossly inadequate." He did not address the fact that, as journalist Soledad O'Brien noted, he has received nearly $14 million from the NRA throughout his political career. Georgia representative Marjorie Taylor Greene, who previously mocked a survivor of the 2019 Parkland high-school shooting, responded by tweeting "we don't need gun control" hours after news of the shooting broke. Colorado representative Lauren Boebert called for "armed teachers," something teachers unions and a majority of Americans have historically opposed. Texas senator Ted Cruz called for armed guards in schools; as New York representative Alexandria Ocasio-Cortez pointed out, Cruz is slated to headline the NRA's convention in Houston at the end of May.
Even on the left, the responses ranged from disappointing to infuriating. When asked whether this most recent shooting would spur any related legislation, Senate Majority Leader Chuck Schumer said he was doubtful and shifted the responsibility to citizens who want to make their stance on gun control heard: "Americans can cast their vote in November."
One of the most impassioned statements in response to Tuesday's shooting came from Golden State Warriors coach Steve Kerr. "I'm tired. I'm so tired of getting up here and offering condolences to the devastated families that are out there," Kerr said during the press conference before the NBA finals game, which took place game in Dallas. "I'm tired of the moments of silence. Enough." Kerr, whose father was killed by two gunmen in 1984, specifically called out the 50 senators who have refused to vote on a gun-control bill HR8 for more than a year. The bill was passed by the House in March 2021 and would require more extensive background checks, something 90 percent of Americans support. "So I ask you, Mitch McConnell, I ask all of you senators who refuse to do anything about the violence and school shootings and supermarket shootings," Kerr continued. "I ask you: Are you going to put your own desire for power ahead of the lives of our children and our elderly and our churchgoers? Because that's what it looks like."
Here, Kerr's statement in full:
"I'm not going to talk about basketball. Nothing's happened with our team in the last six hours. We're going to start the same way tonight. Any basketball questions don't matter.




Since we left shootaround, 14 children were killed 400 miles from here. And a teacher. In the last ten days, we've had elderly Black people killed in a supermarket in Buffalo, we've had Asian churchgoers killed in Southern California. Now, we have children murdered at school. When are we going to do something?




I'm tired. I'm so tired of getting up here and offering condolences to the devastated families that are out there. I'm so tired — excuse me — I'm sorry. I'm tired of the moments of silence. Enough. There's 50 senators right now who refuse to vote on HR8, which is a background check rule that the House passed a couple years ago. It's been sitting there for two years. And there's a reason they won't vote on it: to hold onto power.




So I ask you, Mitch McConnell, I ask all of you senators who refuse to do anything about the violence and school shootings and supermarket shootings. I ask you: Are you going to put your own desire for power ahead of the lives of our children and our elderly and our churchgoers? Because that's what it looks like. It's what we do every week.




So I'm fed up. I've had enough. We're going to play the game tonight. But I want every person here, every person listening to this, to think about your own child or grandchild, or mother or father, sister, brother. How would you feel if this happened to you today?




We can't get numb to this. We can't sit here and just read about it and go, well, let's have a moment of silence — yeah, Go Dubs. C'mon, Mavs, let's go. That's what we're going to do. We're going to go play a basketball game.




Fifty senators in Washington are going to hold us hostage. Do you realize that 90 percent of Americans, regardless of political party, want background checks — universal background checks? Ninety percent of us. We are being held hostage by 50 senators in Washington who refuse to even put it to a vote, despite what we, the American people, want. They won't vote on it because they want to hold onto their own power. It's pathetic. I've had enough."