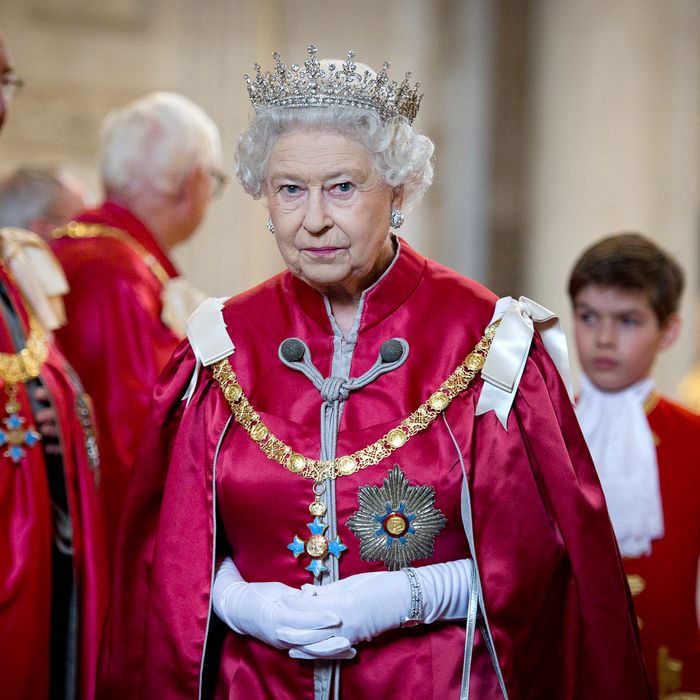 Photo: Geoff Pugh - WPA Pool/Getty Images
Well, that's one way to honor the queen. Kicking off a week of celebrations for Queen Elizabeth's Platinum Jubilee, Stonehenge — the 5,000-year-old man- or alien-made rock formation that has puzzled historians and conspiracy theorists for centuries — transformed into a billboard for the monarchy. [Insert the monarchy being old as rocks joke here.]
The unique tribute was organized by English Heritage and features eight photographs of the monarch projected onto eight ancient pillars of Stonehenge — one for each decade of her reign, plus the decade ahead. "We wanted to show different aspects of the Queen's personality, of her interests, and really show what a special lady she is," said English Heritage, per Sky News. The projections include one photo of her 1953 coronation, another of her riding a horse, others from public events, and, of course, one of her walking a corgi. Stonehenge wasn't the only British monument adorned with giant projections of the queen's face. The Marble Arch in London was reportedly adorned with six portraits.
The royal co-opting of one of the world's most famous landmarks has, predictably, caused some dissatisfaction on Twitter. "It's Stonehenge, a place of ancient pagan celebrations, a place of tranquility to observe the solstice," wrote @skypanda47, noting that the gesture upset them. Podcaster Jack Graham said, "As someone who lives near Stonehenge, I find this co-opting of a heritage site for political propaganda disgraceful and embarrassing." And then, of course, there were the jokes. "Something ancient and now pointless that we keep under the guise of tourism, projected onto stonehenge," wrote comedian Alexandra Haddow. (Click on the "Stonehenge" trending topic and you will see some variation of this joke every four tweets.)
And really, what did they expect? You can't project images of a 96-year-old monarch onto a pile of very old rocks and not have people make fun of it. Even people who don't believe in the monarchy deserve to get some joy out of the Jubilee.