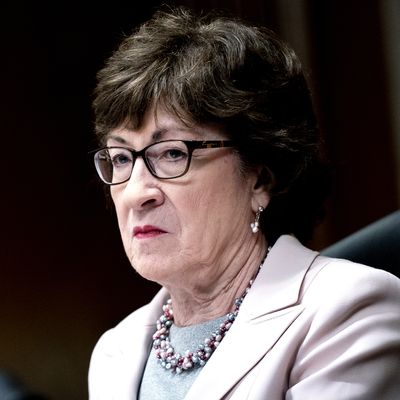 Photo: Stefani Reynolds/Bloomberg via Getty Images
The Supreme Court is reportedly poised to dismantle Roe v. Wade and set abortion rights back half a century, but if you ask Susan Collins, it's sidewalk chalk that's the real problem. The senator from Maine called the police on Saturday after a constituent sent her a message in colorful chalk — something she could have literally washed off herself.
In the wake of the leaked SCOTUS draft decision that would end Roe v. Wade — something Collins has insisted she is against — the senator took a public stance against the Women's Health Protection Act, a bill that would essentially protect abortion rights under federal law, claiming it "doesn't protect the right of Catholic hospitals to not perform abortions." (A characterization Democratic supporters of the bill have pushed back against.) So what's a constituent to do when their representative fails to protect abortion rights? In this case, someone decided to leave Collins a supremely civil message on the sidewalk near her Bangor, Maine.
"Susie, please … Mainers want WHPA," the message read. "Vote yes, clean up your mess." Written in bright red, blue, and yellow chalk, the message was a simple, colorful, peaceful protest on public property. Surely it's not something anyone would find threatening or offensive, right? Wrong. Susan Collins was apparently so shaken by this sidewalk chalk, she called the cops. Per BuzzFeed, police responding determined that the "message wasn't threatening" and that "no crime was committed."
After it was reported that Collins called the police because of chalk — which, I cannot stress enough, is completely water soluble — she provided a statement to Bangor Daily News calling the message "defacement of public property" and thanking the Bangor police and public works, which washed the message off with water.
The Women's Health Protection Act is set to be brought to a vote in the Senate on Wednesday, May 11. Meanwhile, Collins is reportedly working with Senators Tim Kaine and Lisa Murkowski on a bipartisan bill that could codify Roe v. Wade, though who knows if they'll be able to agree on the scope of such a bill, and Republican politicians across the country are continuing to float ideas for even more restrictive laws on female reproductive rights. But, sure, let's call the cops for chalk, that feels like a priority, right?