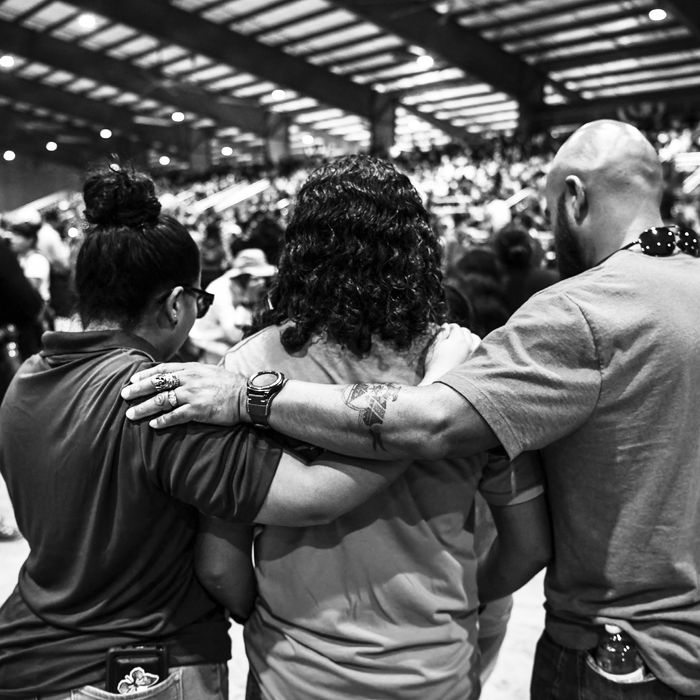 Photo: CHANDAN KHANNA/AFP via Getty Images
Miranda, 34, has been teaching in the suburbs of San Antonio for eight years. (Her name has been changed here to protect her privacy.) When a gunman opened fire Tuesday at Robb Elementary School in Uvalde, Texas — just an hour away from the high school where she currently teaches — it hit close to home. She knows several people who lost loved ones in the tragedy. Below, Miranda told us how her school addressed the nearby shooting and how she's internalized that sacrificing her life for her students is part of her job as an educator.
The past week has felt very lax. Everyone's been signing yearbooks and talking about summer plans. I'm an advisor for the senior students, and it's actually been really fun. Tuesday, we were at an amusement park, and that's when the news of the shooting in Uvalde broke. My mom texted me first, because she was also a teacher. One of my colleagues texted me, "What's happening?" because we were out with the seniors the whole day. Then on the ride home, kids were giving updates, saying what was happening and what they were finding out based on social media. It was really weird. They had just finished their senior year, and they were already sad because they knew this was their last bus ride together. Now this horrible atrocity just happened. Everyone was quiet.
When we got back to school, only the teachers talked about it. We didn't get any messages from the school administration until the next morning, when the superintendent sent an email that expressed sympathy and said we could join him and his family in prayer if we wanted. Then he sent an email saying if we wanted to support the city, or to support those who were affected by this, we could donate money to kind of like a GoFundMe, but a local thing. The administration hasn't talked to us about it besides that.
I talked to my students today, and I got emotional because I was in fifth grade when Columbine happened. I was in New Mexico at the time, and even though Colorado is a state away, it felt very close, and I remember being so scared of going to school the next day. When I started teaching, I didn't think this would be something that happens all the time. You think it's one shooting and then it won't happen again. But it does. I have a friend who was deployed in Afghanistan, and he was like, "You always worry about me, but I actually have weapons. You don't think I worry about you?"
We had a teacher who transferred from here to Uvalde, who teaches fifth grade at the intermediate school and is fine. She was in lockdown late into the night. My best friend's sister-in-law knew one of the teachers who died. A girl I went to high school with, her cousin is one of the little girls who died. This one feels too close — even though Texas is seen as a huge community, we're tight knit. I grew up in a small town like Uvalde, and you feel somewhat untouchable because you know everyone and everyone knows you. You feel safe all the time. This shooting feels like such a betrayal of trust.
As teachers, we already sacrifice so much. We sacrifice time with our families. We care for other people's kids at capacities that I think people who aren't in education don't fully understand. During the pandemic, we were some of the first people back to work. We're expected to put our lives on the line for these kids. And not that it's a bad thing or not admirable, but when I was becoming a teacher, I never thought it would be like this. No one ever talks about that aspect of teaching.
I remember telling my co-worker, who was pregnant, "Hey, if something ever goes down, I want you to hide, and I know that you're gonna want to protect those kids, but that's not your job right now. Your job is to be a mom and to protect your baby." Because I don't have kids, I think to myself, it's okay for me to feel more sacrificial. I know I would lay my life down for my students, but if I were to have my own kids, I think I could change. Because then who would take care of my kids?
This interview has been condensed and edited for clarity.