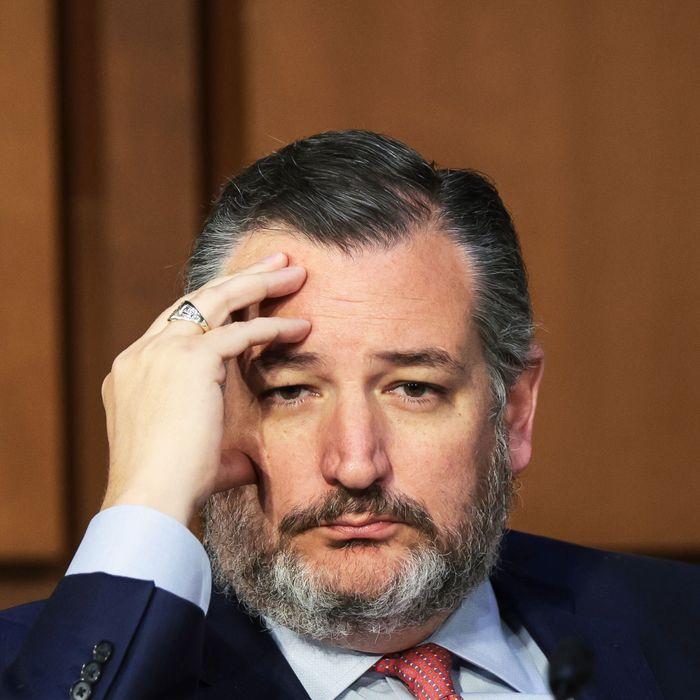 Photo: Win McNamee/Getty Images
Ted Cruz is confused. He is bewildered. He demands answers for the greatest question plaguing our democracy: How come Pete Davidson gets to date so many beautiful women?
On a recent episode of the senator's podcast, Verdict With Ted Cruz — must everyone have a podcast? — Cruz's co-host, Michael Knowles, asked a listener-submitted question about "toxic femininity." Haha, what? "The Women's March was this weekend," the question began, likely referring to the recent slew of protests in support of abortion rights. It continued, "We are seeing women like Amber Heard, Jada Pinkett Smith, Meghan Markle, Kim Kardashian." Yes, we are indeed … seeing women. Finally, the listener posed the ultimate question: "Is it time we start talking about toxic femininity?"
Both Cruz and Knowles laughed at the question but proceeded to try to answer it. Cruz acknowledged that it seems "unfair to blame" Smith for her husband's actions. Moving on, he admitted he hadn't watched any of the defamation trial between Heard and Johnny Depp, which Knowles called "riveting" and "the best thing on television." Then Cruz got to Kardashian. "She hasn't done anything lately," he said. "Kim seems fine." Knowles piped in about "the SNL guy," meaning Pete Davidson, who is currently dating Kim Kardashian. This appears to be Cruz's activation phrase.
"How come that dude gets all of these, like, hot women?" Cruz began. He was specifically riled by the fact that Davidson dated "Kate Beckinsdale." He was presumably referring to Kate Beckinsale, who was linked to Davidson in 2019. "I mean, you're talking Underworld, you're talking, like, superhot vampire in black leather trench coat. And you're like, 'Really? The SNL dude?'" Cruz continued.
If Davidson has Big Dick Energy, Cruz has Cursed Dick Energy. The Texas senator is known for such classic hits as flying to Cancún when his state was in crisis and fighting with Seth Rogen on Twitter. He loves canned soup and once liked a pornographic tweet on 9/11. He said America is best "when she is lying down with her back on the mat" and referred to abortion-rights protests as "mob violence." In the past couple years, he has voted against the $1.9 trillion COVID-relief bill, the creation of a bipartisan commission to investigate the January 6 U.S. Capitol riot, and a bill that would strengthen the government's response to anti-Asian hate crimes. Cruz's Democratic colleagues dislike him, but even his Republican colleagues find him hard to work with.
After Cruz had his fill of talking about Davidson and his "hot women," he moved on to talking about Markle, the final woman named in the listener's question. Cruz said he doesn't follow the royal family but believes their politics are merely a ruse to "try to prove to leftists they're as woke as anyone wants them to be." And that apparently concluded their discussion of "toxic femininity," which neither of the hosts attempted to define.