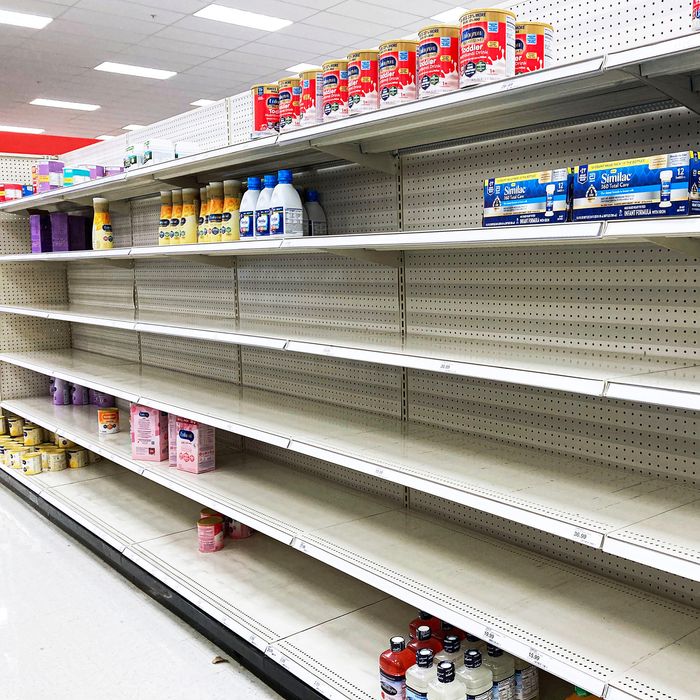 Photo: Paul Hennessy/SOPA Images/LightRocket via Getty Images
For the past few weeks, a nationwide baby-formula shortage has had major retailers rationing their supplies, and it looks like things won't be getting better anytime soon. The shortage, initially the result of supply-chain issues and labor shortages, intensified after major baby-food manufacturer Abbott Nutrition shut down its production plant in Sturgis, Michigan, and voluntarily recalled three of its infant formulas in February, following reports of bacterial infections and at least two infant deaths. Per CNN, other manufacturers claim to be producing formula at full capacity, but it's still not enough to meet demand.
In addition to stores like CVS and Walgreens limiting formula purchases, the Times reports that private online sellers have been gouging prices. According to Datasembly, over 40 percent of baby formula is currently out of stock, a number experts predict will keep growing. "We anticipate baby formula to continue to be one of the most affected products in the market," Datasembly CEO Ben Reich said in a statement.
Formula shortages put a strain on caregivers, particularly mothers for whom breastfeeding isn't possible, whether due to issues with milk supply, medical reasons, a lack of support services, or work demands. The shortages also pose a threat to the health of infants, including those who rely on specialty formulas because of allergies or other medical complications. "Unlike other food recalls, shortages in the infant-formula supply affects a major — or even exclusive — source of nutrition for babies," said Brian Dittmeier, senior director of public policy at the National WIC Association, a nonprofit that works to provide supplemental nutrition to women and children across the country. While the American Academy of Pediatrics recommends that infants be exclusively breastfed until six months of age, the latest numbers from the CDC indicates that's only a reality for roughly a quarter of babies. What's more, nearly 20 percent of infants receive formula supplementation during the first two days of life. According to the New York Times, some parents have responded to the shortage by stockpiling formula or making their own formula at home, a risky method that can lead to nutritional deficiencies and other severe health complications.
Last week, the FDA, which has been leading the federal response to the shortage — including encouraging retailers to ration formula — made a statement recognizing the frustrations of consumers, adding that they are "doing everything in our power to ensure there is adequate product available where and when they need it." During a press briefing, the White House announced additional measures to address the shortage, including encouraging manufacturers to expedite production, cracking down on price gouging, and increasing formula imports from abroad.
On May 12, the FDA announced it had concluded its investigation into Abbott's contaminated formula with no additional cases of illness identified. Now the FDA and Abbott say they've reached an agreement regarding steps to reopen the Sturgis plant, which, according to Abbott, could mean more formula on shelves in six to eight weeks. For its part, the FDA is temporarily easing import restrictions and encouraging foreign manufacturers to apply to ship formula to the U.S., though it could still be weeks before those products are available to consumers.
For now, parents are still met with empty shelves, and some are reportedly driving long distances to try and find more. The shortage has been especially hard on families with babies who require specialty formulas because of allergies or medical issues. The Times reports that at least two children in Tennessee with short bowel syndrome — where the body does not absorb sufficient nutrients from food — were recently hospitalized after their families could not find EleCare and tried alternative formulas, which the children didn't respond well to. "Each day that this crisis continues, parents grow more anxious and desperate to find what they need to feed their infants," Dittmeier told the Times. 
This post has been updated.