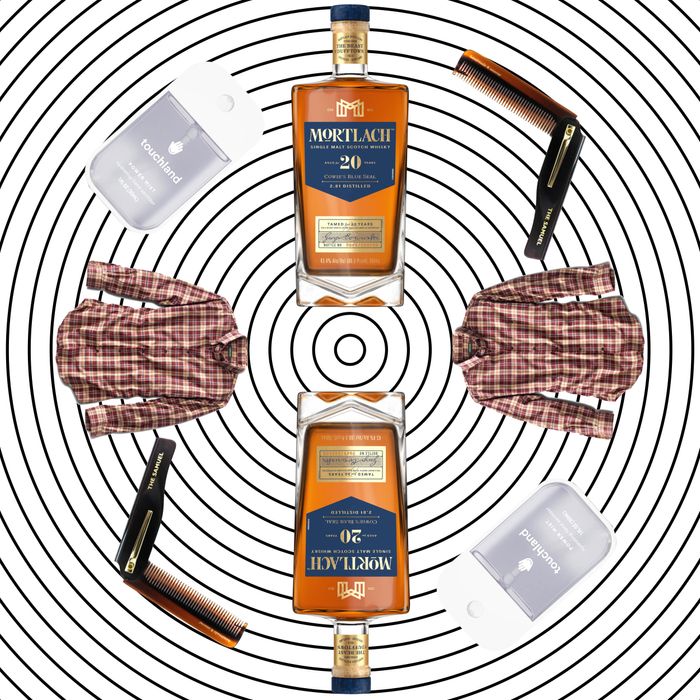 Photo-Illustration: by The Cut; Photos: Retailers
Why does finding a gift for your dad always feel like an afterthought? (Sorry, dads!) It's not like we don't want to gift them, it's just that we don't know what to gift them. After years of figuring out their habits, preferences, and niche hobbies, the margin of error, in terms of a successful gift, is still quite high.
Whether it's some luxury gift ideas to switch up the classics or picks for every type of dad, as editors and fellow daughters, we've also tried it all. That's why, this year, we're opting for foolproof gifts our dads will bound to love. From a shirt he already owns to a capital "M" Man Gift (a bottle of Scotch), here's what five Cut editors are gifting their dads.
Spoiler warning for Cut dads. If you're a Cut dad, don't scroll.
When it comes to gifts, my dad is super picky, so a nice cologne is always a safe bet. This one from Dior has a blend of fresh notes like bergamot and warm notes of amber that reviewers say aren't too overpowering. I also really like this bottle that will at the very least look nice if he doesn't use it. — Chinea Rodriguez, shopping writer
My dad's thing is to comb his hair every 15 minutes. He's had the same black pocket comb for as long as I remember. Or at least that's what it looks like. That's why while I was exploring the Lower East Side shops with my mom and stumbled upon this Kent Folding Pocket Comb at November 19, I instantly knew it was the perfect gift for him. It also has a cute pocket clip so it can be securely stored in his back pocket or shirt pocket. — Bianca Nieves, senior shopping editor
My dad's difficult to buy for. Hot take, I know. But the things he wants, he buys for himself. Last year, I finally tired of missing the mark with his gifts and decided to remove uncertainty from the equation entirely. While home visiting my parents, I went into his closet, selected a shirt he often wears (this Orvis Battenkill cotton blend, to be exact), found its label, and copied down the brand, style number, and size. I got him another of the exact same shirt, but in a color he didn't already have. He was pleasantly surprised and wears it regularly. It's foolproof. — Rachel Bashein, managing editor
My father has steadfastly returned every gift I've ever given him — that anyone's ever given him. He'll return shirts and colognes, gift cards and ties; he doesn't drink, and every year insists his "gift" would be the happiness of his children, which, mhm. I'll be taking him to a seafood boil this year. He finds it cathartic to crack open lobsters. And most importantly, he can't return them. I'll also be sure to bring Touchland's Power Mist hand sanitizer for unfussy cleanup. They come in a variety of scents, including rainwater and blue sandalwood, but my father is a minimalist; he'd want the unscented version. — Bindu Bansinath, writing fellow
I never know what to get men. I mean, what do they do all day? What do they like? Fathers are especially hard, and I've wiled away hours of my life browsing funny ties and leather-bound notebooks. It's a waste of time, and these days I'm all for just getting them a bottle of Fancy Scotch. Indeed, I have had success gifting Scotch to all manner of enigmatic men in my life — friends, boyfriends, cousins, and yes, even fathers. There's something about it that is sophisticated and timeless, and as a capital "M" Man Gift, it seems to somehow reaffirm their masculinity. Even if they don't drink much, the bottles are usually pretty, and if they really don't like it, it's easy to regift. — Sangeeta Singh-Kurtz, senior writer