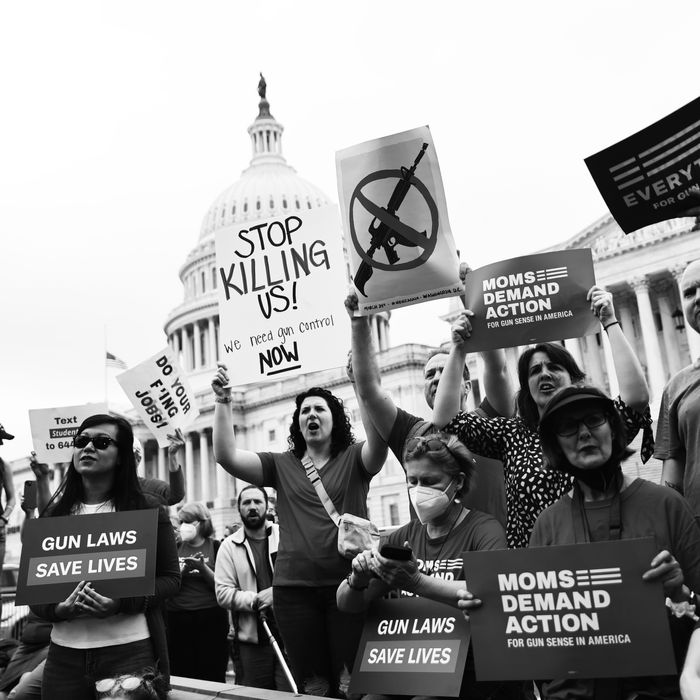 Photo: Ting Shen/Bloomberg via Getty Images
On Tuesday, a gunman opened fire inside Robb Elementary School in Uvalde, Texas, killing 19 children and two teachers. The tragedy came less than two weeks after a mass shooting at a Buffalo supermarket, where an 18-year-old white supremacist killed ten people and injured three others in a racist attack. As is custom in this country's bleak cycle of mass shootings, gun-control advocates have begged lawmakers to do something, while gun-rights proponents have insisted the carnage has nothing to do with weak laws regulating firearms. The U.S. is the only developed country where mass shootings occur regularly — yet even in the wake of horrific school shootings, lawmakers rarely alter legislation to reduce the chances of another tragedy.
In fact, at least one arm of the government seems poised to expand Americans' right to carry even further. The conservative-majority Supreme Court is expected to overturn New York State's proper-cause law, which requires anyone applying for a license to carry to prove they need the weapon for reasons beyond their own public-safety concerns. The decision would effectively wipe out existing laws that restrict public carrying, which are currently in place in a handful of other blue states. The case, New York State Rifle & Pistol Association v. Bruen, involves two men from Rensselaer County who argue that the state not allowing them to legally carry handguns everywhere they go violates the Second Amendment. The Supreme Court heard oral arguments on their case in November and is expected to hand down a decision in June.
Here's what to know about the case.
The plaintiffs say New York's gun laws violate their Second Amendment rights.
New York State currently has some of the strictest gun laws in the country, including regulating who can carry a gun. In order to get a "carry concealed" pistol license, which allows someone to have a gun on their person wherever and whenever they see fit, that person has to prove "proper cause," which is defined in the state legislature as a "special need for self-protection distinguishable from that of the general community." Most states view self-defense as a valid enough reason to carry a gun at all times, but New York isn't the only state that requires stronger reasoning — New Jersey, California, Massachusetts, and Hawaii have similar mandates.
The plaintiffs in NYSRPA v. Bruen applied for a concealed-carry license and were granted allowances only for hunting and commuting to and from work. Their lawsuit claims they have a constitutional right to have handguns on them at all times as defined in the Second Amendment as the right to "keep and bear arms."
The Supreme Court seems likely to rule New York's laws unconstitutional.
During oral arguments, it seemed pretty clear where the Supreme Court, which now has a conservative supermajority, stood on this issue. While the justices could still decide the law is unconstitutional in only this instance and issue a narrow ruling, their questions suggested they plan on handing down a decision that applies to all restrictions on public carrying, including in states other than New York — which, as one lawyer involved in the case told the Washington Post, would be a "holy grail" for gun-rights advocates.
Foreshadowing a more sweeping decision, Chief Justice John Roberts drew a misleading comparison to the First Amendment. He argued, "You don't have to say, when you're looking for a permit to speak on a street corner or whatever, that, you know, your speech is particularly important. So why do you have to show in this case that you're entitled to exercise your Second Amendment right?" He added that people in "high-crime areas" have just as much of a right to protect themselves as people "out in the woods." "How many muggings take place in the forest?" he asked.
Another argument against proper cause came from a group of public defenders associated with the nonprofit Bronx Defenders, who argued that New York City's Black and Latinx residents are the people most likely to benefit from expanded gun rights. They said their clients, who've been arrested for having unlicensed firearms, were carrying them to feel safe after experiencing some kind of physical attack. Pointing to former mayor Michael Bloomberg's racist stop-and-frisk policies, they outlined the dismal statistics on unlicensed-possession arrests, which, according to the NYPD's own data, disproportionately target Black and Latinx people. The group proposed that legalizing guns in public places could help keep their clients safe while sparing them from the racism of the justice system.
Justice Samuel Alito seems to have picked up on this rhetoric. During oral arguments, he pressed New York solicitor general Barbara Underwood on why people working late in Manhattan couldn't arm themselves for their commutes home, citing a series of service jobs occupied disproportionately by people of color: "somebody who cleans offices … a doorman at an apartment … a nurse or an orderly … somebody who washes dishes."
Justices want New York to designate "sensitive places" where guns are restricted.
Much of the oral arguments was dominated by a discussion of "sensitive places," a term first cited by Justice Antonin Scalia in 2008 when the Supreme Court ruled that individuals could keep guns in their homes for self-defense. The Court's conservative justices proposed allowing New York to pass laws limiting guns in particularly high-density or otherwise vulnerable areas such as schools, stadiums, public transit, and, per Justice Amy Coney Barrett's suggestion, "Times Square on New Year's Eve."
New York City mayor Eric Adams has already predicted an uphill battle outlining any kind of prohibited gun areas but said City Hall is looking into what legislation can be passed. The Biden administration also spoke out against the looming Supreme Court decision, writing in a statement before oral arguments began, "The Second Amendment protects an individual right to keep and bear arms, but that right is not absolute."
It bears repeating that studies have repeatedly shown that states with tighter gun restrictions have the fewest mass shootings. One analysis that compares Centers for Disease Control and Prevention data on gun violence to the strength of each state's laws found that Hawaii and Massachusetts — two states that have concealed-carry laws similar to New York's — had the lowest gun deaths per 100,000 residents. In every other country in the world, gun-violence incidents prompt lawmakers to drastically tighten gun laws. Then again, those countries don't have politicians attending a National Rifle Association conference this weekend.