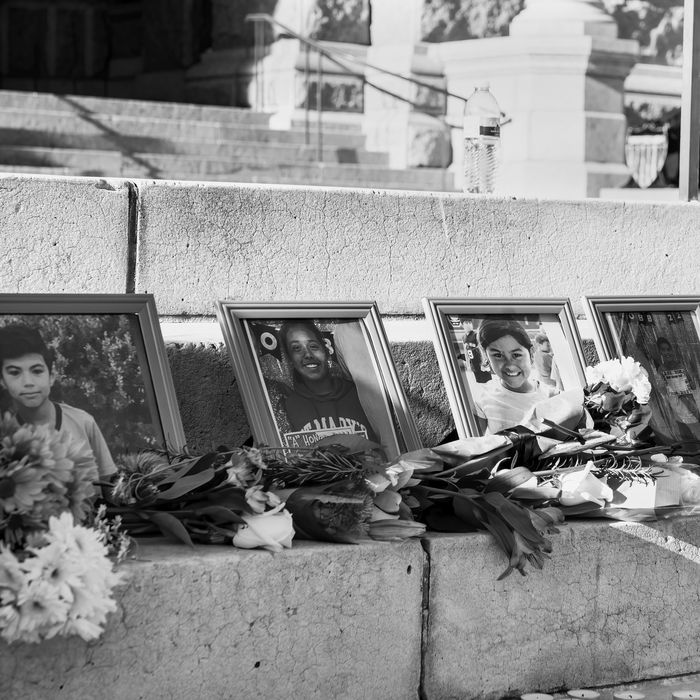 Photos of children who died in the Uvalde elementary school shooting
Photo: Suzanne Cordeiro/Shutterstock
After an 18-year-old gunman opened fire in a Texas elementary school Tuesday morning, at least 19 children and two teachers have died. The attack on Robb Elementary in Uvalde — the 27th school shooting of 2022 — is the deadliest shooting at a grade school since Sandy Hook in 2012. According to the Texas Department of Public Safety, the gunman — identified as Salvador Ramos, a Uvalde resident — shot and critically wounded his grandmother with an assault rifle before showing up at Robb around 11:30 a.m. According to the Washington Post, the rampage began in a fourth-grade classroom; witnesses reported seeing kids crawling out the windows. Law-enforcement officials shot and killed Ramos at the site.
And now Uvalde is grieving. A small town of about 15,000 people, an hour from the U.S.-Mexico border, its residents are mostly Hispanic and working class. Local reporter Brian Kirkpatrick told NPR that the community is "very close-knit," and its schools are "a central part" of that.
"So when something happens to a school, it really affects everybody here because a lot of folks that grow up here, you know, live and die here," Kirkpatrick said. "So it's that kind of connected community."
Below, everything we know about the victims whose family members have publicly identified them so far.
Uziyah Garcia, 8 or 9, was "the sweetest little boy that I've ever known," his grandfather Manny Renfro told the Associated Press.
Jose Flores, 10, loved baseball and "going to school," his uncle Christopher Salazar told the Washington Post. "He was a very happy little boy," Salazar said, "loved to laugh and have fun." He'd received an honor-roll award hours before the shooting.
Amerie Jo Garza, 10, died trying to call the police on the gunman, her grandmother Berlinda Irene Arreola told the Daily Beast. She had also won an honor-roll award earlier in the day, and her father reportedly spent hours waiting for information before confirming her death on Facebook.
Xavier Javier Lopez, 10, "was so full of life," his mother, Felicha Martinez, told the Post. He liked sports, art class, and hamming it up for the camera. "He was funny, never serious and his smile," Martinez said of her fourth-grade son. "That smile I will never forget. It would always cheer anyone up."
Nevaeh Bravo, 10, was a fourth-grader. Per BuzzFeed, her cousin confirmed her death in a Facebook post, sharing a photo of Bravo smiling in a blue dress. "Our Nevaeh has been found," her cousin wrote. "She is flying with the angels above."
Alithia Ramirez, 10, loved to draw and wanted to be an artist, her father told KSAT 12 News.
Tess Marie Mata, 10, was confirmed dead by her sister, who posted on Facebook recalling Mata's "contagious laugh," adding that the two played softball together. "I'm confused because how can something like this happen to my sweet, caring, and beautiful sister, and I'm angry because a coward took you from us," Mata's sister wrote.
Alexandria Aniya Rubio, 10, was "beautiful and smart," her mother, Kimberly Mata-Rubio, wrote in a Facebook tribute. Hours before the shooting, Mata-Rubio said she went to her daughter's honor-roll ceremony and watched her receive a good citizen award. "We told her we loved her and would pick her up after school," Mata-Rubio wrote. "We had no idea this was goodbye."
Layla Salazar, 10, used to sing along to "Sweet Child O' Mine" by Guns N' Roses on the way to school, her father told the Associated Press.
Makenna Lee Elrod, 10, was found dead in a classroom, her older sister confirmed on Twitter: "My sweet innocent baby sister…my heart will forever break for you my love."
Jayce Luevanos, 10, was killed along with his cousin and classmate, Jailah Silguero. A cousin of theirs told ABC7 that "they always had a smile" on their faces.
Jailah Nicole Silguero, 11, was a "delighted, energetic, lovely little girl" who enjoyed making TikToks, according to a GoFundMe page her family friend made to cover her funeral expenses. The morning of the shooting, she reportedly asked her mother if she could stay home.
Eliana "Ellie" Garcia, 9, was the second eldest of five girls. She wanted to be a teacher, loved the film Encanto, and dreamed of wearing a purple dress to her quinceañera, her grandparents told the L.A. Times. 
Eliahana Cruz Torres was also killed in the massacre, her family confirmed to KSAT.
Annabell Guadalupe Rodriguez, 10, was a third-grader, her family told KHOU-11. She was in the same classroom as her cousin, Jacklyn Cazares, when the shooter came in.
Jacklyn "Jackie" Cazares, 10, was in fourth grade. She was killed along with her cousin and classmate, Annabell Guadalupe Rodriguez, according to KSAT.
Maite Yuleana Rodriguez, 10, was a "sweet, smart little girl," her family member wrote in a GoFundMe for her funeral expenses.
Rogelio Torres, 10, was among Tuesday's victims, his relatives told a Univision 14 KDTV reporter.
Miranda Matthis, 11, attended Robb Elementary with her brother, who survived the shooting. She was killed in her classroom, her parents told the Fort-Worth Star Telegram.
Eva Mireles, 44, was a fourth-grade teacher at Robb. Her aunt, Lydia Martinez Delgado, told the Post that Mireles was married to a police officer; their daughter just graduated from college. "She did all she could to live a long life," Delgado said, "and here it was cut short." She reportedly helped her students climb out the window before Ramos shot her.
Irma Garcia, Mireles's co-teacher, was also killed in Tuesday's attack, her son, Christian Garcia, told NBC. She'd taught at Robb Elementary for 23 years and had four kids. "She sacrificed herself protecting the kids in her classroom," said a Twitter user identifying himself as Garcia's nephew. "She died a HERO. She was loved by many and will truly be missed."
This post has been updated.