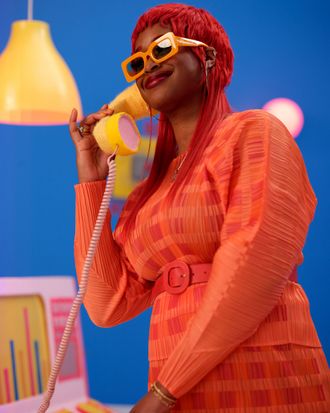 You probably know Tierra Whack from her 15-minute debut album, Whack World, which she self-released in 2018. The Philadelphia-born and -raised rapper put herself on the map when it came to creative vision, pairing the record with a quirky visual album.
Since then, Whack has released more music and collaborated with Vans and Lego, and her song Only Child has remained at the top of my Spotify Wrapped year after year. More recently, she released three EPs — Rap?, R&B?, and Pop? — only shortly after saying she was quitting music.
But now she's ready to focus on what's to come (including her current music) and embarking on a new adventure in jewelry after being named the first creative director of Banter by Piercing Pagoda. Ahead of the collection's July 12 release, I chatted with the artist about why she's excited for this collab and what's next.
You were recently named the creative director of Banter by Piercing Pagoda. Why did you want to do this and what does the role involve?
My mom got my ears pierced at a very young age, and I had a little chain with a T on it, so I just feel like from the start, jewelry became this mandatory thing. It just does something, like a seasoning. So when the collab was presented, I was excited that I got to be a part of the whole process, meaning I'm designing the jewelry. I'm most excited about the earrings.
Is there any jewelry that you've been obsessed with lately?
I have this ring that says "whack," and it's so hip-hop. Coming up, watching the MC Lytes and the Slick Ricks, they always had on really cool forefinger rings. I just always wanted that look — like, I try to stay as hip-hop as possible. That's the culture.
Let's talk about that culture and your music. You released three EPs sort of sporadically, all titled different genres with a question mark. Why did you decide to release them that way, and why do they have question marks at the end?
I'm always looking for a way to not do what everybody else is doing. We're all making music, but we have to find cool ways to give it to the people. Sometimes I'm in the studio and I might say that I want to do a certain kind of track, or I might not even know where I'm headed or where I'm going, but we start one way and we end up with something else. So with one of the tracks, "Heaven," we started with an R&B vibe. And then by the end, it sounded like gospel. I learned a while ago that sometimes just the lyrics or the cadence can change the genre, so I wanted to just go with it.
Who are a few people that you'd love to work with? 
André 3000, the top of the list. I want to work with Kanye, Dolly Parton. It doesn't have to be music. I love Jim Carrey. I don't even know what we'd do. Dave Chappelle. I want to keep working, touching different avenues, exploring and trying new things. There's no specifics; I just want to be ready to try anything that comes my way.
Has there been anything that you've tried that you've been like, No, this is not for me. I cannot do this again? 
I've tried mushrooms. Not the drug type — I'm just talking about eating mushrooms. I hate them. I just can't get with it. I don't know. I just don't like mushrooms at all.
Honestly, that's fair. I'm not a big mushroom fan either. Tell me about a self-care practice you do every day.

I play basketball three times a week with my friends, and it's like my favorite thing to do. I feel like a little kid. I played in high school and in middle school, and it just brings me so much joy, and it's just something I didn't know I needed.