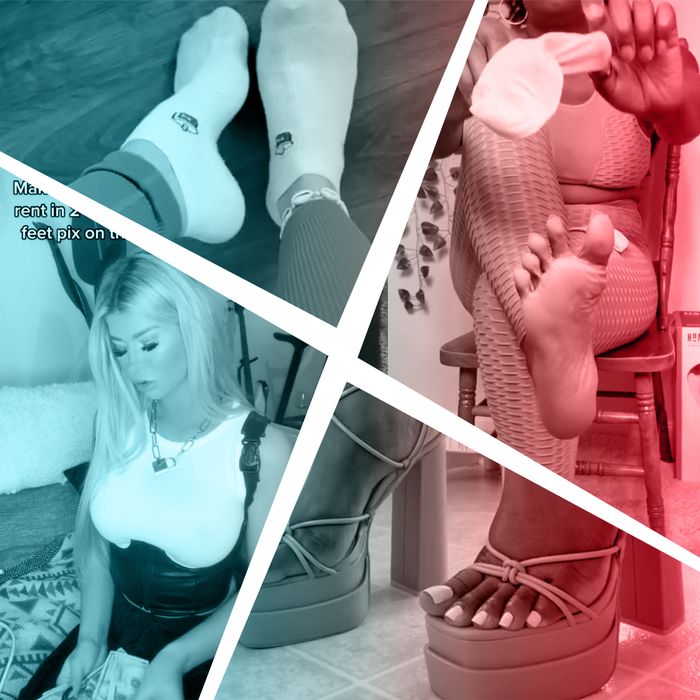 Photo-Illustration: The Cut. Screenshots via TikTok
I like to think of myself as someone not easily influenced by TikTok. And yet, I have stapled fur to my walls as décor, visited several "NYC hidden gems," and, like many others, questioned my sexuality. But a recent trend gave me pause. Notably around the time student loans were due again (before the pause on federal loan repayments was extended, again), I started seeing a weirdly high number of TikToks telling me to sell pictures of my feet. (One user bragged that she makes enough to cover rent doing it.) I brought this up to some friends who, to my surprise, shared that their For You pages were inundated with the same. Suddenly, the algorithm was even serving me up TikToks about noticing the same trend on others' For You pages. The upshot was always: Seems easy, right?
Thing is, why would anyone be paying monthly-rent-level money for these pictures when the internet is, quite literally, filled with free feet pics? Think about it: We post pictures of our feet online all the time. Some are even organized into a database. Are there really enough buyers out there? I talked to some FootTok creators, and tried my hand, well, foot, at selling some pictures to find out.
So what do I need to get started?
As you might've guessed, pictures or videos that focus on your feet. Sometimes, a simple filterless picture of your sockless foot on the floor will suffice. Special requests might include covering your feet in food or purchasing old shoes and socks, too.
And this is a thing on TikTok?
Yes, hashtags like #FeetFeetFeet have been viewed 93.1 million times. There are three types of TikTokers you can expect to sell you on selling feet pics:
Financial TikTokers who swear it's an easy way to make money. They never offer tips on how to actually do it, they just list it as one of the many ways you can make "easy" cash.

People bragging about how much money they make selling feet pics — even though they maybe don't. Like the guy I came across who, in one TikTok, counts stacks of cash as the audio "Men are stupid and I don't respect them" played. When I DMed him to ask about it, he replied that TikTok was all satire and seems to have deleted it. (Which is a shame — it had over 4 million views.) Out of 14 TikTokers I messaged about selling feet content, only five confirmed to actually do so. (Six didn't reply and the rest admitted to not actually selling any sort of fetish content.)
Real fetish-content creators like Sarah Jalees. Sarah started in 2017 after doing some research about the community and realized that the beautiful nail beds on her toes could be making her money. She made a TikTok of her feet as a "joke" two years ago and it blew up. Not just with paying foot fans, but with people wanting to know how they could sell too. She's since posted over 15 instructional videos to help would-be foot-fetish creators get started and even developed a course on it. "I'm not going to gatekeep," she tells me. "If people are genuinely interested, then why not give them a chance?"
"As long as you have a pair of feet, you can succeed," Sarah continues. "One of the reasons I do well is because I have a lot of clients that say they like me because I'm like a suburban mom, and it's because I am! I just happen to have a spicy side … if you're doing it for money, you're not going to last long."
Okay, how do you actually sell them?
There are a few ways to do this. You can join a foot-fetish content site like InstaFeet or FeetFinder — though many of the creators I chatted with say you should go right for using a social-media platform like Twitter, Instagram, or Reddit to gather a following and clients. (The advice on TikTok, by the way, is the same.) The foot sites may have an audience, but they'll charge you … and ask for pictures of you to keep on file (e.g., InstaFeet requires photo ID).
That said, it's not exactly easy to get noticed on social media. "You have to do the groundwork, there's no avoiding it, there's no shortcuts," Sarah says. "Basically, you have to build a brand, do the research, learn about the different fetishes. You have to actually care." Just like you would for any other business, you need to draw buyers in and work hard to make sure they can find your services.
Another foot-content-maker who began selling after scrolling onto FootTok — I'll refer to them as T. — said it took at least two weeks of them posting foot pics to really get started. "I kept finding out new info as I went," T. says, like where to post, for instance. "I started with just TikTok and Instagram but ended up with those plus Reddit, Twitter, OnlyFans, and Fansly. I picked two accounts to post on daily — it takes hours per day to respond to messages, post, make content." Consistent clients means consistent cash, but to get there, you need to post a lot and have lots of conversations to find out who is actually willing to pay you.
What does the payout actually look like?
It all depends on how many clients you have, your experience, your content, and the time you are able to devote to it. In February, Sarah made over $3,000 just from digital foot content. I asked her for help pricing my photos, and she suggested I start with $25 for five photos since I'm new. "If they want anything extra beyond the basic pictures, like poses or outfits, charge for it," she says.
Don't expect to make much money for a while if you're new. T. says, "If you are starting with no following, it takes about a month to see money. It took me a month to make $5. And eventually to double digits."
Hmmm — how hard is it really?
Honestly, it's not a get-rich-quick scheme. As mentioned above, it takes months before you start to see decent money, and then you have to continue to hustle until you have core clients that can pay you consistently. Plus, there's lots of ways to get scammed — as in, if anyone asks for content before money is exchanged, they don't plan on paying you.
I thought I was just lucky when my first client reached out to me. But nothing in foot-content selling comes that easy. He found me on Twitter after I asked if any foot-content creators wanted to chat in a tweet. He DMed me asking if I sold pictures, and I enthusiastically answered yes. We began the long back-and-forth discussing prices, payment, poses, comfort levels, and anime.
It's been over six weeks and … I haven't seen a cent. Despite my many attempts to tell him his content is ready, he just calls me Goddess and asks for my Venmo even though I've sent it three times. I've tried being mean to him and upping my price. I've tried offering more photos. Nothing. No payments, just asking for pictures of my old tennis shoes to see if he wants to purchase them. He did, by the way, along with some dirty socks. Again, no payment has been sent. So a pile of dirty socks sits in the corner of my room.
Those paired with the jarring (yet beautifully shot) foot pictures on my camera roll serve as a reminder that nothing comes easy, even if TikTok says it does.