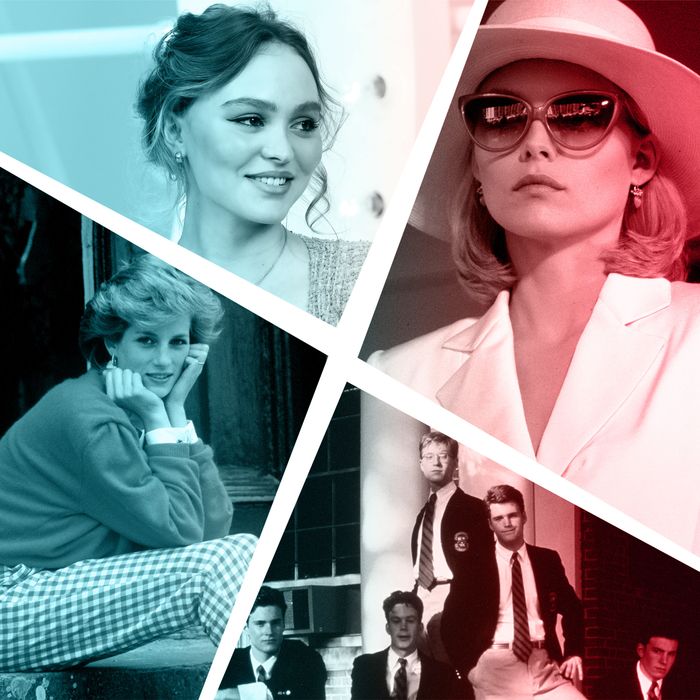 Photo-Illustration: by The Cut; Photos: Getty Images, Shutterstock
While scrolling through TikTok under the guise of anthropological research, I happened to come across a slideshow of Scandi-looking girls in crisp white shirts, some posing beside a horse, others lolling against vintage convertibles. The accompanying hashtag? #oldmoney. After some digging, I discovered that the aspirational aesthetic is dedicated to the lifestyle that (allegedly) comes courtesy of generational wealth. Together, the hashtags #oldmoney and #oldmoneyaesthetic have amassed over 1.3 billion views.
I immediately asked myself, why are Gen Zs — TikTok's primary demographic, famed for their leftist political ideology — obsessing over such an exclusionary concept?
What exactly is the "old-money aesthetic"?
The #oldmoney aesthetic is minimalist in fashion, usually paired with black loafers (preferably Prada), pearls (real, of course), and fur (sable, if you will). The women referenced are usually blonde, long-locked, and oh-so thin. Recurring #oldmoney icons are Scarface's Elvira Hancock, Lily-Rose Depp, and Princess Diana. Gossip Girl's Nate Archibald is the key reference point for "old-money boys," who are tall and square-jawed with floppy, middle-parted hair.
The majority of TikTok's #OldMoney videos are slideshows of reference photos depicting these women, sometimes playing croquet on the grounds of English country estates, or young men in coats and tails at Ivy League college functions. Aperol spritz or red-wine-fueled European vacations are also abundant — Monaco and Lake Como are popular options, as are Tuscan vineyards — often set to Lana Del Rey's dulcet tones. The app is full of get-the-look tutorials, which show you how to re-create the "old-money" aesthetic.
The proprietor of one such profile (who requested to remain anonymous, but gave us his initials as D.W.) tells me that his personal family history was what galvanized him to create TikTok account @oldmoneyaddicted: "I am fortunate to have been born into a European family with a well-documented history. Social media is a way of collecting my thoughts and interests around the topic of old-money aesthetics and classical taste that I have acquired through family influence."
What does the term "old money" even mean?
"Old money" as an adjective characterizes people who possess passed-down generational wealth. They will have received or will eventually receive their inheritance or trust fund, have likely been bestowed a private-school education, and purportedly have the manners to match. Some well-known American old-money-flanked families earned their wealth through oil (the Rockefellers), publishing (the Hearsts), or steel (the Carnegies). Ironically, given society's respect for them, many old-money titans didn't build their empires through wholly moral means. Referred to as "robber barons," they're famed for their unethical business practices and poor treatment of workers. In Britain, old money is often linked to the aristocracy, landed gentry, or the monarchy, all of which contributed to or benefited from colonization (as did the American gentry).
Pop-culture examples include the likes of Charlotte York's former WASP husband Trey MacDougal in Sex and the City, Warner Huntington III in Legally Blonde, and the majority of Gossip Girl's principal characters. The proprietors of old money are the OG gatekeepers, renowned for working overtime to keep it in the family.
Contrary to what TikTok would have you believe, old money, especially in Britain, is associated with an unkempt, scruffy, and markedly unpolished exterior, supposedly underscored by a "nothing to prove" mentality.
So then, what is new money?
The trend rails against the "nouveau riche" or new-money aesthetic, which has long been derided as crass. On TikTok, users swap out the moniker in favor of the more specific "California rich." "Why be California rich," they pose, to the backdrop of private jets and Louis Vuitton influencer giveaways, "when you can be Connecticut rich?" Queue the grainy images of women in sunglasses and Jackie Kennedy–style headscarves.
As the creator behind @oldmoneyaddicted put it, "We are going back to the refined and subdued aesthetic of old wealth instead of the extravagant and show-off attitude of new money. People aspire to be better and do better and are likely attracted to the education, manners, and way of life of other times."
This year's Met Gala looks were decidedly not #oldmoney. Devotees of the aesthetic took to TikTok to contrast the Regency-era elegance they were anticipating with the ensembles they were served.
How does it fit in with other TikTok trends?
Several TikTok trends echo the #oldmoney craze: The "coastal grandmother" look, for instance, consists of "people showing off their fancy cookware, giving tours of their grandparents' beachy homes, and displaying their collection of striped button-downs," wrote Mia Mercado. Meanwhile, the wholesome "cottagecore" aesthetic consists of country cottages and milkmaid-style dresses; the "coquette aesthetic" epitomizes the twee girly girl (think designers Simone Rocha and Molly Goddard); and the "academia aesthetic" is a sophisticated play on the schoolgirl look.
Why do people want to look rich?
Unfortunately, looking wealthy allows you to navigate the world differently, priming you for opportunities us normies are often sequestered from. Socialite Anna Delvey, for instance, utilized her appearance to con so many people that she managed to cultivate a whole new life.
After all, there's a reason expensive-looking and label-heavy clothing is so popular and why the counterfeit-designer industry is worth $461 billion a year.
Should I try the #oldmoney look?
While there's nothing problematic about dining alfresco with a cashmere cardigan strewn around your shoulders, there's danger in idealizing the concept. (Unless you are doing it ironically, of course — in which case, pop "Video Games" on the turntable.) Old money essentially represents an unattainable class and monetary privilege, the glorification of which implicitly derides both poverty and new money. Because of colonization and systemic racism in the United States and other countries, acquiring wealth has historically been difficult for anyone who does not already fit into this category.
Unsurprisingly, many TikTok users have caught onto the trend's pitfalls, taking to the videos' comments sections en masse. "The old rich are just white, they're not brown, beige, and black. Noted," one user wrote. "Capitalist mindset smh wake up," said another. Criticism even led creator @uhohtom to defend his old-money idolizing video: "Y'all pls I want the aesthetic not the colonial history or negative personality traits, I just like the style of living 😭." Another user recommended a merging of cultures to add to and diversify the look: "This but on a POC & romanticizing and blending their culture into the aesthetic."
So although in researching this piece I did develop a slight propensity for a wool V-neck over a collared shirt and a glass of red (from the grocery store, not the wine cellar, unfortunately), I would be careful not to overlook the trend's sinister origins or to let TikTok pull the wool sweater over your eyes, so to speak.