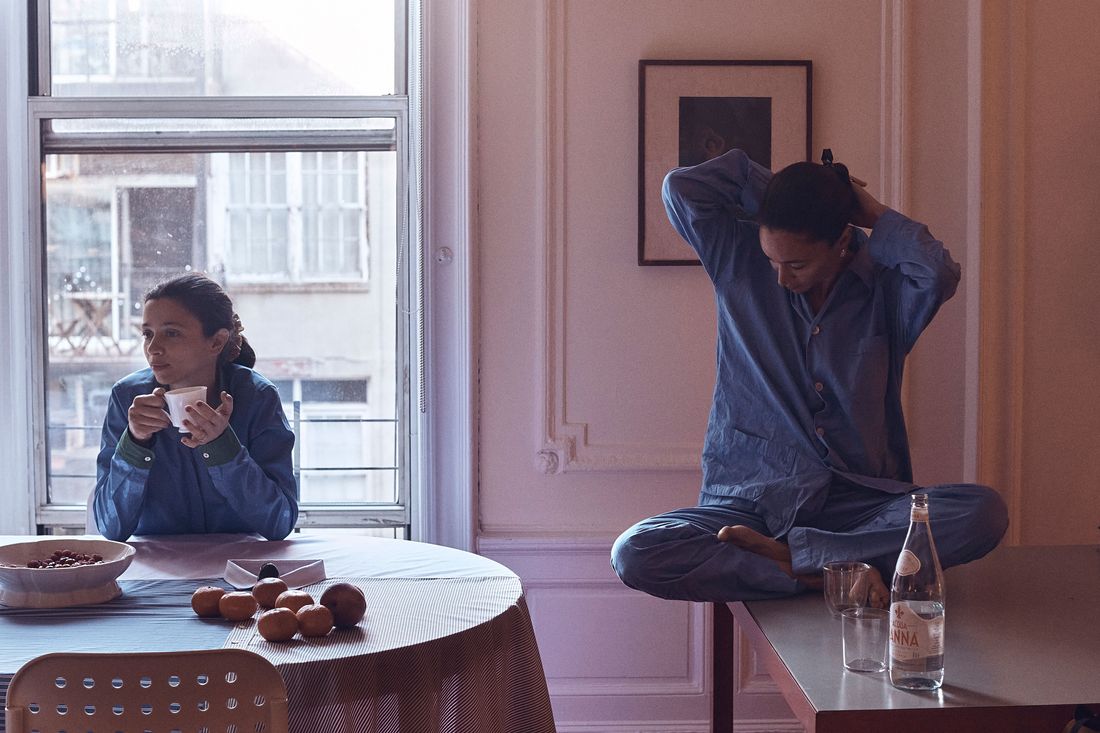 Nadia and Laila Gohar at Laila's apartment on the Upper West Side. It'll be a long day.
Photo: Andres Kudacki
For several years, Laila Gohar has been delighting and unnerving guests at things like the Frieze Art Fair and Vogue's pre–Met Gala party with installations that fall somewhere between finger food and conceptual art: challah thrones, jellied mochi breasts, and fish-shaped butter sculptures, among other curiosities. It's as if the Surrealist painter Leonora Carrington had a side hustle as a caterer.
"When you put my work into these spaces, it's sort of like an equalizer," Laila, 33, says. "Everyone is equally confused."
Now the confusion comes home. Laila and her painter sister, Nadia, 32, are introducing a line of odd housewares called Gohar World. To launch the collection, they are throwing a rooftop-garden party in a tucked-away part of Rockefeller Center, with a snack buffet in the shadow of St. Patrick's Cathedral: topiary towers of boiled potatoes and hakurei turnips, alternated with tiers of carnations; long braided ropes of mozzarella waiting to be scissored by weathered iron shears; éclairs by the yard like party subs; and octopussy candelabras cupping deviled eggs instead of votives. (Talks are under way to open a Gohar World shop in Rock Center later this year, hence the venue.)
Like Laila's food, Gohar World's aesthetic emphasizes artisan quality and craft but falls somewhere between funny-ha and funny-huh? The egg candelabra can be yours for $298. A pair of ribbon-trimmed Egyptian-linen bibs are $135. A miniature lace shawl — they call it a bonnet — for a tomato is $42.
Much like the sisters themselves — Nadia attends the party in a sequined Chanel suit, Laila in a pink satin Prada minidress, cut low in the back to reveal a (temporary) bean-shaped GOHAR tattoo — the items emanate a defiantly playful sense of luxury. "Most of the things, you know, you don't absolutely need," Nadia admits. "But it's something to add to your table." Or your person: a beaded necklace resembling chicken feet (already sold out) or a satin satchel meant for a baguette. "There needs to be humor," Laila says. "Otherwise, it's just kind of unbearable. If something is too chic for its own good, it really gets on my nerves." Chic forestalls conversation; Gohar World demands it. "I mean, if you're going to the farmers' market with our baguette carrier with satin ribbons draped all over your arms," Laila says, "people are definitely going to be like, What the hell is going on with you?"
A Gohar spread offers experience and ambience as much as ease; when Laila did the food for her friend Daphne Javitch's baby shower, she served carrots still caked in soil. "People didn't know whether it was to be eaten," Javitch tells me. "I've gone to events where it's like, This is gorgeous, but I'm wearing high heels — do I need to peel a hard-boiled egg? But I love that about her, because I can get a peeled hard-boiled egg at any old place. There's so little eccentricity left. She has this air of abandon as if none of it really matters."
The Gohars grew up in Cairo, where their father — a journalist, photographer, and inventive cook who goes by just Gohar — would invite both local dignitaries and the fishmonger to dinner. "His claim to fame is that he doesn't make anything twice," Nadia says. "It was always a little bit veering on gross, but in a delicious way," says Laila. "Once he made a fish terrine with strawberries on it. I remember Nadia and my mother didn't eat it. And he and I were like, Mmm, gourmet, delicious. I definitely took a page out of his book."
Both Laila and Nadia went to the U.S. for college. Nadia studied art, Laila international relations. "I was always interested in food," Laila says. "But I thought I needed to do something more intellectual." But when she moved to New York, she tested recipes for cooking websites and began making esoteric snacks for her stylish and well-connected friends. Snacks became a business.
On the roof, a mix of fashion, design, and hospitality types (Laila's boyfriend is restaurateur Ignacio Mattos), all of them well turned out, sip mezcal margaritas. Jenna Lyons, the former president of J.Crew, is enthusing in a three-piece suit, no shirt, about the lace doilies; growing up in California, "I never saw a doily," she says. In Cairo, Laila replies, even their roll of toilet paper had one. As the evening wears on, the dancehall MC Sister Nancy takes the mic to perform, Mark Ronson DJs, and the Cobrasnake appears, wearing a trucker cap, snapping photos of cake slices and partygoers, in that order.
It has the feel of a chaotic dinner party; Sister Nancy leads a round of "Happy Birthday, Gohar." By the end of the night, the tables, covered with Gohar World's shirt-tablecloths — complete with collars — are scattered with half-eaten sandwiches, knives smeared with pastry cream, and little orphaned sausage bits, and the music can be heard pounding seven flights down on the street. Well after midnight, the cops show up. Laila is unperturbed. "I think it's better for a party to end on a high note," she tells me, "than fizzle out."