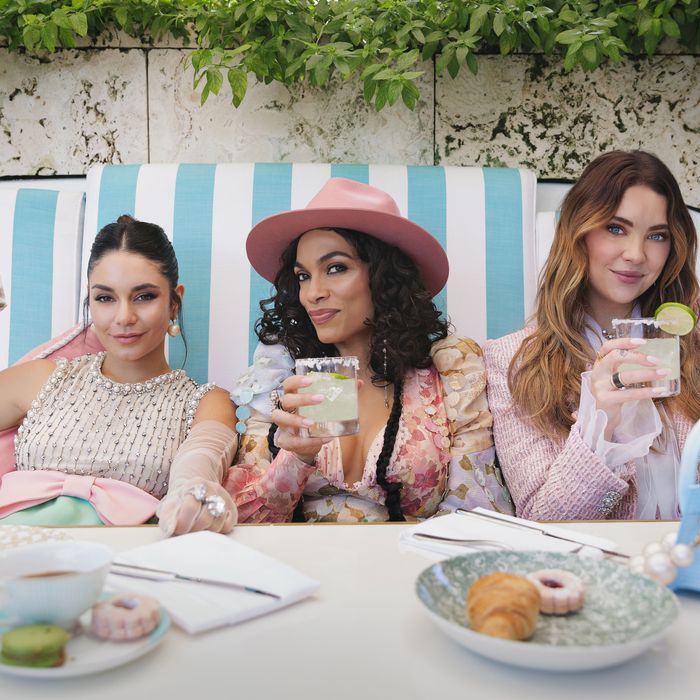 Nothing brings the girls together like happy hour — er, at least, that's what brought together the surprising trio of Ashley Benson, Vanessa Hudgens, and Rosario Dawson, who just launched a margarita (the Margalicious Margarita) under luxe craft-cocktail brand Thomas Ashbourne. But their friendship makes sense, actually; all three were child stars, all three are multifaceted actors whose careers have defied neat categorization, and all three played roles in projects that were formative for my own adolescence: Pretty Little Liars, High School Musical, and Rent, respectively.
I mean, wouldn't you love to see "Sneakernight" as performed by Benson and Dawson? Or Hudgens and Benson dueting on Dawson's rendition of "Out Tonight" from Rent? Just me? Well, I choose to believe it happens every time these three hang out together until told otherwise.
This launch isn't their first time as collaborators; Hudgens and Benson starred together in the culture-shifting Spring Breakers, and Dawson and Hudgens played a mother and daughter in gritty independent film Gimme Shelter. As capital-H Hollywood as these three women are, they've also proven they have a taste for a bit of spontaneity, a bit of reckless abandon — the kind often brought out after a few margs.
How did the three of you first connect?
Vanessa Hudgens: Ash and I met when we were, I think, 15, in acting class, and our lives have consistently intertwined ever since. And Rosario, we have the same manager. I have always loved watching her onscreen, and then we ended up doing a movie together where she played my mom. It's just so cool because these are women that I love and admire and respect, and the fact that we get to put on business hats together and share something with the world that we're all really passionate about is just the dream.
And margaritas are best enjoyed with your girlfriends. So it made sense for us to all do this together.
Vanessa, I'm obsessed with your pivot to Netflix holiday-rom-com star. Have you always been a fan of the genre?
VH: Being a part of something that people can look forward to and bring families together, especially during the holidays, is something that's really special because for some families, holidays aren't always the easiest thing. So to have an escape for the whole family is something that is really important. And I wanted to do something that was a Christmas film but had its own take on it. And what better way to do that than to play multiple people?
Rosario Dawson: I love how good you are with accents.
VH: Thank you.
It was so fun seeing you play a character who was playing another character.
VH: It was the most confusing thing I've ever done. For myself, and for everyone on set, trying to communicate what's going on was just devastatingly tragic, but we did it. And I'm done with them now. I'm so happy that I got to do them, but that chapter's closed.
Okay, back to drinking — what gets someone invited to happy hour?
Ashley Benson: Anyone with fun energy, who's there to have a good time. When you're drinking margaritas, you're dancing, listening to music. You're just having a really good time. So if you seem like you're a fun hang, then come on over.
What about the opposite — faux pas that will keep someone off the invite?
VH: Someone who's rude. We don't stand for that.
RD: Yeah, you don't want to be around the belligerent drunk, you know what I mean? What we're really hoping to do is feed into people's memories — like, quality time and community. A margarita in particular as a drink makes you think of your friends and going out together. And so we really want people to have a good time, feel respected, feel safe, and feel free. Like, you know, feel joyous. We're wanting people to have fun, have a good time.
What are you three usually discussing over drinks?
VH: Everything.
RD: What's wonderful about these wonderful ladies is that they just run the gamut of, like, professionalism, talent, beauty, smarts, savvy, all the things. So I can tell you very clearly that nothing is off the table in our conversations.
VH: We're all over the place.
If you were a margarita, what flavor would you each be?
AB: I think I'd be pretty similar to how ours tastes. I feel like, Vanessa, you'd be spicy or something.
VH: I would be prickly pear. Because I'm sweet and natural but I pack a punch of benefits.
RD: I would be dragonfruit, because I like that sourness. Probably with a little spice, a little jalapeño or something in it.
VH: I am such a picky drinker. It's got to be very specific. My standards are very high — if I go to a dive bar, I won't get a cocktail because it's not gonna be a quality cocktail. We're giving people the opportunity to be able to have that premium quality-cocktail experience without needing a bartender.
Describe your perfect happy hour: environment, drinks, soundtrack, accompanying bar snacks …
AB: I love dive bars and speakeasys. I think for me it'd probably be in New York, something in the East Village, at a cute dive with a bunch of my friends, having a good time.
VH: All my friends together at my house, by the pool — I love hosting.
RD: I love a barbecue and having people over too, but I really like going dancing.
So what are you all cheers-ing to this week?
AB: My niece is turning 1 on Friday.
VH: My best friend is performing at Coachella for the first time. Very excited. GG Magree, what's good?!
RD: I'm celebrating my daughter's first day on the job today, which is so cute. I started working several years younger than she is now. She's 19. So I actually think it's really cool that she's been able to be a kid and not have to think about that until now. But she's just wanting pocket change, and I think it's really cool to see her stepping into this, her womanhood, and starting to be independent.
What's she doing?
RD: Oh, she's working with animals. She's working at a Petco in Idaho, isn't that cute?