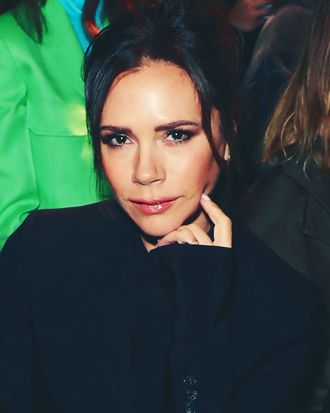 Photo: David M. Benett/Dave Benett/Getty Images
Victoria Beckham has a new clothing line, and she'd like you to know that it's very inclusive. Beckham recently told Grazia that VB Body, a collection of knit bodycon dresses, was born out of her realization that being skinny isn't as cool as it used to be. "It's an old-fashioned attitude — wanting to be really thin," she told the magazine. "Women today want to look healthy and curvy."
Beckham said that VB Body was inspired by a trip to Miami, where there are "a lot of really curvy women" who "really own it." According to Beckham, these women "walk along Miami Beach with not a lot of clothes on, and they look fantastic. They show their bodies off with such confidence. I found both their attitude and their style really liberating. And as a mother, I loved that Harper was around women who were really celebrating their curves and enjoying how they look."
As Grazia writer Jess Cartner-Morley points out in the article, Beckham isn't the first person you'd think of when you hear the word curvy. While Beckham has written about struggling with body issues and eating disorders during the early years of her career, she is known for describing her eating habits as "very, very disciplined" and talking about working out for more than two hours every day. However, she claims her attitudes have changed. "It's not about being a certain size," she said. "I have found my own balance between wanting to have fun and being disciplined about eating healthily and working out." Apparently, that balance now includes lifting heavy weights five to six times a week instead of the "tons of cardio" she used to do.
In addition to claiming that "every woman wants a nice, round, curvy bottom," Beckham swears that "the curvier you are, the better my VB Body dresses look." Despite all this talk of body positivity and inclusivity, VB Body dresses only goes up to size 14 — thereby excluding 68 percent of American women. Most size-inclusive brands have ranges up to size 22 at the very least. (Universal Standard sells sizes 00 through 40.)
Still, Beckham asserts that VB Body is "inclusive of body shape, of skin color, and of budget." Not exactly how I'd describe a $890 jersey dress, but okay!