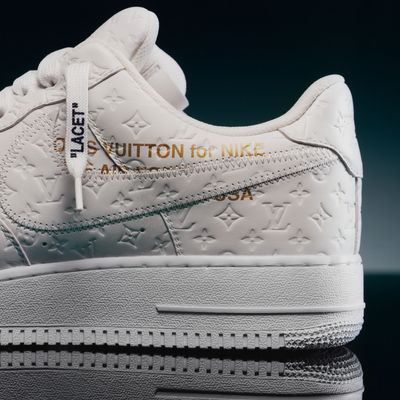 Photo: Courtesy of Louis Vuitton
It's no secret that New Yorkers love their Nike Air Force 1's. Against all odds, they manage to keep their pairs pristine — until they don't, at which point they just add another to their collection. If you are one of the lucky few to get your hands on a pair of Virgil Abloh's "Air Force 1's," though, which he designed as part of his spring 2022 collection for Louis Vuitton, where he served as the men's artistic director up until his death in November, you may not want to wear them outside the house. Only 47 individual styles were made (in Italy, of course, at Vuitton's factory), with just nine being sold to VIP clients. They range in price from $2,750 for low-tops to $3,450 for mid-tops. (An average AF1 pair costs $100.) But as one of Abloh's final projects, they are priceless.
If you didn't manage to get a pair, there is still time to see all 47 at an exhibition in Brooklyn, where they're being displayed gallery style through May 31. The space is open to the public, and visitors can take a closer look at a shiny gold pair; a furry pair; one showcasing the flag of Ghana, where Abloh's parents were born; and another tagged with the Vuitton logo by graffiti artist Ghusto Leon, among others. Each shoe is accompanied by a screen displaying its smaller holographic counterpart.
On its own, the Air Force 1, which is celebrating its 40th anniversary this year, has become an iconic piece of design. But true to form, Abloh always treated it as a sort of blank canvas to be messed with. In the past, he collaborated with Nike on various sneakers, including the AF1, for his own brand, Off-White. More recently, Sotheby's auctioned off 200 pairs of a different Louis Vuitton Air Force 1 designed by him, almost all of which sold for over $100,000, raising more than $25 million for his "Post-Modern" Scholarship Fund. Designers including Dapper Dan have also played with both the Air Force 1 and the Vuitton logo before. But this exhibition is a first, and a dream realized for the designer. It continues his efforts to elevate the everyday shoe to the level of art.
"This object happened way before me, but to get to a context where it's adjacent to the T-shirt and the suit, its logic has been 40 years in the making," Abloh is quoted as saying in the release.
In addition to the 47 pairs of sneakers, there is a large tree house in the back of the Brooklyn space — a nod to Abloh's unwavering sense of play throughout his career. And as you exit, be sure to look up. Vuitton decorated a water tower in his honor to read "Dream Now."
The Louis Vuitton and Nike "Air Force 1" exhibition by Virgil Abloh is open at 73 West Street in Brooklyn through May 31.