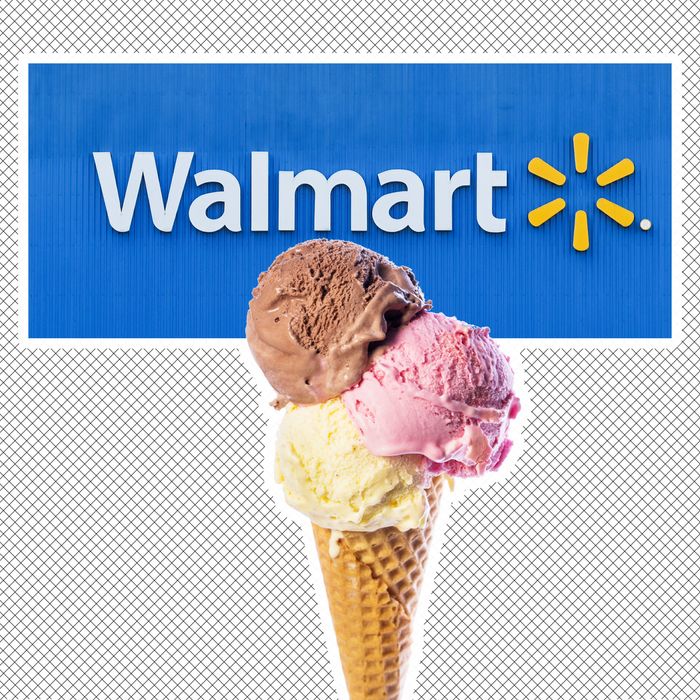 Photo-Illustration: by The Cut; Photos: Getty Images
It's almost Juneteenth, one of many occasions throughout the year for celebrities, companies, and politicians to put their foot in their mouth while attempting to acknowledge our country's long history of racism. Juneteenth, widely recognized as the anniversary of the end of slavery, became a federal holiday last year and has apparently inspired Walmart to roll out a Juneteenth-themed ice-cream flavor (red-velvet-and-cheesecake swirl). The ice cream comes in a container emblazoned with green, red, and yellow swirls alongside the trademarked flavor name: Juneteenth™.
They didn't stop there. In addition to the ice cream (which was displayed alongside a similarly cringe-inducing "Pride" flavor), Walmart introduced an assortment of Juneteenth-themed party supplies, which include red-yellow-and-green napkins, paper plates, and beer cozies, one of which features the slogan "It's the freedom for me." Elsewhere in the store, there appear to be Juneteenth-themed wine, water bottles, and commemorative T-shirts.
Surprise: The emancipation-themed party gear did not go over well. As a few Twitter users pointed out, Walmart's Juneteenth flavor bears a striking resemblance to one made by Creamalicious, a Black-owned ice cream also sold at Walmart, suggesting the brand ripped off the product to profit off the holiday.
Others pointed to the many recent instances of racism in Walmart's stores and workforce. An internal survey last year offered a bleak view of Black Walmart employees' experiences, with most Black senior managers saying they wouldn't recommend working at the retail giant. While stressing that the study, which was commissioned by an employee-led "shared value network," had an "unscientific and limited sample size," Walmart said, "We are always looking at our own systems and processes with a critical eye for ways we can do even more." Which is not unlike the language the company used in 2020, when it pledged to end the store policy of putting "multicultural hair and beauty products" in locked cases. And yet last year, a video taken at a Kentucky branch showed security tags placed only on darker shades of makeup. Walmart's PAC for Responsible Government has also backed politicians like Georgia senator David Perdue, who recently accused Stacey Abrams of "demeaning her own race" during his gubernatorial campaign, and Arkansas senator Tom Cotton, the author of the New York Times op-ed urging then-President Trump to use military troops to contain Black Lives Matter protests in 2020.
In response to the backlash, Walmart rushed to pull the ice-cream flavor, issuing an apology on Monday that did not address the company's underlying racial issues. "Juneteenth holiday marks a celebration of freedom and independence," the company said in a statement. "However, we received feedback that a few items caused concern for some of our customers and we sincerely apologize. We are reviewing our assortment and will remove items as appropriate." I guess they're still listening and learning.