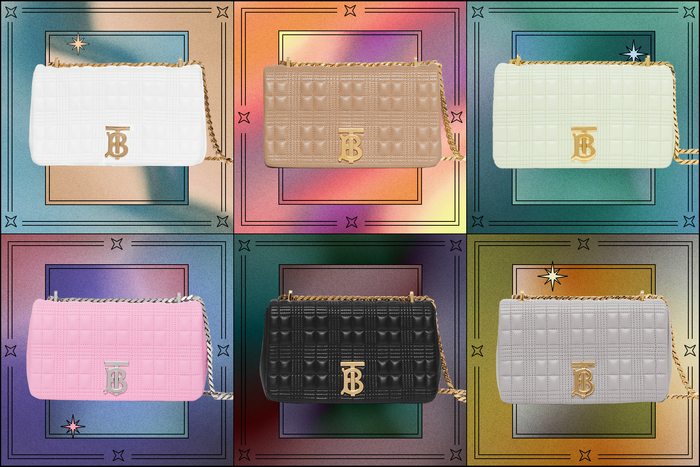 Photo-Illustration: By Sarah Rose Greenberg
If the eye is the window to the soul, then the closet is indeed the door to the personality. Everything — from the type of clothes you wear to the accessories you gravitate toward — says a lot about where you're from, who you are, and how you wish to be perceived, even though our shopping choices are often subconscious. A new structured blazer may translate to a wish for control and dominance at work; while those white trainers may prove that someone is ready to get serious about daily movement.
In the world of accessories, the handbag is by far the most seen, used, and coveted. Your handbag choice says a lot about you — not just about your personality and style, but your life stage, too. A punchy crossbody can be a hands-free option for a singles night on the town, while an all-black tote makes for the ideal commuter bag for a busy working mother. There's a distinctive handbag that matches your aura and vibes for each carrier and every personality type, waiting for you to discover it.
That's where Burberry's Lola Bag comes in. At the core of every Lola bag lies an attitude, whether it's playful and spunky, or elegant and bold. Think of the Lola as the unstructured little sister to the classic TB bag of the past, crafted from Italian lambskin and punctuated with a polished chain strap that can be worn as a crossbody and a shoulder carry-all. Each Lola, available in various colors and silhouettes, evokes a different tone —you just have to figure out which one is the most you.
Gal on the Go
You've got plans every weekend, and you fully intend to honor each one. The birthday brunches, late-night dinner dates, rooftop soirees, and museum meet-ups require an unfussy neutral bag that will complement any ensemble — day or night, casual or elevated. Who has the time to overthink when the cab is already arriving?
Meet Me in Midtown
Logical, composed, and idealistically adaptable — you prefer staying in Midtown with your career-minded kindred posse. Happy hour is pre-planned on the calendar, but only when a round of extra-dirty martinis is on the table. Your semi-neutral pale green Lola bag (which works just as well with your office blazers as it does in your local lounge) is there reminding you that there is still an alarm clock to adhere to in the morning.
Beachside Stroller
Your love for strolling along the pier is rivaled only by your love of the effortlessly chic messy bun  — the one that looks unkempt but took 30 minutes to master. Style-wise, you fully believe that everyone should own a white maxi dress. The white Lola bag is the bohemian equivalent of a white maxi dress: effortless and the Cali-cool aesthetic we all aspire to.
Power Lunch
Who needs a plain T-shirt when you've got an arsenal of expertly crafted suiting from the finest materials? The local tailor has you on speed dial, and sometimes you drop off a latte as an extra tip for the pressed creases. That morning commute isn't half bad with the right outfit, a sleek gray bag that matches all your favorite suit sets, and a stand-up attitude.
Way Downtown
You're an auntie emotionally, but not yet physically. A party is happening? You've got the most obscure bottle of red wine to gift. Art show? You probably grew up with the artist. Concert coming to that up-and-coming venue? You've already bought your tickets, and they're good seats, too. The question you often ask yourself? Why are people wearing so much color? Never fear, the Lola bag comes in a luxe all-black colorway, one that'll pair easily with your downtown monochromatic lifestyle.
Princess of the Lower East
At one point, your go-to phrase may have been "YOLO!" (But you only used it ironically.) These days, it's work hard, play harder. You came out here for a fashion degree dream and stayed for the restaurant and bar scene that exists all around you, within walking distance. The bubblegum pink Lola is filled with all your girl's night essentials — lip butter, pink mace, a pink claw clip, and the diamond bracelet your mom passed down.