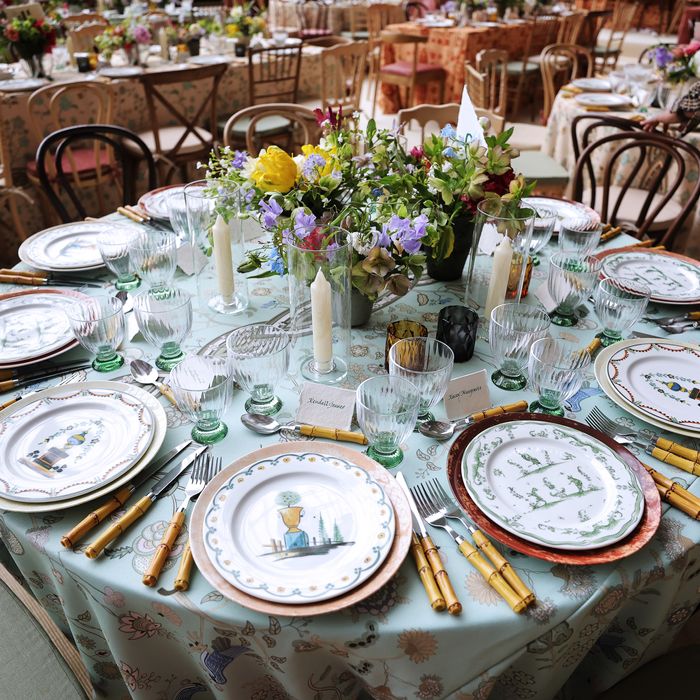 Photo: Matt Winkelmeyer/Getty Images
What goes on behind the gilded doors at the Met Gala is one of the greater mysteries of the fashion world — beyond the occasional bathroom selfie, most photographers aren't allowed past the steps, so nonfashion royalty has very little clue what it's actually like inside. Do people change once they're sitting? Has anyone spilled food on their gown? And where do they get all those cigarettes?
Another mystery: What on earth do they eat? This year, Vogue chose a group of three women to help plan the menu around the entrée conceived by the event's main food curator, chef Marcus Samuelsson. They included vegan celebrity chef Lauren Von Der Pool; Flour Shop founder Amirah Kassem, and Melissa King, a queer Asian American chef who won Top Chef's 17th season. King planned the evening's first course and attended the gala as a guest, walking the red carpet in a Thom Browne suit and gilded nail guards inspired by the nail jewelry Chinese empresses wore during the dynasty era. "When you go to these experiences, it's about the details," King says. "The floral arrangements, the music, the tableware, and the settings. Food ties that all together."
The Cut caught up with King the day after the event, when they were "coming off the whole Met high," to find out what the glitterati eat once they make it up those steps.
Why do you think the gala started bringing in chefs last year?
This is the second year of having notable chefs involved, and my goal was to elevate the food to another level and bring it to a place where fashion and food go hand in hand. Planning these dishes is similar to planning the fashion: You think of food trends and how to modernize something while playing to the themes of the event. All of that was incorporated into my dish.
How do you plan a menu for 500 picky celebrities?
There were certainly a lot of emails. Anna Wintour is certainly involved every step of the way. There's a pass-off of the menu and several tastings, as well as quick checks about what's working and what's not, then we tweak it from there. It took a few months, and that's just me speaking on my one dish.
Did you collaborate with other chefs?
Yes. Lauren Von Der Pool, who's a vegan chef, created the hors d'oeuvre, which were served throughout the cocktail experience. I was on the first course, and Marcus Samuelsson took the entrée. Then Amira Kasem, who owns Flower Shop and is known for those exploding sprinkle cakes, handled desserts.
What other factors go into planning the meal?
I always think about what we can do that's impressive yet simple in the execution so we can mass-produce this on a large scale and maintain consistency. We worked alongside a local catering team, Olivier Cheng, that really supplied the manpower and was in charge for the day-of execution. The chefs got to do the red carpet, the cocktail hour, and the exhibit and sit down for dinner.
What did you end up making for the first course?
I made a hamachi crudo in a citrus broth done more in a ceviche style so it had a Latin technique to it. I incorporated a yuzu-kosho–and–olive tapenade, so that had a Japanese and Italian inspiration behind it, and a Chinese Sichuan chili oil to give it a little tingle. That came from my own heritage and background. That's America to me: a little bit of everything all in one. I also wanted the dish to be seasonal with pickled kumquats and fresh citrus notes in the broth. I took a lot of inspiration from art and wanted it to look like a little masterpiece in a bowl.
What else did you guys eat throughout the night?
We had plant-based hors d'oeuvre, so there was a coconut-ceviche tostada bite and compressed watermelon sushi. Marcus Samuelsson went more southern American with the flavor profiles. I think it was beef tenderloin, though I'm not sure of the cut, with a collard-greens slaw and sweet potatoes with a little cornbread crumble on top. And then Amira had her signature sprinkle cakes for dessert.
Do you plan for dietary restrictions?
When you're doing such a large volume, there's always going to be dietary restrictions, so we keep that in mind in the curation. The alternate vegan option for my dish was the same set but with a compressed melon instead of fish. I wanted to keep it very plant-based-friendly.
There's a rumor that no one eats at the Met Gala. Is that true?
I definitely saw everybody eating. My goal with the first course was to have people sit down and really enjoy something, knowing you're hungry coming off that carpet for however many hours. The first course is the first impression when you sit down. And I heard a lot of people saying they really enjoyed the first course, that it was light and refreshing. I think we hit the mark.