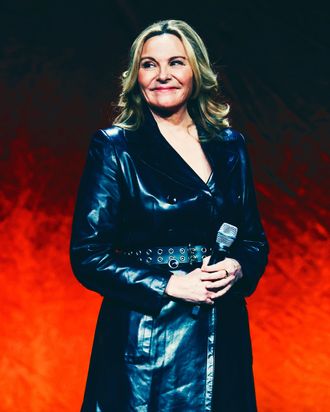 Photo: Frazer Harrison/Getty Images
Samantha has spoken. Three months after And Just Like That …, the unhinged reboot of Sex and the City, wrapped up its first season, Kim Cattrall, whose absence from the series is apparently still a subject of discussion, sat down for an interview with Variety in which she finally shared what she really thinks of the show.
Prior to the interview, Cattrall was largely coy about why she was missing from one of the most discussed (though maybe not in a good way?) TV shows of the year. She'd made it clear long ago she had no interest in any kind of new Sex and the City project after the disastrous second movie and refrained from taking any shots at the team for trying it anyway.
Still, it seems as though she's feeling good about her decision to skip this chapter in TV history. When asked how she felt upon finding out there would be a reboot without her, she recalled thinking, "Ooooh. How's …" When the interviewer prompted, "How's that going to work?" she responded, "You said it, not me." A true professional! When asked about a plotline from the scrapped third movie's script, which involved Samantha receiving dick pics from Miranda's teenage son, Brady, she called it "heartbreaking." She added, "The series is basically the third movie. That's how creative it was." It is true that a large chunk of the show revolved around Brady's sex life.
Lucky for her, Cattrall is blissfully unaware of the chaotic sequence of events that occurred in the reboot because she didn't watch it. I am already jealous. She has heard a few details, like the fact that Samantha axed Carrie because Carrie dropped her as a publicist, which Cattrall correctly observed "feels different than the Samantha that I played." She appears to be equally unconcerned with the fact that, toward the end of AJLT's first season, the show's cast and creators suddenly couldn't stop talking about how much they didn't want Samantha in the reboot — making it seem as if they very much wanted Samantha in the reboot. When asked if it hurt her feelings to hear that Sarah Jessica Parker told Variety she wouldn't want Cattrall playing Samantha again, she responded, "I don't think I read it." An awe-inspiring level of disregard.
While And Just Like That … is already plotting to bludgeon us with a second season, Cattrall has dreams of her own beyond the Darren Star universe: She wants to do her own sitcom where she plays "a woman my own age." Someone please write this woman a check immediately.