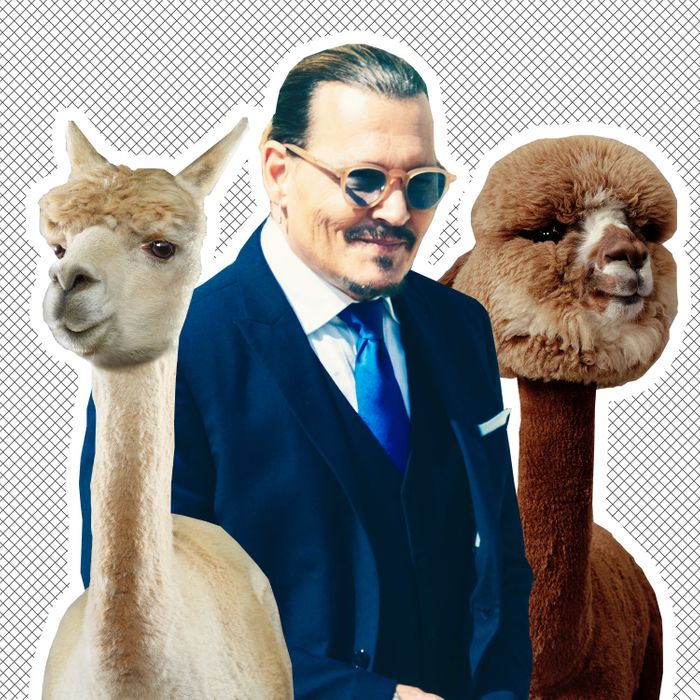 What is happening here?
Photo-Illustration: The Cut; Photos: Getty Images
Everybody, humans and certain camelid mammals alike, seems to be watching Johnny Depp's defamation case against Amber Heard unfold. Legions of his fans follow every minute of the proceedings on YouTube, relentlessly trolling Heard in sidebar chats. Still others have paid thousands of dollars to install themselves in and outside the courtroom, giving the whole thing the air of a high-stakes sports match. It makes an unsettling contrast to the substance of the trial: Heard alleges that Depp, often under the influence of drugs and/or alcohol, routinely flew into violent rages that became so severe, she thought he might kill her. Depp, meanwhile, contends that Heard is lying and, actually, abused him. Further, Depp claims Heard destroyed his reputation and career with a 2018 Washington Post op-ed about sexual violence that didn't include his name.
Against those considerable odds, the Depp stanship reliably finds moments of levity. They cluster outside the courthouse, cramming gifts through his SUV's windows as he enters and exits the parking lot. They wave signs and shout encouragements at him. Sometimes, the stans are not people but alpacas, waiting patiently with the sidewalk milieu for a glimpse of their king. Alpacas have come up semi-frequently these past few weeks, which is weird, because alpacas live in blissful ignorance of libel law. They don't know what Pirates of the Caribbean is. Alpacas can't review audio recordings or appraise redacted text messages. Alpacas should be absolved from ever having to hear about any of this, and yet even they can't escape the trial's undertow. Why is that?
Please allow me to explain.
To understand the alpacas, we must first start with Pirates.
Depp arguably became a marquee name when he signed onto Pirates of the Caribbean as Captain Jack Sparrow, reportedly grossing $300 million for the first five movies. This has become a sore spot for him. At some point ca. 2018, Disney dropped him from the franchise — a decision Depp blames squarely on Heard's op-ed, saying he was fired days after it ran. Heard's team, however, has pointed to a tabloid report that came out months before her essay published, alleging that Disney severed ties with Depp over a combination of factors. "His high-profile split from Amber Heard" was one, but then there were also his "money issues," his "drinking problems," his "personal dramas," and the fact that Pirates 5 "became the lowest-performing movie of the films."
In this trial, Depp testified that he "wasn't aware" of that news, but did recognize a text he sent his assistant in 2015, complaining about the production. "Honestly I will not again be doing anything that involves this discussion of furthering my embarrassment of having whored for all these fucking wasted piece of shit nothing years on characters that I so ignorantly started to think of as my legacy," he wrote. "Every cunting fight!!! Every fucking time!!! I held my ugliness and rage deeper down and get in check when there was still room in my head to do such a thing!!!!" Depp countered that "the screenplay was very lazily written," and he had been angry because he "had to rewrite it."
I'm betting that's not the kind of attitude film execs love, but the point is that Depp and Disney's relationship seemingly soured around 2018. By that time, things had reportedly gotten so bad that Depp wouldn't have come back to the set, even if they showered him with alpacas. (His words; see below.)
Alpacas keep coming up because Depp brought them up.
Only once, in a previous deposition not played in court, but the supposed quote has gotten a lot of mileage these past few weeks. "The fact is, Mr. Depp, if Disney came to you with $300 million and a million alpacas, nothing on this earth would get you to go back and work with Disney on a Pirates of the Caribbean film? Correct?" Ben Rottenborn asked the actor during his cross-examination last month. It was, Depp granted, correct.
On Thursday, another of Heard's lawyers, Elaine Bredehoft, asked Disney production executive Tina Newman about Depp's prospective participation in Pirates 6. Newman said she had no idea if Disney was thinking about reviving Captain Jack, and didn't say whether or not the project was even happening for sure. Nonetheless, Bredehoft asked, "Is Disney aware that Mr. Depp has testified under oath that he would not take another Pirates of the Caribbean franchise role for $300 million and a million alpacas?" Newman said no, and Bredehoft then asked if Disney would ever consider "paying Mr. Depp more than $300 million and providing him with more than a million alpacas to be able to obtain his services for any future Pirates of the Caribbean role." This was too much for Depp, who dissolved into giggles behind his hands.
Fans have been bringing Depp alpacas to cheer him up.
Having inferred from the above that Depp must really love alpacas, some of his stans are trotting them out to the courthouse to make him smile. "I thought the alpacas might brighten his day," Andrea Diaz explained to the Washington Post. Diaz runs an emotional-support alpaca business, and Depp was undergoing cross-examination at the time. She granted that Depp might not even see the alpacas, adding, "I thought I would just give it a shot."
It appears Depp did see them, commenting, "It's alpaca day" on the way out of court last month. He seemed happy they were there, waving to the alpacas (named Dolce and Inti) from his departing car's window.
So ultimately, what is this man's deal with alpacas?
Safe to assume he likes them. A payout of $300 million would be incentive enough for many people to take a job, and I am not convinced an extra million alpacas would sweeten the deal so much as wildly complicate the recipient's life. You'd have to be alpaca-obsessed for this hypothetical scenario to pop into your brain, in my opinion. So I guess Johnny Depp <3 alpacas, but do alpacas <3 Johnny Depp? Can't say for sure, but the way things are going, ugh, probably.