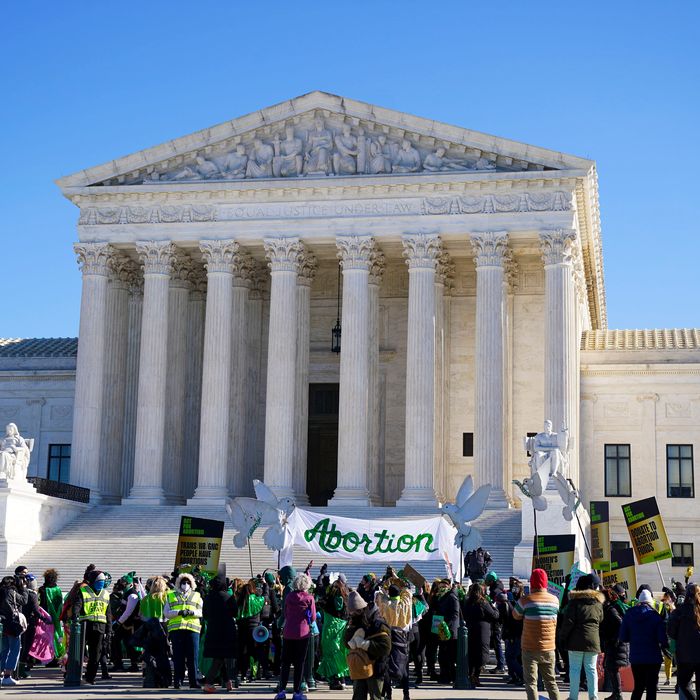 Protesters gather outside the U.S. Supreme Court.
Photo: Getty Images for Act For Abortio
At some point over the next few months, the United States Supreme Court will rule in a case poised to rewrite — even eliminate — abortion rights throughout much of the country. In Dobbs v. Jackson Women's Health Organization, Mississippi has requested that the Court green-light its unconstitutional 15-week abortion ban, a move that would require the justices to overturn or gut Roe v. Wade. Theoretically, that landmark decision bars states from outlawing abortion before a fetus could survive on its own, outside the womb — generally, around 23 or 24 weeks into a pregnancy. But in the nearly five decades since the Court handed down its Roe ruling, a wide gulf has opened between that ideal and reality. Conservative states have no problem passing pre-viability bans, often anticipating a legal challenge that might land their case in front of the nation's highest bench.
In Dobbs, many of the repeat offenders now see their moment: The six justices who make up the Court's majority not only skew conservative, but are also ideologically opposed to abortion. Throughout oral arguments, they nodded along as Mississippi's arguments repeatedly strained credulity, accepting deliberate misrepresentations as fact while scrutinizing data-based counterpoints. Abortion-rights advocates and providers now predict that the Court will allow the 15-week ban to stand, either by overturning Roe outright or by cutting out its core. According to Elizabeth Nash, who leads the state issues team at the Guttmacher Institute, the line between revision and reversal may be so thin, it becomes meaningless.
"The center of Roe is the viability standard," Nash says. "If you take that away, then you have essentially upended Roe." Add to that the Court's refusal to suspend an extreme and unprecedented six-week ban in Texas — which dangles a $10,000 reward to anyone willing to report those they suspect of "aiding and abetting" abortion — and officials eager to ban abortion are pushing legal boundaries to see just how far they can go.
Which explains the flurry of anti-abortion legislation currently pending in state legislatures: In the first ten months of 2021, 19 states passed a total of 106 restrictions, with more added to the tally by the end of the year. Assuming Roe now has an expiration date, conservative state legislatures are looking forward: Twelve already have trigger bans on the books that will sever access as soon as federal protections fall; Mississippi is among the dozen states with six-week bans enjoined by a court order; others never removed the restrictions they had in place before Roe. And now, many states are also scrambling to pass 15-week bans as "placeholders," Nash says, "until they can get the six-week or total ban in place." Louisiana, for example, enacted a 15-week law in 2018, pegged specifically to policy in its neighboring state: If the Supreme Court allows Mississippi's law to stand, then Louisiana's will go into effect, too.
Below, we're tracking the states scrambling to restrict abortion access ahead of the Supreme Court ruling.
Kentucky
On April 13, the Kentucky legislature overrode a veto by Governor Andy Beshear to enact an omnibus ban that outlaws abortion after 15 weeks of pregnancy. The law went into effect immediately after lawmakers voted — effectively ending the provision of abortion in Kentucky.
The legislation imposes a suite of regulations on providers that make their continued operation untenable. The law requires that all fetal remains be cremated or buried. It mandates that a "birth-death" certificate be issued for each abortion performed. Providers will have to report each abortion to the state, offering up patients' intimate biographical details — including information on previous pregnancies and even STI histories — or risk losing their medical licenses. Providers who grant abortions to minors without written consent from a parent or guardian (even minors who become pregnant as a result of incest) will have committed a felony under the new law. Doctors seeking to offer medication-abortion services will need to register through a system the state hasn't set up yet and seemingly has no plans to. Providers of nonsurgical abortions will need admitting privileges at a local hospital, which those hospitals can award or deny as they see fit. On top of all that, the legislation bans telemedicine services for abortions, requiring that all appointments occur in person.
The ACLU and Planned Parenthood filed separate lawsuits to block the law on April 14, citing privacy and due-process violations, but it's unclear whether these moves will succeed in the courts.
Florida
On March 3, Florida became the first state legislature to pass a 15-week ban on abortion in 2022, and on April 14, Florida governor Ron DeSantis signed it. While the bill does make an exception for cases that pose "serious risk" to the pregnant person's health or involve a fetal anomaly, it does not include an exemption for rape or incest. It does, however, require that abortions — and the reasons they were performed — be reported to the state. "These are protections for babies that have heartbeats, that can feel pain, and this is very, very late," DeSantis said shortly after the legislation cleared the Senate, though none of those assertions are supported by science. The new law is scheduled to take effect on July 1.
It's worth noting that Florida lawmakers have also proposed a Texas-style, six-week ban, and that last year, they tried to ban abortion at 20 weeks. Taking into account the state's track record, Nash's analysis lists Florida as one of the states likely to ban abortion outright in the absence of federal protections.
Idaho
Just over a week after Florida, on March 14, Idaho passed a six-week ban based on Texas's, and it's only slightly more lenient in its terms. Texas empowers private citizens anywhere to sue anyone who "aids or abets" abortion for a minimum of $10,000; Idaho, by comparison, allows only family members of what the bill calls a "preborn child" to sue the provider for at least $20,000. Unlike Texas, Idaho's bill does include a rape exception — but it requires victims to file a police report before their abortion and to show a copy to the provider. On March 23, Idaho governor Brad Little signed the bill into law despite reservations, writing to Lieutenant Governor Janice McGeachin, "I stand in solidarity with all Idahoans who seek to protect the lives of preborn babies," even though he expects "the novel civil enforcement mechanism will in short order be proven both unconstitutional and unwise."
Arizona
In mid-February, Arizona's Senate passed a 15-week ban that makes exceptions only for life-threatening pregnancies and those that may result in substantial and irreversible impairment of a patient's major bodily functions. It passed a House vote on March 24, and on March 30, Governor Doug Ducey — who, per the Associated Press, has approved "every related bill that has reached his desk in the past seven sessions" — signed it into law along with two bills targeting transgender youth.
Wyoming
On March 11, the Wyoming legislature passed a trigger ban that would outlaw abortion five days after the Supreme Court overturns Roe, assuming that's what happens. The final version of the bill makes exceptions for pregnancies resulting from rape and/or incest and for cases in which abortion is "necessary to preserve the woman from a serious risk of death or of substantial and irreversible physical impairment of a major bodily function, not including any psychological or emotional conditions." Governor Mark Gordon signed the bill on March 16 despite the complaints of some Republican lawmakers that its language accounted for only a clear reversal of legal precedent, whereas nobody knows exactly what the justices will say or how they will say it.
Oklahoma
On April 5, Oklahoma governor Kevin Stitt signed a measure banning all abortions except those deemed necessary to save the pregnant person's life. The Senate passed the bill last year, and the House took it up and put it to a vote hours before Stitt approved it. Provided the Supreme Court overturns Roe, the law is slated to go into effect in August, after which providers could face up to ten years in prison for performing abortions.
Not content to stop there, the legislature passed another near-total ban on May 19. It took effect as soon as Stitt signed it on May 25: "I promised Oklahomans that as governor I would sign every piece of pro-life legislation that came across my desk," he said in a statement, "and I am proud to keep that promise today." The bill deploys the same vigilante-enforcement mechanism as Texas's S.B. 8 but outlaws abortion starting at fertilization — unless the procedure is performed (confusingly) to "save the life of the unborn child" or the mother in case of a "medical emergency." It is now the nation's most extreme restriction and enables civilians to sue anyone who helps an Oklahoman access abortion.
What's ahead
The above are just a few of the states racing to nail down new restrictions ahead of the Supreme Court's ruling. Notably, though, Oklahoma has been helping to absorb patient overflow from Texas, where dramatically winnowed access has been driving patients across state lines — and, in some cases, across the U.S. — for months. To understand what the map will look like if and when Roe falls, it's helpful to start there. Nash notes that Oklahoma clinics used to schedule appointments within two or three days; "now," she says, "it's three or four weeks." Lengthy delays may prompt Oklahomans in need of abortions to also consider traveling out of state, creating scarcity that ripples out across whole regions — and with 26 states expected to outlaw abortion in the absence of Roe, maybe throughout the whole country.
This article has been updated.