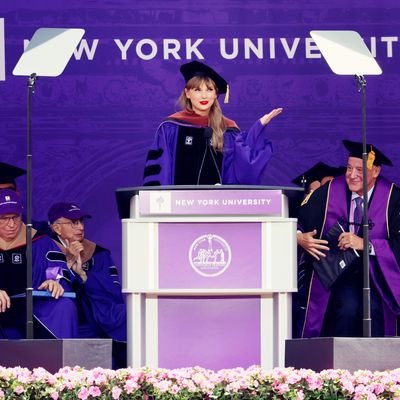 Photo: Dia Dipasupil/Getty Images
On Wednesday, Taylor Swift became a doctor, which is to say she received an honorary degree from New York University and delivered the class of 2022's commencement speech during their graduation at Yankee Stadium. Because she is not a doctor by profession but a storyteller, Taylor worked many of her signature literary flourishes into the 23-minute speech, in which she talked about cringe, wine, and feeling embarrassed about that time she dressed like a 1950s housewife. And even though I would have accepted a Taylor Swift cover of "Graduation (Friends Forever)," it was nice to hear the sage, sisterly advice she offered the crowd of graduates.
It also sounded a little … familiar. Are these rejected Taylor Swift lyrics? I wondered as the words "learn to live alongside cringe" played on a loop in my head. Are they promotions for aspirational pillows Taylor is selling on Etsy? Maybe they're fortune-cookie messages. Or are they? Let's find out.
Is This a Line From Taylor Swift's NYU Commencement Speech or a Fortune Cookie?
If you get it wrong, you will look back on your life and cringe retrospectively. — Taylor Swift
Congratulations to the class of 2022 and Dr. Taylor Swift!