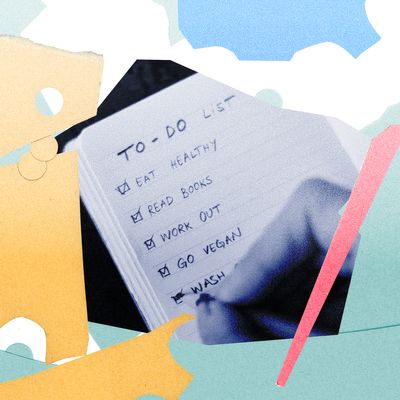 Photo-Illustration: by The Cut; Photo: Getty Images
Early on in a new job, I made the horrifying discovery that my Notes app and the to-do lists I kept there had unwittingly synced with my co-workers' apps and their to-do lists. Among the findings: Someone was grocery shopping for lasagna and someone else was outlining a murder-mystery plot. What really struck me, though, was how different my lists were from my bosses'.  I'd typed "Clear inbox" and "Go to the cobbler to save the shoes I destroyed at the bar," while they'd typed "Investor meeting research" and "Morning show appearance prep." Their to-dos, like their lives, were aspirational and forward thinking. I was just playing defense, trying to Whack-a-Mole my errands into submission.
Since then, I've found that the real beauty of the to-do list is using it to transcend the mundane. Johnny Cash made this lovely little list of items like "Kiss June," "Not kiss anyone else," "Eat," and "Not eat too much." Artist Ashley Longshore posts lists whose directives include "Write poem about hashbrowns," "Eat cookies naked in bed with my dog," and "Google true stories of fairy interactions." These poetic yarns are so far removed from mind-numbing errands that they're a different species of list altogether — expansive and curious, not reactive and tedious. They make me laugh instead of almost cry.
No matter the flavor of your to-dos, most of us make these lists incessantly, and yet research shows 41 percent of the tasks we include remain unfinished. So, uh, why bother? Well, for one, it settles the swirling detritus of our days. Outlining a plan can help decrease anxiety.
After #NotesGate, I started a practice I termed "the D-list," in which I broke tasks into three buckets: "Doing" (must do today), "Dealing With" (tedious activities such as taxes and laundry), and "Dreaming." The Dreaming section became a catchall for everything that didn't fit into the Tetris grid of my calendar. It was meant for fun wants that existed in the cracks: go on more hikes, read that National Geographic article on spider monkeys, figure out what a Brazilian butt lift entails and whether I should get one. Dreaming grew into my favorite section.
Leigh Ware, who's in graduate school for counseling, keeps a running list of sexual desires in a Google Doc. "It includes how I want to feel in a specific encounter, the emotional state, what I want to happen, what I might wear," she says. She also has a to-do list of topics she wants to research, which veers into the horizontal. It features lines like "Watch a tantra video to recreate with my partner," "Read blogs on how to be successfully tied up in a shibari rope," and "Watch video on how not to kill my plants." She describes it as a joy list.
For some people, the joy comes in getting really granular. Sarah Remes, a lawyer, relishes an overstuffed list for the dopamine hit of completion. She breaks each item down to subparts, so "Do laundry" becomes "1. Laundry. 1a. Wash. 1b. Dry. 1c. Put away." "I like being able to cross out more things — and even though it's more items, the smaller chunks make it more manageable because I see the whole process," she says. "On a particularly vulnerable day, 'Brush teeth' definitely makes the list." Others find more satisfaction in making the list than in annihilating it. Danya Kukafka, a novelist and literary agent, loves lists so much she makes them on four different mediums: a color-coded "get-to-work book" for daily scheduling and to-dos, a lined notebook for tasks that pop up in meetings or on the go, a separate notebook dedicated to monitoring her novel progress, and Airtable for endeavors such as wedding planning and tracking client submissions. "I'm an extreme Virgo," she says, "and a big believer in the power of writing things down. Making lists helps you catalogue and understand what needs to happen."
Cataloguing can be a long- or short-term habit. In her newsletter Maybe Baby, writer Haley Nahman explained how, during a depressive period, she wrote down what she planned to do every morning and what she'd done every night because she "simply needed proof that things were happening." When she started feeling better, she no longer required this prosaic pulse check. "There is no one aim, or one habit, to fix everything," she wrote. "Nothing is fixed, and that's the point." Shifting to-do-list strategies may come with shifting mental — and physical — landscapes. After Noelle Hancock left her New York media career to move to St. John and scoop ice cream (she now works in a deli), she started framing her to-do lists as "what would make today great." Sometimes that's calling someone back or scheduling a doctor's appointment, but a lot of the time it's focused on what she should stop doing, such as mindless social-media scrolling and watching Netflix for hours. "If an activity you do during the day is not a five or above on the scale of productivity or happiness, stop doing it," she says.
Happiness, that elusive peak, is frequently overshadowed by its overachiever cousin and the main impetus for to-do lists: productivity. They've become so linked in our minds that we believe we need to be productive in order to achieve happiness. But productivity probably isn't shape-shifting into happiness the moment we check off "File insurance claim" or "Fill out W-9 form" from our lists. While those pesky to-dos won't magically disappear by refocusing on sexual desires or potato poems, they may become defanged or redistributed.
Even my former bosses made space for dreamier ideas among their intimidating to-do lists. They used waterproof notepads in the shower to catch those heady, creative thoughts that surface in sealed heat. Back when I worked for them, I thought of the practice as quirky and slightly unbelievable — did anyone really list their epiphanies in between shampooing and conditioning? Now I'm adding "Order shower notepad" to my Dreaming list.