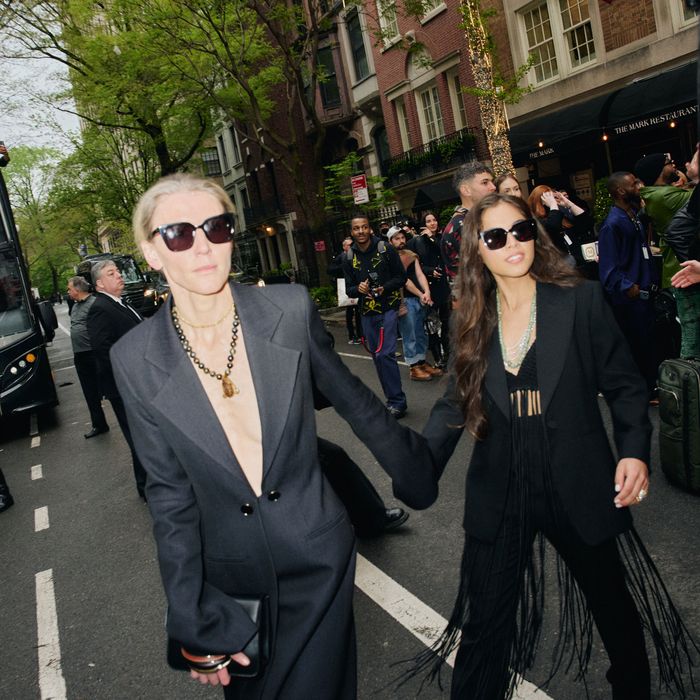 Gabriela Hearst and Xiye Bastida leaving the Mark Hotel.
Photo: Chad Moore / Courtesy of Chloé
At one of the biggest events of the year with arguably one of the highest concentrations of wealth — a room filled with names that have benefited from systems of capitalism, colonialism, and imperialism — one has to wonder, Does a climate activist have a place at the Met Gala?
Xiye Bastida, a 20-year-old Mexican Chilean Indigenious climate activist, thinks it's weird that she was invited. "The only thing I've done is fight for our future," says Bastida while sitting in glam at the Mark Hotel two hours before walking the red carpet. "I'm not a singer, I'm not an actress. I'm a student."
But what is weird is that in 2022, when we have overwhelming evidence of a climate crisis, the presence of a climate activist is still considered niche at a global event like this. Bastida is the first in her role to walk those infamous steps.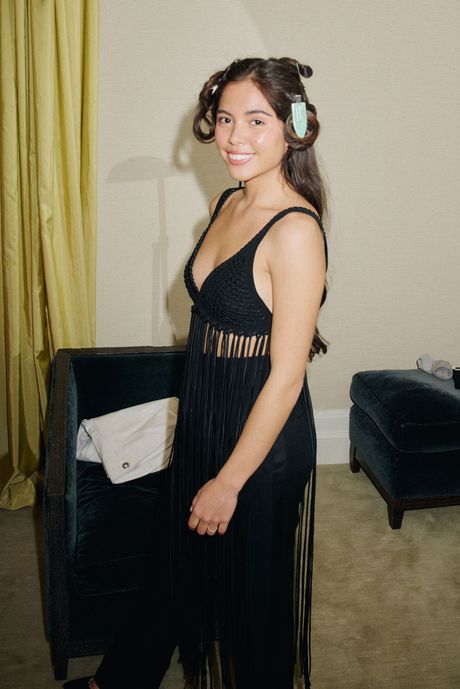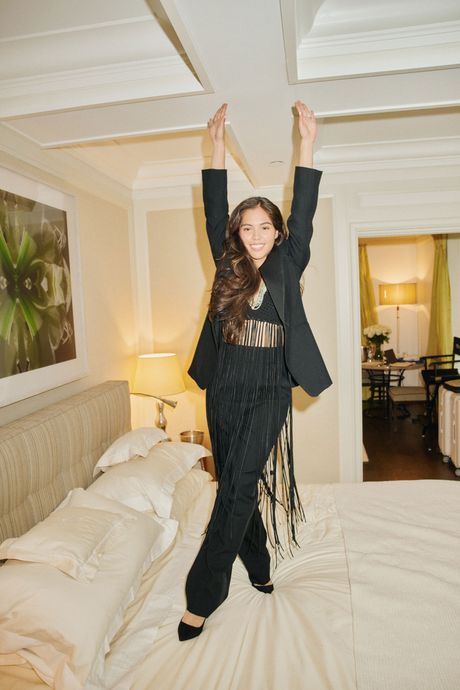 Perhaps instead of questioning whether the exclusive Met Gala has a place for Bastida, we should be questioning why there aren't more voices alongside her. Which is exactly what designer Gabriela Hearst thought, too.
As the creative director of Chloé, Hearst was first introduced to Bastida at the latest Conference of the Parties in Glasgow. "I started bawling during her panel," Hearst says.
Bastida later shared with Hearst that during her opening remarks at the event, some men started walking out of the room in the middle of her speech. "I felt your hurt, and I said to myself, That's not going to happen to you again," Hearst recounts. "Going to the Met Gala is a platform, simple as that." Bastida was hesitant about attending, but Hearst was adamant that this is exactly the kind of room she needs to be part of to infiltrate from within.
Jack Harlow personally gave Bastida his number to continue the climate conversation, Bella Hadid suggested they work together at some point, and Shawn Mendes and Camila Cabello were excited to show off their upcycled looks for Bastida's approval, though Puerto Rican rapper Bad Bunny was her favorite encounter of the night. They conversed in Spanish and snapped a selfie to send to her family. Her least favorite part of the night was when she was served steak and asparagus — one of the most water-intensive vegetables to produce — as the entrée meal. An executive from Richemont, a luxury group that owns Vacheron Constantin and Van Cleef & Arpels, sat next to Bastida at dinner and invited her to come and speak to all 30,000 of his employees.
The Sunday before the event, Bastida shared her clear intentions for the evening: "It's not about me, it's about the message. It's about the fact that everybody has to realize that they have a role to play in climate solutions."
She specifically called out people who have lied to their communities or chosen to see communities as expendable. When I mentioned that some of these people may very well be in the same room with her on the first Monday in May — billionaires and politicians aplenty — Bastida responded that she will need to appeal to their empathy and humanity and hoped these people would ask about her own climate story: "My hometown in Mexico was flooded when I was 13 years old, and that showed me that we cannot afford to keep waiting." (She would see Elon Musk from afar at the gala but decided to preserve her energy to speak with those who would be open to her story.)
Bastida needed to be both stylish and sustainable for the event. Her look was a black bespoke Chloé tuxedo suit cut from wool silk, styled with a handmade macramé top made of silk satin and silk crepe de chine. All the materials were deadstock from previous Gabriela Hearst Chloé collections.
She stayed true to her roots and brought her own box of traditional Otomi-Toltec jewelry to wear. She chose a ceremonial jade necklace for her final look, the jade giving her protection. Hearst borrowed a tiger's-eye necklace for the occasion that belonged to Bastida's father, and Amy Schumer wore an anklet from Bastida's personal collection for the evening.
Of all the firsts Bastida experienced in those 24 hours, what was her favorite part of the event? "How supportive the entire youth climate movement has been," she says. The media has dubbed her "America's Greta Thunberg," but Bastida is quick to note that such headlines diminish the work of the entire youth climate movement.
The morning after the Met Gala, Bastida pondered her biggest breakthrough: "All of these massive companies, all of these lavish events — it's just people at the end of the day."
"People with their own opinions and hopes and dreams," she continues, "and it's quite simple to talk to them about the state of the world." Seeing people as people and talking as a means to a climate solution? Then we're all being summoned to infiltrate from within.