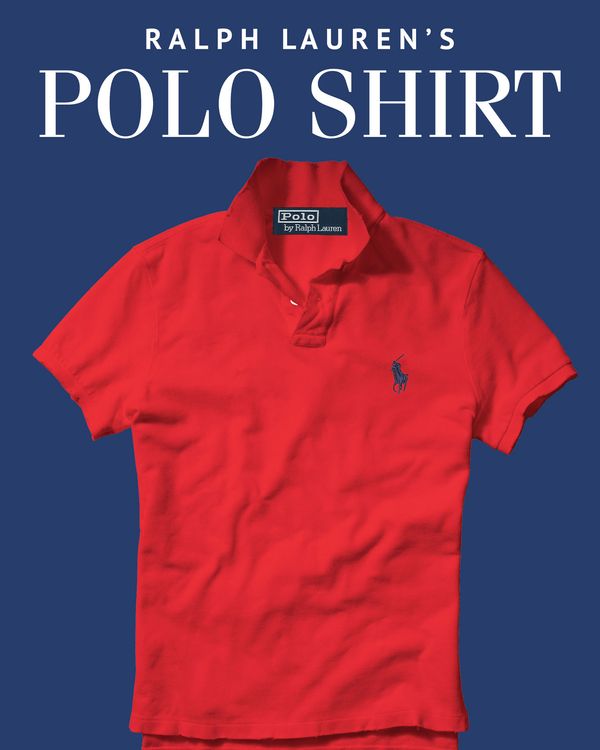 Photo: Courtesy of Rizzoli
The Polo shirt has evolved to be one of the most worn and recognized pieces in fashion. To celebrate Ralph Lauren's 50th anniversary, the brand decided to honor it by creating a coffee-table book dedicated to its history. The newly released 544-page book, Ralph Lauren's Polo Shirt, features 400 images and chronicles the shirt you've seen on your dads, on Kanye West — and now on bookstore shelves.
Is it worth it?
If you liken yourself to a fashion historian or even a design geek, it is worth it. Split up into sections, the book outlines the Polo shirt from its humble beginnings in 1972 to now, chronicling the limited releases, colorways, stripes, and iterations of the precisely 900-stitch embroidered polo rider on the right chest. (Fun fact I learned from the book: The logo was made by a man who had never watched a polo match.)
Each distinct style is explained: Lauren loved vintage pieces, so that inspired the "weathered" polo. In the '90s, he created the big fit of the polo to match the current style of shirts. In the early 2010's, he launched destination polos that featured the names of major cities across the chest. As the brand evolved, so did the looks Lauren created.
"I wanted the shirt to become part of the life of the person who wore it," wrote Lauren. Fifty pages of the book are dedicated to photos of celebrities and athletes alike wearing the Polo shirt over the decades, including a number of U.S. presidents as well as Ye, Oprah Winfrey, Harry Styles, Jerry Seinfeld, Gigi Hadid, and Venus Williams. Alongside celebrities, communities such as the Lo Lifes in Brooklyn — a subculture of Polo enthusiasts, collectors, and now archivists with a rich history dating back to the '80s — are featured in the book. One of the original Lo heads, Victor Thirstin Howl III Dejesus, wrote about growing up in Brooklyn and what it meant: "Wearing a Polo shirt meant you had something. You were rich."
The price.
The book is available for $39.95.
Where to get it.
You can purchase the book from Amazon, Rizzoli, or Ralph Lauren's website. Special editions will be sold at Polo stores around the world and will feature five covers inspired by Ralph Lauren's original desire to offer the shirt in a rainbow of colors.