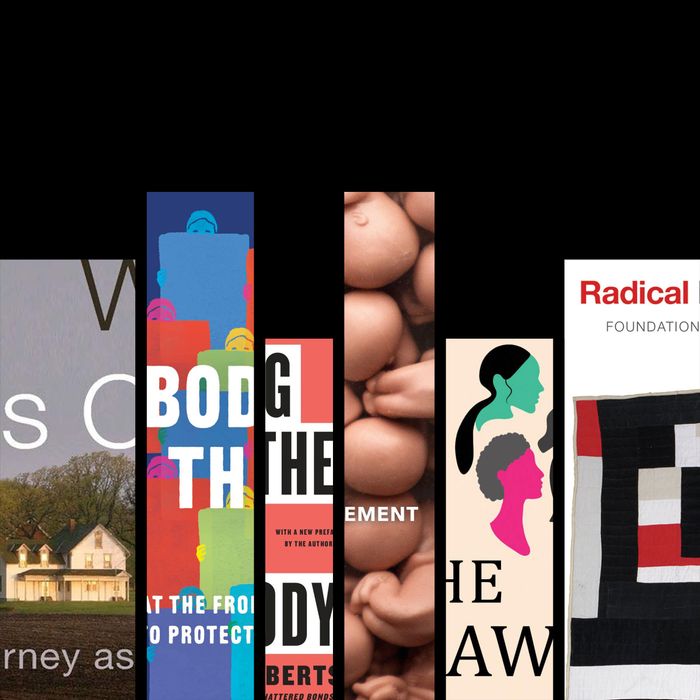 Photo-Illustration: by The Cut; Photos: Retailers
It's only a matter of weeks before the Supreme Court releases its expected opinion in Dobbs v. Jackson Women's Health Organization, after which abortion will likely become illegal in half of the United States. The Cut compiled a reading list that includes books that will help you understand, from a historical and legal perspective, why the country is poised to turn the clock back half a century on women's rights as well as practical resources that will help prepare readers for a future without Roe v. Wade.
If you read only one book on this entire list, make it The New Handbook for a Post-Roe America. Robin Marty is a leading writer and advocate who has spent a decade reporting on abortion in the U.S., and the practical support her book offers is unmatched. This resource guide covers the likely state-by-state legal landscape if Roe is overturned, how to prevent a pregnancy, how to self-manage your own abortion, direct actions you can take to support access to care, and much more.
Diana Greene Foster and a team of scientists — physicians, psychologists, and economists, among others — conducted a pioneering ten-year study that was the first data-driven examination of the negative impact patients experience when they are denied an abortion. The Turnaway Study also thoroughly debunks many long-held anti-abortion myths, including that the procedure harms patients. Alongside Foster's findings, the book includes powerful first-person narratives from people who had abortions and those who were denied them.
As you read the leaked draft opinion in Dobbs v. Jackson Women's Health Organization, you might have asked yourself, How did we get here? Mary Ziegler, a legal historian and law professor at the University of California, Davis's School of Law, answers that question with an in-depth account of the legal landscape that evolved after Roe was decided in 1973. Her book traces the fault lines of the abortion debate and explains how the right got to the precipice of toppling a 50-year-old precedent.
The woman at the heart of Roe v. Wade — Norma McCorvey, a.k.a. Jane Roe — never actually had an abortion. In his extraordinary book, Joshua Prager uses more than a decade of reporting to paint an intimate, in-depth picture of McCorvey's maddeningly complex life, her activism for and then against abortion, and the characters that used her — and whom she used right back.
From 1969 until 1973, the Jane Collective helped around 11,000 women obtain illegal abortions in Chicago, first by referring patients to sympathetic doctors and later by performing the procedure themselves. Laura Kaplan, one of the network's counselors, draws on her own memories and interviews with other members, clients, and collaborators to write the definitive history of one of the most brazen feminist efforts of the last century.
The pro-life movement, and the Court's own justices, present adoption as the logical alternative to terminating a pregnancy. However, this view erases the fact that the termination of parental rights is its own complicated experience with lifelong repercussions. In The Girls Who Went Away, Ann Fessler carefully explores the heart-wrenching stories of the million and a half women who gave their children up for adoption in the 1950s and 1960s — including her birth mother.
From hospital boardrooms to state legislatures, men have historically dictated when and how abortions can take place. But since the dawn of the anti-abortion movement, the cause's rank-and-file soldiers have been women. In Women Against Abortion, Karissa Haugeberg examines how women became embedded in and leaders of a distinctly patriarchal movement that fused religion with partisan convictions.
Policing the Womb offers a window into what the future will look like with increasingly punitive anti-abortion laws and a rousing call for reproductive justice. Using deep research and her comprehensive interpretation of the law, Michele Goodwin outlines how the state already criminalizes and harms pregnant bodies — a situation that disproportionately impacts women of color and poor women.
A long tradition of legal, cultural, and socioeconomic roadblocks to accessing abortion care has meant the promise of Roe was never a reality for millions of people in the United States. In No Real Choice, Katrina Kimport, a sociologist, shares the stories of 58 women — all of them low income, most of them Black — who considered terminating their pregnancies but were unable to do so. Their experiences, collected through candid and in-depth interviews, offer a better understanding of what "choice" means in the face of structural barriers.
As one of the only abortion providers in the Midwest from the late 1980s until her retirement in 2013, Susan Wicklund worked 100-hour weeks, treating mostly rural patients in remote clinics while enduring a constant harassment campaign from anti-abortion protesters. In her touching memoir, Wicklund details how her own traumatic abortion informed her approach as a doctor. She writes with compassion about her patients' unique experiences — from a woman who lost her job because the state's mandatory waiting period forced her to make multiple appointments to a married rape victim who chose an abortion only to realize she miscalculated and the pregnancy was not the result of her assault.
Nearly three decades ago, SisterSong Women of Color Reproductive Justice Collective introduced the concept of reproductive justice, asserting that every person has the right to "maintain personal bodily autonomy, have children, not have children, and parent the children we have in safe and sustainable communities." This anthology introduces readers to the framework as well as gives them the theoretical and practical tools to understand how having control over when, if, and how to parent intersects with other issues, including environmental justice, poverty, and migration.
Dorothy Roberts's groundbreaking 1997 work, Killing the Black Body, remains a crucial read about race and reproductive freedom. She chronicles in painstaking detail how the United States has waged a war on Black reproduction, from how the wombs of enslaved Black women were used for financial gain to how the bodies of pregnant people are regulated and prosecuted by the state to this day.
The Dobbs leak led social-media users to suggest that tribal lands could become safe havens for abortion care. Not only is this scenario not realistic, but it also ignores how difficult it is for Indigenous women, particularly those in reservation communities, to access reproductive-health care. In Reproductive Justice, Barbara Gurr outlines the challenges experienced by patients at the Pine Ridge Reservation, home of the Oglala Lakota Nation in South Dakota.
The number of anti-abortion restrictions has exploded in the past decade, making it extremely challenging for millions of people to access care — often with devastating consequences. Obstacle Course illustrates this landscape of struggle, in which 90 percent of Americans live in counties without an abortion provider, requiring them to travel; insurance restrictions make it difficult for low-income patients to afford the procedure; and mandatory waiting periods force patients to schedule additional child care and time off from work, among other medically unnecessary indignities.
After Roe v. Wade was decided, the anti-abortion movement took its fight to clinics, often using violence to terrorize patients and providers alike. As a result, abortion-rights volunteers came together to safely shepherd patients to their appointments, shielding them from protesters hell-bent on making the experience of getting an abortion as difficult and traumatic as possible. Lauren Rankin, who volunteers at a clinic in New Jersey, skillfully traces the history of clinic escorts and highlights the importance of taking action to protect access to abortion, even once Roe is gone.