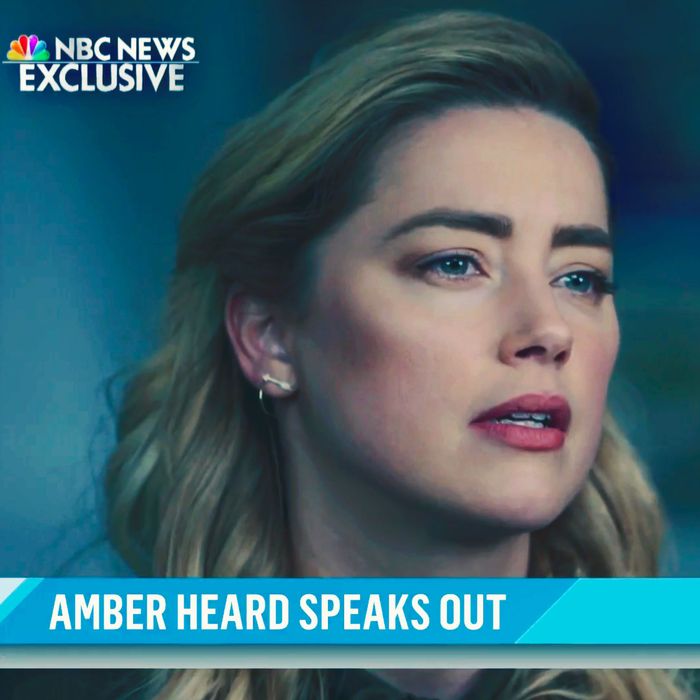 Amber Heard sits down for her first interview since her defamation trial wrapped.
Photo: NBC News/TODAY
In the week since a Virginia jury awarded Johnny Depp a $10 million victory in his defamation suit against Amber Heard, he has capitalized on the public's goodwill. The actor took a bow on TikTok, thanking his fans for doing "the right thing together," while his attorneys defended the proceedings on the Today show. Heard has kept a lower profile. For her, the trial brought six weeks of public ridicule and shaming, even before the jury decided she had not been truthful about her allegations of Depp's physical, emotional, and verbal abuse, and that she had defamed him in an op-ed that didn't name him or even discuss any of that. Now, she is speaking publicly about the ordeal for the first time, in an interview with NBC's Savannah Guthrie.
The full interview aired Friday on Dateline, but, seizing on the widespread thirst for content surrounding the trial, NBC released teasers throughout the week. In a clip aired on Monday, Guthrie (whose husband, you may remember from last week's sit-down with Depp's lawyers, has also "done consulting for Depp's legal team") asked Heard if she blamed the jury for the decision. Heard said no: "I don't blame them; I actually understand. He's a beloved character, and people feel they know him. He's a fantastic actor."
Guthrie reminded Heard that jurors are supposed to set aside their personal beliefs and only consider the evidence. They were given instructions at the end of each day not to talk about the case and to ignore media coverage. But at the same time, the jury in Depp v. Heard — composed of five men and two women — was not sequestered. The wall-to-wall memes, almost all of which demeaned and discredited Heard, were impossible for anyone with a smartphone to escape. Speaking to Guthrie the day after the verdict came in, Heard's attorney Elaine Bredehoft said she believed that a "lopsided" narrative online "absolutely" influenced the outcome. Jurors "went home every night," she observed. "They have families. The families are on social media. We had a ten-day break in the middle because of the judicial conference."
Whether or not the jury adhered to the judge's after-hours instructions, Heard told Guthrie she felt it was almost inevitable that they decided in Depp's favor. How could they not, she asked, "after listening to three and a half weeks of testimony about how I was a non-credible person, and not to believe a word that came out of my mouth?" Depp, Heard noted, put his paid employees on the stand. He called in a parade of people seemingly unrelated to the case, including the owner of a trailer park where the couple once stayed and a former TMZ employee. In the end, all the tangents felt like a deliberate distraction from the central issue of the trial. Bredehoft has said that "an enormous amount of evidence" involved in a nearly identical lawsuit in the U.K., which Depp lost, was suppressed in the U.S. Heard plans to appeal.
"I don't care what one thinks about me," she told Guthrie, "or what judgments you want to make about what happened in the privacy of my own home, in my marriage, behind closed doors. I don't presume the average person should know those things, so I don't take it personally. But even someone who is sure I am deserving of all this hate and vitriol, even if you think that I'm lying, you still couldn't look me in the eye and tell me that you think on social media there's been a fair representation. You cannot tell me that you think this has been fair."
A second and longer preview, released Tuesday, saw a seemingly disbelieving Guthrie question Heard about the truthfulness of her testimony. "To my dying day, I stand by every word of my testimony," Heard said. Guthrie asked if Heard understood why "some people were frankly disgusted by the whole thing, and didn't have much sympathy" for either party? "Absolutely," she replied. "I would not blame the average person for looking at this and how it's been covered and not think that it is Hollywood brats at their worst. But what people don't understand is it's actually so much bigger than that. This is not only about our First Amendment rights to speak." Guthrie countered that free speech "doesn't protect lies that amount to defamation," and Heard agreed. "It's a freedom to speak truth to power," she said, "and that's all I spoke. I spoke it to power and I paid the price."
Guthrie read from transcripts of audio recordings played in court, suggesting that Heard had in fact instigated physical violence — and saying the evidence was there in "black and white." "What you would hear in those clips are not evidence of what was happening. It was evidence of a negotiation of how to talk about that with your abuser," Heard explained, describing her admissions to hitting Depp and to calling him "horrible" names as a response to "living in violence." As for tapes in which she appeared to taunt Depp, Heard acknowledged — as she did in court — that she felt remorse for her "ugly" behavior. "We were awful to each other, you know? I made a lot of mistakes," she said. "A lot of mistakes." But "as I testified on the stand," she said, "when your life is at risk, not only will you take the blame for things that you shouldn't take the blame for, but when you're in an abusive dynamic psychologically, emotionally, and physically, you don't have the resources that, say, you or I do with the luxury of saying, 'Hey, this is black and white.' Because it's anything but when you're living in it." Asked if Depp had lied when he said he never hit Heard, she said yes.
In response to Depp's attorneys' allegation (and one repeated widely online) that Heard had given "the performance of her lifetime" on the stand, Heard replied: "Says the lawyer for the man who convinced the world he had scissors for fingers? I'm the performer? I had listened to weeks of testimony insinuating or saying quite directly that I'm a terrible actress, so I'm a bit confused how I could be both." Heard called the trial "the most humiliating and horrible thing" she had ever been through. "I've never felt more removed from my own humanity," she said. "I felt less than human."
Wednesday's clip had a gentler tone, with Guthrie asking Heard about her op-ed and her promised ACLU donation, which Heard said she still intends to honor. When Guthrie questioned why Heard decided to write her Washington Post piece when "life had seemingly moved on," Heard emphasized that the essay "wasn't about [her] relationship with Johnny." Rather, she explained, it "was about was me loaning my voice to a bigger cultural conversation that we were having at the time."
"It was important for me not to make it about him, or to do anything like defame him," she added. "I had lawyers, teams of lawyers, review all the drafts of this." Heard maintained that she never meant to "cancel" Depp, and said she never wanted him to lose work because of it. "It wasn't about that," she told Guthrie, and yet she still fears that talking about the trial opens her up to further legal action by his team. "I took for granted what I assumed was my right to speak," she said. "I'm scared that no matter what I do, no matter what I say or how I say it, every step that I take will present another opportunity for this sort of silencing. Which is what, I guess, a defamation lawsuit is meant to do. It's meant to take your voice."
Heard also denied that she (or anyone acting on her behalf) had tipped off TMZ about her filing for a restraining order in 2016, as Depp's team suggested at trial. As for her refusal to cooperate with the police officers who arrived at Depp's apartment following a dispute, days before Heard initiated divorce proceedings, she said: "I didn't want this to be out. I didn't want this to be known. I didn't want to get him in trouble. If it was a hoax" — as Depp's attorney Adam Waldman alleged in a 2020 Daily Mail article, claiming Heard and her friends had fabricated a crime scene and called the cops in an attempt to frame him — "I could've done that." At trial, Waldman's statement was the one element of Heard's defamation claim the jury found credible.
Guthrie also asked Heard about a line from a statement she issued at the start of the trial, saying that she still had love for Depp. "Is that still true?" Guthrie asked. "Yes," Heard replied. "Absolutely. I love him. I loved him with all my heart, and I tried the best I could to make a deeply broken relationship work. And I couldn't. I have no bad feelings or ill will toward him at all. I know that might be hard to understand or it might be really easy to understand, if you've ever loved anybody." Still, she told Guthrie, Depp's words about her "total global humiliation" seemed to have come true.
"I know he promised it," she said. "I testified to this. I'm not a good victim; I get it. I'm not a likable victim. I'm not a perfect victim. But when I testified, I asked the jury to just see me as human and hear his own words, which is a promise to do this. It feels as though he has."
The extensive interview finally aired on Dateline Friday night, with Heard reiterating her only goal now was to be seen as "a human being." To that end, the actor released years of therapist notes and personal text messages that were excluded from the trial, pieces of evidence she thinks would have made a difference. "There's a binder worth of years of notes dating back to 2011 from the very beginning of my relationship that were taken by my doctor, who I was reporting the abuse to," she told Guthrie. The therapist notes include documentation of Heard claiming in 2012 that Depp "hit her, threw her against a wall, and threatened to kill her." Heard also provided NBC News with a text message sent to her father after the alleged incident when she says Depp kicked her on a private plane. "He kicked me in front of everyone," she wrote.
As Heard stood by her allegations, Guthrie pointed out that no other women had come forward to accuse Depp of domestic violence. "Look what happened to me when I came forward. Would you?" She also said that the trail taught her that no amount of evidence would have been "good enough" to convince the jury. "If you have proof, then it was a scam, a hoax. If you don't have proof, it didn't happen. If you have a bruise, it's fake. If you don't have a bruise, then he didn't hurt you. If you told people, then you're hysterical. If you didn't tell anyone, it didn't happen." Still, Heard said she hoped that the verdict in this case does not stop other survivors of domestic violence from coming forward. "I'm still here. And maybe that serves to balance out some of the very, very real fear others may have about coming forward or speaking out."
A spokesperson for Depp released a statement responding to the interview. "It's unfortunate that while Johnny is looking to move forward with his life, the defendant and her team are back to repeating, reimagining, and re-litigating matters that have already been decided by the Court and a verdict that was unanimously and unequivocally decided by a jury in Johnny's favor." Heard also released a statement via a spokesperson, saying, "If Mr. Depp or his team have a problem with this, we recommend that Johnny himself sit down with Savannah Guthrie for an hour and answer all her questions."
This article has been updated.
Psst! The Cut and New York Magazine are conducting a survey about dating. We want to know all about your swipes, IRL hookups, bad dates, and everything in between. Interested? Click here.