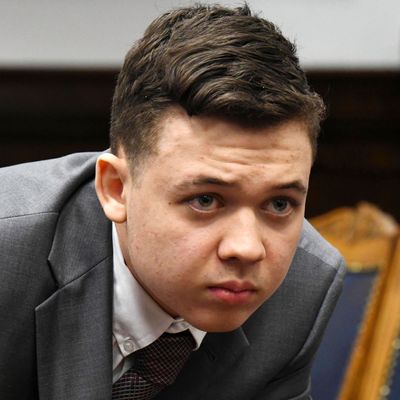 Photo: Mark Hertzberg/Pool/Getty Images
In November, Kyle Rittenhouse was acquitted on all charges for fatally shooting two men and wounding another at a Black Lives Matter demonstration in Kenosha, Wisconsin, in 2020. In the months since, he has been on something of an alt-right victory tour — appearing on Tucker Carlson's show (he had the nerve to say he supports "the BLM movement" and "peacefully demonstrating" among other questionable claims), visiting Donald Trump at Mar-a-Lago, and threatening to file at least ten defamation lawsuits against the media after drawing inspiration from the Depp v. Heard trial.
What else is next for the alt-right poster child? Despite being offered internships with Republican representatives Paul Gosar and Matt Gaetz, Rittenhouse, 19, would apparently like a quiet collegiate life instead. In a recent appearance on conservative podcast The Charlie Kirk Show, Rittenhouse reflected on spending the last six months "having fun, living my life, and being a free man" and said it was now time for him to "go get an education, get good grades, and be successful in life." Mid-interview, Rittenhouse slipped on a Texas A&M hat and announced his plans to attend college there. ("It's going to be awesome. Beautiful campus. Amazing people. Amazing food," Rittenhouse said.) Well, maybe not: On Sunday, a spokeswoman for Texas A&M told the Dallas Morning News that Rittenhouse "has not been admitted as a student this summer or fall." 
Texas A&M isn't the first college to distance itself from Rittenhouse. In November, students at Arizona State University protested after Rittenhouse expressed his hopes to attend in-person classes on the school's campus after claiming he wanted to "live a quiet, stress-free life and just go on with my life as a normal 18-year-old kid attending college." Activist student groups at Arizona State tweeted a flyer with a photo of Rittenhouse wielding a semi-automatic rifle and emblazoned with the words "KILLER OFF OUR CAMPUS." A spokesperson for ASU told The Hill that Rittenhouse wasn't enrolled in classes at the time and had not gone through the ASU admissions process, though the school did previously confirm that Rittenhouse was an online, non-degree-seeking student.
On Monday, Rittenhouse appeared to backtrack, tweeting that he'd been "robbed" of his high-school career and claiming he would actually be attending Blinn College, a community college and feeder school in Texas, and that he planned to join Texas A&M in 2023. But per the Texas Tribune, a spokesperson for Blinn clarified that while Rittenhouse has submitted an application, he has not enrolled for a current or upcoming term. It's a mystery why Rittenhouse keeps declaring himself a student at schools where he isn't one, but it sounds like he's learning that getting accepted into college in this country isn't as easy as, say, buying an assault rifle. Maybe he should return the hat?
This post has been updated.