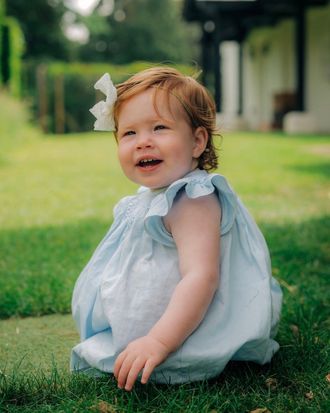 This is Prince Harry?
Photo: @misanharriman/Twitter
Happy belated first birthday to Lilibet Diana Mountbatten-Windsor, whose present is that she is growing rapidly into a miniature version of her father, the famed ginger lad Prince Harry. Their resemblance was confirmed with the release of a photo from Lilibet's "intimate backyard picnic" party on Saturday, which the 1-year-old attended looking like her dad in a bow. What a gift. Remember when Baby Archie was born and everyone was like, "Wow, look at this tiny Prince Harry over here?" Yeah, you're going to have to try a little harder next time, kid.
According to royal reporter and Sussex biographer Omid Scobie, Lilibet celebrated at Frogmore Cottage with "close friends and family" and a special bake by the person who did her parents' wedding cake. The Sun reports that her guests enjoyed a "relaxed and casual" atmosphere with "balloons and party games," plus the opportunity to play with "a £75 pink Volkswagen Beetle ride-on toy, which had been spotted in Selfridges," for those who were small enough.
The Daily Beast has described this event as a "proxy war" that none of the senior royals, up to and including the queen, attended. It's probably worth noting that the monarch skipped much of her own weekend-long anniversary party, dispatching a hologram to handle her big Jubbly Pageant on Sunday, so this probably wasn't personal. The queen has been experiencing "episodic mobility issues," but reportedly met her namesake on Thursday. The rest of Harry's immediate family members wished Lilibet a happy birthday on Instagram. Given Prince Charles's alleged comments about the color of Archie's skin and the rumored royal rudeness about Meghan and Harry's choice of names, maybe that is … fine.
Psst! The Cut and New York Magazine are conducting a survey about dating. We want to know all about your swipes, IRL hookups, bad dates, and everything in between. Interested? Click here.