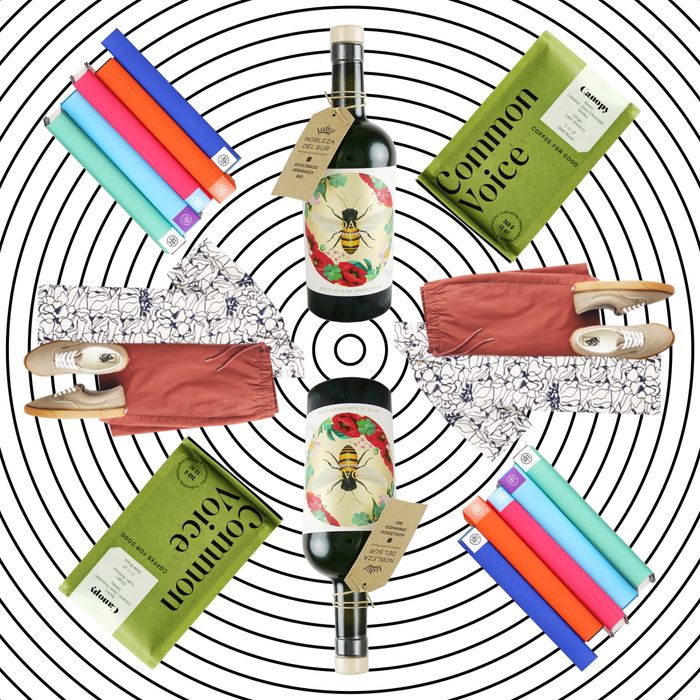 Photo-Illustration: by The Cut; Photos: Retailers
The best last-minute Father's Day gifts don't actually need to be gifts that arrive on your dad's front door before or on June 19. If your mind wandered toward gift cards, you're close, but there's another article for that. We're talking about subscription services or boxes.
Instead of turning to Amazon to get a gift that will surely ship and arrive before the holiday or impulse-buying a present from our listicles (we have rounded up great options, though), consider a subscription service.
They are already curated for you, so all you have to do is pinpoint your dad's ongoing or latest hobbies and decide which one-off or recurring shipment out there will cater his current lifestyle. From plants to groceries, subscription boxes have gained popularity and make lazy gift-giving seem anything but. Read on to see our favorites.
For the foodie
My boyfriend's dad is a complete foodie. He's always cooking up delicious meals and when he's not, he's looking for the next best recipe to try out. This past Christmas, I gifted him this olive oil subscription, and it's what ignited my love for subscription gifts. Not only did he love the first olive oil option, but it was the gift that kept on giving because each month he was excited to see what was going to be next.
For the dad who loves his cup of joe
If your dad has a trusty mug and his coffee routine has been the same since the '80s, you're more than qualified to gift him Trade Coffee's subscription service. All you have to do is take its coffee quiz to let it know how your dad likes his coffee, and once that's done, you get to customize the order frequency, grind setting, and, of course, the coffee selection. Lucky you, you can score $30 off a 6-bag coffee subscription with the code THECUTTRADE.
For the dad who wants to graduate from the grill
Your dad might be the king of the grill, but expand his cooking skills by gifting him a subscription to Blue Apron. With recipes designed by actual chefs, he'll get to choose from one-pan dinners to more elaborate meals, receive everything in a box, and proceed to follow the easy step-by-step instructions to whip up the family's next dinner.
For the health nut
Whoop's membership has a minimum commitment of 12 months. However, you can try its high-tech training and recovery features for 30 days and you can return your device within that 30-day window.
For the techie
Photo: retailer
From tech and home to fitness and more, this subscription box from Breo covers a bit of everything. Each box comes stocked with four to eight items that revolve around the season and make for the best surprise.
For the avid reader
Instead of entering your local bookstore and being overwhelmed with all the options for your last-minute Father's Day gift, consider Book of the Month. For $50 every three months, the service curates five new reads monthly, and your dad will get to choose one new book from the roster.
For the vinyl collector
Whether he's into the classics or loves some country or hip-hop, Vinyl Me, Please offers your dad the chance to pick (or swap) a record of his choosing every month. From the essentials, classics, hip-hop, or country, he'll always get something he really enjoys listening to or he'll discover some new tunes.
For the dad who doesn't mind dairy
Behold, a subscription box that I would like to gift myself. Salt & Straw's Pints Club is $79 per month and you receive five brand-new seasonal pints. What's not to love? If your dad has a sweet tooth and isn't lactose intolerant, we highly recommend. And if he is lactose intolerant, it also has a vegan subscription option.
For the dad who's over whiskey
Does your dad really need another bottle of whiskey? Switch it up this year with Winc's subscription service. Based on the results of a quick taste quiz, the brand will recommend and send your dad a new bottle of wine each month. If he still prefers whiskey or simply doesn't like the taste of a particular bottle, they'll send him a different one, no questions asked.
For the dad with a green thumb
If you're always calling your dad for tips and tricks to save your dying plants, Horti's plant subscription might be right up his alley. Whether he believes there's no such thing as having way too many plants, he's still a beginner, or he's looking for pet-friendly flora, the month-to-month subscription has a plan option for all the above. He can always skip or cancel at any month. While it does ship nationwide, shipping costs vary when you check out. If you don't want to go through all that hassle, though, it also offers prepaid gift subscriptions.
For the dad who needs a wardrobe makeover
Okay, so technically Stitch Fix isn't a subscription service. However, while there's no subscription required, shoppers have the option to try the service once or set up automatic deliveries. With a selection of brands that range from Nike, Levi's, Columbia, and more, you let the site know your price preferences and it'll curate pieces that fit your budget and your dad's lifestyle. Plus, per Stitch Fix's policy, your dad is more than welcome to send back anything he doesn't love, free of charge.
For the student of life
Dads like to think they know everything. This gift might make him a bit insufferable, but at least he will be entertained.
For the Marvel and DC fan
It doesn't matter if your dad is more of a Marvel fan or a DC one; with the Comic Garage, you can choose 10 or 24 comics from either publisher (or both!), and they'll arrive each month for him to geek out.