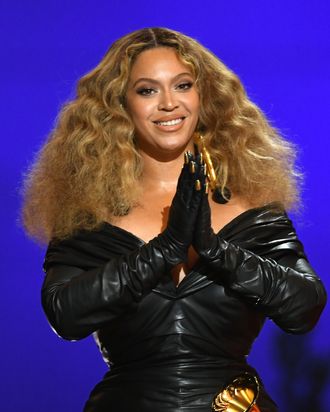 Photo: Kevin Winter/Getty Images for The Recording Academy
As a proud member of the Beyhive — my first concert was a Destiny's Child show — and a lifelong Beyoncé stan, I woke up in disarray. It finally happened: the announcement of her seventh studio album, act i RENAISSANCE, coming out July 29.
Along with the album, there was something I had never seen before: invisible merch. Invisible merch? Yes, you read right. Her website is selling a bundle of merchandise that includes a "renaissance box," a T-shirt, and a CD. It doesn't tell us anything about the T-shirt design or what will be in the box. I added it to my cart without a second thought. Why? Because it is Beyoncé, and if any other artist were to do this, with the exception of a few (Barbs and the Navy), I'd think it was a scam. There are four boxes to choose from; Pose 1, 2, 3, and 4. As a lifelong Beyoncé fan, I know that four is her favorite number, a known Beyhive fact: her wedding anniversary is April 4 (4/4), her birthday is September 4, Jay-Z's birthday is December 4, and fans believe Blue gets her middle name, Ivy, from the Roman numerical version of four, IV, so that's the one I chose.
Aesthetician and content creator Sean Garette had the same idea: "I've never bought artist merch before but I'm considering buying all 4 of Beyoncé's merch bundles lmao," Garette tweeted. Joi Childs, who does social media at Netflix, had the genius idea to have different friends each order a box. "I chose 1 but a friend chose 2. I think we might ask other friends to do 3 and 4 to see what's up lol," she said on Twitter.
We've been waiting for a new album since 2016, when Beyoncé dropped her Lemonade project, a visual album of storytelling through the lens of love and heartbreak. This album seems as though it'll be a disco with club music. British Vogue's Edward Enninful described it in the magazine's July 2022 cover story: "Soaring vocals and fierce beats combine and in a split second I'm transported back to the clubs of my youth. I want to get up and start throwing moves. It's music I love to my core. Music that makes you rise, that turns your mind to cultures and subcultures, to our people past and present, music that will unite so many on the dance floor, music that touches your soul."
Last year, in a Harper's Bazaar interview, Beyoncé said, "With all the isolation and injustice over the past year, I think we are all ready to escape, travel, love, and laugh again. I feel a renaissance emerging, and I want to be part of nurturing that escape in any way possible." The rollout for the album has just begun, and we are here for the ride.
The boxes start shipping July 29, the release date of the album, so until then, I'll patiently be waiting to unveil my box and see what I purchased. I'm sure I'll love it no matter what.
Psst! The Cut and New York Magazine are conducting a survey about dating. We want to know all about your swipes, IRL hookups, bad dates, and everything in between. Interested? Click here.