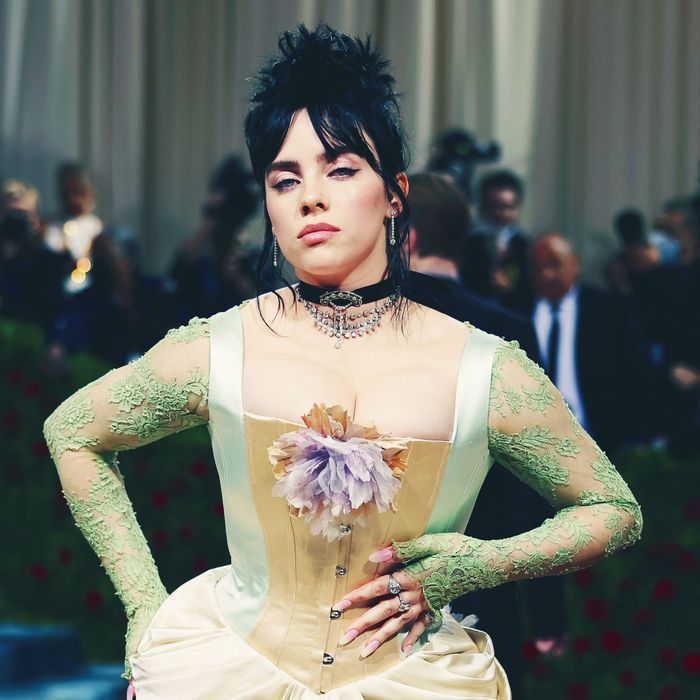 Photo: Mike Coppola/Getty Images
Billie Eilish loves her body — sort of. In a new interview with the Sunday Times, the singer said, "I love that my body is mine and that it's with me everywhere I go." But that doesn't mean she's not constantly battling with it either. "I kind of think of my body as my friend," she told journalist Mason Poole. "My ugly friend!"
The 20-year-old singer added that her relationship with her body "has been a truly horrible, terrible thing since I was 11." This isn't the first time that Eilish has spoken about her body issues; just last year she called it her "biggest insecurity" in Vogue.
For years, she wore a strict uniform of baggy, oversize clothes. The look earned her praise from fans who felt her refusal to reveal her body was a reflection of body positivity. Then in 2019, Eilish revealed that it was actually a self-preservation tactic, noting that her baggy clothes kept her body hidden from critics. "Nobody can have an opinion because they haven't seen what's underneath," she said in an interview with Elle. But even that wasn't entirely effective. "No matter what you do, it's wrong and right," she told the Sunday Times. "Wearing baggy clothes, nobody is attracted to me, I feel incredibly unloveable and unsexy and not beautiful, and people shame you for not being feminine enough."
Eilish eventually evolved her style in the other direction — dying her hair blonde, wearing a corset on the cover of Vogue, and attending the 2021 Met Gala in a dreamy ball gown. At the time, she told Vogue that her pin-up look was about "taking that power back, showing it off, and not taking advantage with it." But speaking with the Sunday Times, she seemed to have a different perspective, noting that her look at the time "was not me" and admitting that she was just "grasping" onto a new identity. "I do have this worry that I felt so undesirable that I may have occasionally tried too hard to be desirable," she said, not explicitly naming the Vogue shoot. "It makes me sad to think about."
Revealing her body to the world also came with a whole new kind of criticism. "Then you wear something more revealing and they're like, 'You're such a fat cow whore,'" Eilish said. "I'm a slut and I'm a sell-out and I'm just like every other celebrity selling their bodies, and whoa! What the fuck do you want?"
Thankfully, Eilish seems to have turned a corner with her style and body image. Despite telling the Sunday Times that her relationship with her body was "nowhere good," she added that she was much more confident in what she wears. "In the past couple of months, I feel far more solid in who I am," she said. "I feel different now, like I'm desirable. I feel like I'm capable of being as feminine as I want to be and as masculine as I want." Amen to that.