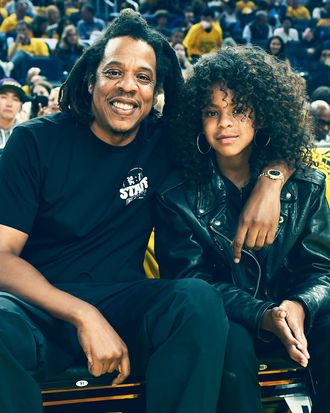 Photo: David Dow/NBAE via Getty Images
No matter what anyone tells you, it's totally healthy and normal to measure your own age by comparing it to a celebrity child. This morning, I caught wind of a video of Blue Ivy Carter, daughter of Jay-Z and Beyoncé, that left me startled by the unforgiving march of time. Apparently, Blue Ivy is now old enough to wear lip gloss and appear mildly mortified by her dad hugging her on-camera. In other news: I am ten thousand years old.
The video was taken courtside at a Monday night NBA Finals game in San Francisco, where Blue Ivy, wearing a leather jacket, big hoops, and curls, was caught on the fan cam with her embarrassing dad. Jay-Z smiled and put his arm around his daughter while throwing up a peace sign, only to be greeted by some slight side-eye as Blue Ivy attempted to shrug him off. Eventually, he let her go, but not before landing a little smooch on her cheek.
A little research tells me Blue Ivy turned 10 in January — though, to be fair, she found her parents' enthusiasm embarrassing long before she hit double digits. Still, there is nothing like the natural maturing of a celebrity's kid to make us all feel ancient. So please, when Rihanna's baby starts kindergarten, no one tell me, okay?
Psst! The Cut and New York Magazine are conducting a survey about dating. We want to know all about your swipes, IRL hookups, bad dates, and everything in between. Interested? Click here.