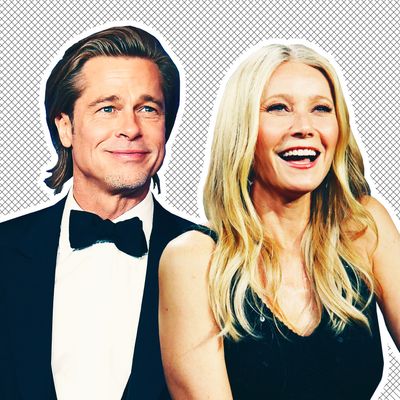 Photo-Illustration: The Cut; Photos: Getty Images
Is there anything sexier than a $2,000 cashmere shirt? Apparently not, if you're Gwyneth Paltrow or Brad Pitt. The former couple, who were engaged in the '90s and once managed to pull off matching haircuts and highlights, reunited to promote Pitt's new line of luxury cashmere button-downs. The ensuing conversation reads like Rich People Flirting 101.
Based on the Goop interview, it seems Pitt and Paltrow's flirting involves two things: luxury goods and her dad, Bruce Paltrow, who died in 2002. "I didn't even know what cashmere was till you and Bruce," Pitt said in the interview. "I knew wool to be wool. And that shit's itchy. But the way you and Bruce spoke about cashmere, I knew it was something." Pitt went on to gush over how Bruce taught him about wine and "sanded off some of my rough country edges," adding that he "tickled my luxury gene." Sounds sexy.
According to Pitt, it was the Paltrows who instilled in him an undying love of cashmere, an affection that led to his new brand, God's True Cashmere. The actor runs the business with Sat Hari Khalsa, who apparently met Pitt when she was giving a mutual friend, sculptor Thomas Houseago, "health drips." She had a dream that Pitt told her he wanted "more softness" in his life, meaning cashmere. "And I literally had just said to someone that I wanted more softness," Pitt told Paltrow. And just like that, the actor became a cashmere-shirt designer and ambassador. Each shirt is made of 100 percent cashmere and features seven gemstone buttons down the front to represent the chakras.
Paltrow is such a fan of the luxury shirts that she put them on the Goop Father's Day gift guide and encouraged Pitt to continue growing his line. "I think there's an opportunity for you guys to fill this hole because there are beautiful luxury cashmere brands, but there's nothing rock and roll about them," she said. "There's this space for a little bit of a cooler, a little bit more rugged, super luxury cashmere for cool, gorgeous guys." Does anyone else feel as if we're intruding on something private, or is it just me?
After the very soft and luxurious flirting, Paltrow, who is married to Glee co-creator Brad Falchuk, noted that she had "found the Brad I was supposed to marry," leading to a mutual love fest. "And it's lovely to have you as a friend now," Pitt said. "And I do love you." Paltrow responded in kind, telling him, "I love you so much." This would have been a pretty sweet moment if it weren't immediately followed by Pitt talking about how much he loved Paltrow's dad and what he taught Pitt about parenting. Just like that, the romance is dead. They should have just stuck to luxury wool.