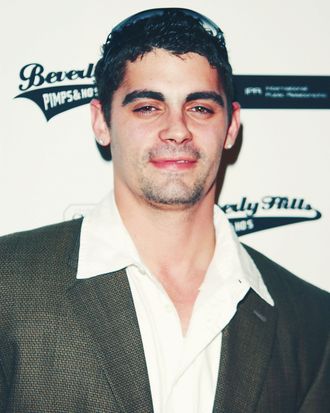 Photo: Angello Picco/Shutterstock
On Thursday, Britney Spears married Sam Asghari in a celebrity-packed ceremony in Los Angeles. It was a celebratory day — Spears wore a custom Versace wedding dress (and choker!) and reportedly danced with Madonna during the reception. Except for one terrifying turn of events: Prior to the festivities, her ex-husband Jason Allen Alexander broke into her home and tried to crash her wedding.
Alexander streamed parts of the ordeal on Instagram Live, where he can be seen approaching Spears's backyard (it appears the wedding was held in a tent outside her home) and entering a wedding tent, seemingly before any guests had arrived. After what appeared to be a physical struggle with security, the feed cut out, though Alexander went live again inside Spears's home shortly after. A spokesman for the Ventura County sheriff confirmed to NBC that police responded to a trespassing call and restrained Alexander outside. He was booked for trespassing, vandalism, and two batteries, and an emergency protective order was issued requiring him to stay away from Spears later on Thursday.
Spears's attorney Mathew Rosengart confirmed the incident to Page Six and said that Alexander had been arrested. "I'm working closely with law enforcement to ensure Mr. Alexander is aggressively prosecuted to the fullest extent of the law," he said.
Spears and Alexander, her childhood friend, got married in Las Vegas in 2004 and annulled the marriage within two days, with the annulment petition claiming that Spears "lacked understanding of her actions" and was "incapable of agreeing to the marriage." At the time, her attorney said that Alexander agreed to the annulment. He was largely quiet in the following years but showed up at a #FreeBritney rally in L.A. in August of 2020. He was reportedly arrested three times in 2021, including in December for violating an order of protection and aggravated stalking. Police did not identify who he was stalking at the time. He pleaded guilty and was ordered to serve almost a year of probation.
In January of this year, Page Six reported that Alexander had posted two videos and a photo taken outside Spears's mother, Lynne's, Los Angeles estate to a private Instagram account. In a video posted earlier that day, he also claimed he was planning to visit Spears's childhood home and the homes of other Spears family members. Before attempting to crash the wedding on Thursday, he posted a video claiming everyone "associated with Britney in the last 20 years," including himself, Asghari, and all of Spears's immediate family, should be investigated.
Thankfully, Spears, Asghari, and the rest of the wedding attendees are safe, and Thursday night's festivities appeared to continue as planned. Here's hoping they can enjoy the rest of their celebrations without interruption.
Psst! The Cut and New York Magazine are conducting a survey about dating. We want to know all about your swipes, IRL hookups, bad dates, and everything in between. Interested? Click here.