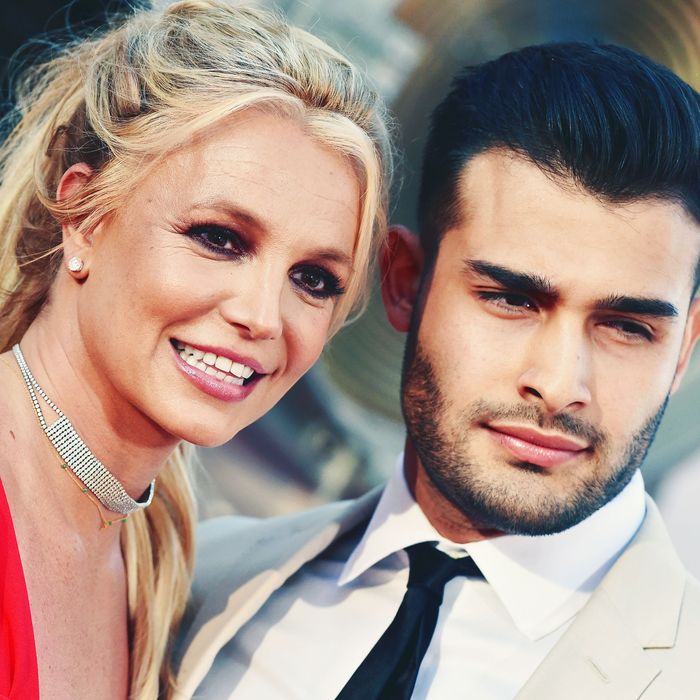 Photo: Axelle/Bauer-Griffin/FilmMagic
Welcome back to celebrity-wedding season! Now that Kravis has finally finished getting married (I think), we can turn our attention to another exciting union: Britney Spears and her new husband, Sam Asghari. People confirmed the couple got married Thursday in L.A. in a celebrity-studded ceremony. Spears wore a custom Versace gown complete with a coordinating choker and reportedly walked herself down the aisle to Elvis Presley's "Can't Help Falling in Love." An insider told People she "cried happy tears at some moments."
Spears and Asghari, an actor and personal trainer, dated for the last five years of Spears's 13-year conservatorship, which she has claimed didn't allow her to get married or have children. The couple got engaged last year, shortly before the conservatorship was lifted. In April, Spears announced she was pregnant, though the couple subsequently revealed that they suffered a miscarriage, with Asghari telling GQ, "When the baby's ready, it'll come."
According to TMZ, Spears's brother, Bryan, was the only member of her immediate family invited to wedding. She has spoken out publicly against her father, Jamie, who she says controlled her personal and financial decisions, including her romantic life, for the bulk of the conservatorship. During a court hearing in June 2021, Spears stated that she wanted to press charges against her father for what she described as an "abusive" arrangement. Her sister, Jamie Lynn, who Spears has said offered little support during her conservatorship and whom she later accused of using the legal battle to "sell a book at my expense," was not invited — nor was their mother, Lynne, who Spears claims was complicit in the arrangement. As for Spears's sons (Sean Preston, 16, and Jayden James, 15), they reportedly didn't attend, either. Mark Vincent Kaplan, a lawyer for their father, Kevin Federline, confirmed to People that while they were "happy for their mom," they wanted to let Spears and Asghari have the spotlight. "It's their night and they didn't want to take away from them," Kaplan explained.
Though the guest list was light on immediate family, People reports it was full of A-listers. Paris Hilton, Madonna, Drew Barrymore, Donatella Versace, Maria Menounos, Selena Gomez, and Mathew Rosengart, Spears's legal counsel, were all in attendance. West Side Story actor Ansel Elgort, who stands accused of sexual assault, is also said to have been there. Judging from pictures, Spears changed outfits three times during the festivities and kissed Madonna at her reception, a nostalgic nod to their 2003 MTV Video Music Awards kiss. Spears and Asghari apparently ended the night riding away in a white Rolls-Royce with a "Just Married" sign on the back.
Prior to Spears's conservatorship, she was married twice — first, very briefly in 2004, to Jason Allen Alexander, who was arrested Thursday after attempting to crash the wedding, and soon after to Kevin Federline, whom Spears divorced in 2007. This is Asghari's first marriage. In response to speculation from fans, Asghari and Spears announced they had signed an "iron clad prenup" ahead of their union. Congratulations to all!
This post has been updated.
Psst! The Cut and New York Magazine are conducting a survey about dating. We want to know all about your swipes, IRL hookups, bad dates, and everything in between. Interested? Click here.