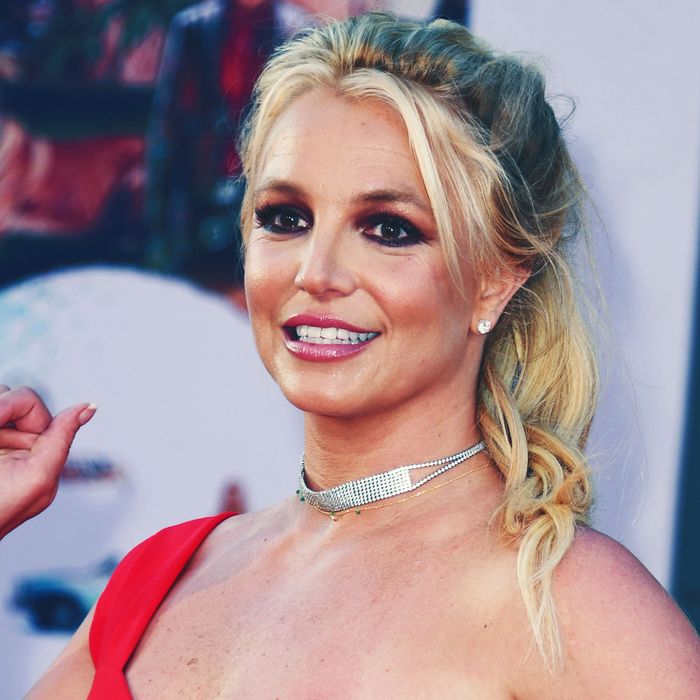 Photo: Valerie Macon/AFP via Getty Images
Britney Spears and actor Sam Asghari got married last week, a wedding made more exciting by Britney's newfound freedom and also the presence of a horse-drawn carriage. The event was filled with celebrities, including Madonna, Paris Hilton, Selena Gomez, and Drew Barrymore. Also present: Donatella Versace, who designed not one but four custom outfits for the night, including a dress that took 700 hours to make. Britney later changed into a red minidress and a different two-toned look, with photos from the reception showing her dancing the night away in what appeared to be a black blazer and zero bottoms.
On Sunday, Britney provided some context for the final outfit, explaining that, actually, she was wearing a diamond thong under her blazer. While a G-string made of diamonds doesn't exactly sound comfortable, Britney looks pretty at ease. The post included videos of her dancing in the outfit (both with her new husband and with Madonna) with the caption: "don't worry I had my first diamond thong underneath my jacket … hope I didn't offend anyone!!!"
Britney is not the only celebrity bride to have commissioned a custom thong for her nuptials — Kourtney Kardashian wore a La Perla thong embroidered with new husband Travis Barker's name during her big fat Italian wedding in May. But if there's anyone who deserves to adorn her butt with diamonds while celebrating her wedding, it's Britney. Consider me not offended!
Psst! The Cut and New York Magazine are conducting a survey about dating. We want to know all about your swipes, IRL hookups, bad dates, and everything in between. Interested? Click here.